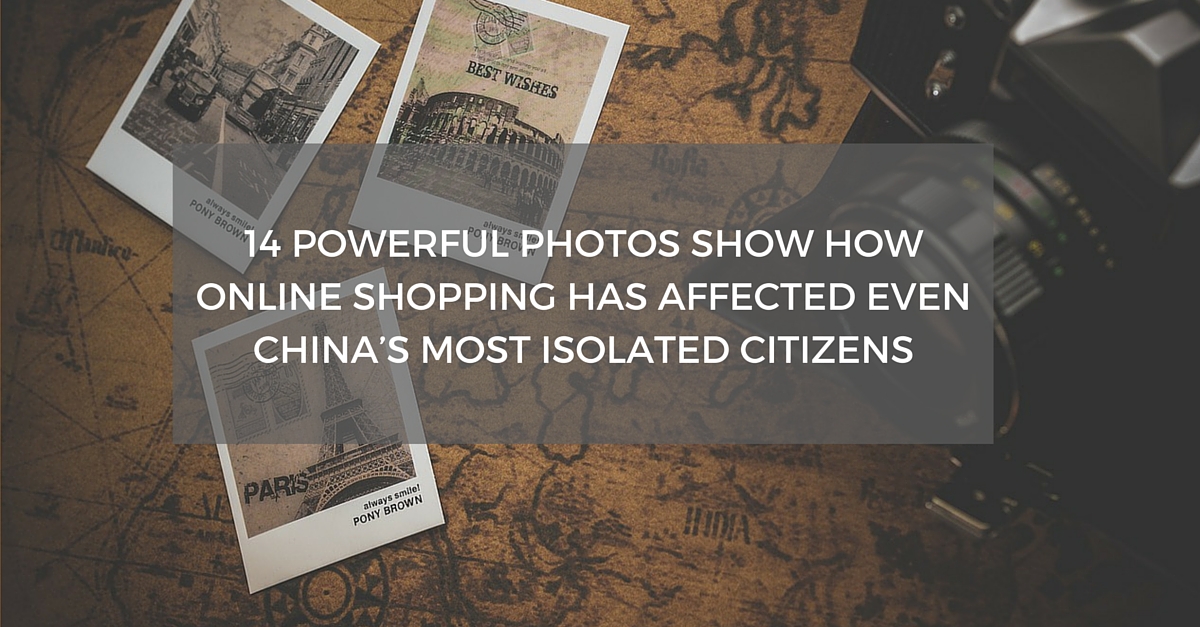 China's biggest online retailer Taobao has become the tenth most visited retailer site on the internet. Since its inception in 2003, it has created 9.7 million jobs.
Commissioned to document online shopping trends in China, Huang Qingjun, a photographer, set out to interview all the types of people who shop on Taobao. He even discovered that around 81% of Chinese citizens, even in the most remote parts of the country, have the ability to go online and shop on places like Taobao. He snapped a few pictures of Taobao shoppers from all over the country to get a feel for who they are, what types of items they buy.
Wang Yafeng lives in the most remote and northern village in China. He is 28 and owns a youth hostel and travel services business. He has stocked his entire hostel and home with items he bought off Taobao, over $35,000 worth of merchandise.
Mao Hongwei first went online to shop at Taobao aided by a Taobao agent who came to his village. He is 48 and was not very comfortable surfing the web. Taobao held a promotion and he became interested. The agent showed him how to navigate and purchase off of the site, and since then he has bought $3,200 worth of materials and furnishings for his new home. He feels that the experience of shopping online has given him a new lease on life.
A man named Liu Jun comes from a Mongolian family of nomads and herders. He lives in Ulanhot but when he still lived in his Mongolian yurt he would have to travel nearly 90 miles or more to make any sort of purchases he needed. He began shopping on Taobao in 2012 and since then has bought over $4,800. To him, the experience has saved him a lot of traveling expenses and commute time.
A mother named Liu Chunxiao uses Taobao to purchase gifts and clothes for her small son. Originally from China and now living there again, she spent over 20 years in Europe pursuing her studies and business. She has been shopping on Taobao ever since her return to China.
Entrepreneur Li Nian uses Taobao as a platform for his aerial-photographing company. A model airplane enthusiast, he has spent over $322,000 ever since the purchase of his first plane off of Taobao.
College student Mahmoodjan purchases Kindles, USB flash drives, headsets, an iPhone 6 Plus, and other digital products from Taobao. He has been using Taobao since 2006. He formerly was a foreign language guide, a civil servant, and a volunteer.
Engineer Huang Jianguang uses Taobao to support his outdoor sports and bike riding hobbies. He creates his own bicycles from all of the parts he has bought on the site, almost $6,500 worth.
When Yang Chin was 17, she moved to China and worked in a café. Formerly from the Shannan district of Tibet, her boss showed her Taobao and how to shop online. She enjoys being able to branch out via shopping and making fun and fashionable clothing and accessory purchases.
Inn owners JiaYuhao and Lu Xuefeng use Taobao as a way to furnish their inn and grow their business. They currently live in Lhasa, China, and gave up lucrative careers to work for themselves.Items such as board games, outdoor equipment, a doll, an automatic coffee machine, and sleeping bags make up the 80% of items they have gotten at Taobao. Lu has spent $860,000 over 10 years and Jia$805,000 over nine.
Tibet Medical College graduate Gyatsoling Rinpoche uses Taobao for buying Buddhist goods, such as candles and butter lamps. He graduated at the age of 17, and when he was 4 years old was chosen as the reincarnation of the Living Buddha. Born in 1990, he says Taobao helps save him money on items he needs.
Interior decorator Sun Bin shops on Taobao at 126 of his favorite stores, staying in touch for any new products. He has been using Taobao for six years and has spent over $88,500. He took his picture with several clocks he purchased online.
When Zhang Boya got married last year, 80% of the furniture purchased by her wedding guests was bought on Taobao. Zhang makes her own home decorations, clothes, and handcrafts, as well.
Aer Yingming took a picture with her family, who all started using Taobao in 2008. She, her family, and coworkers get together and shop on Taobao for items they like. She thinks of shopping as a lifestyle.