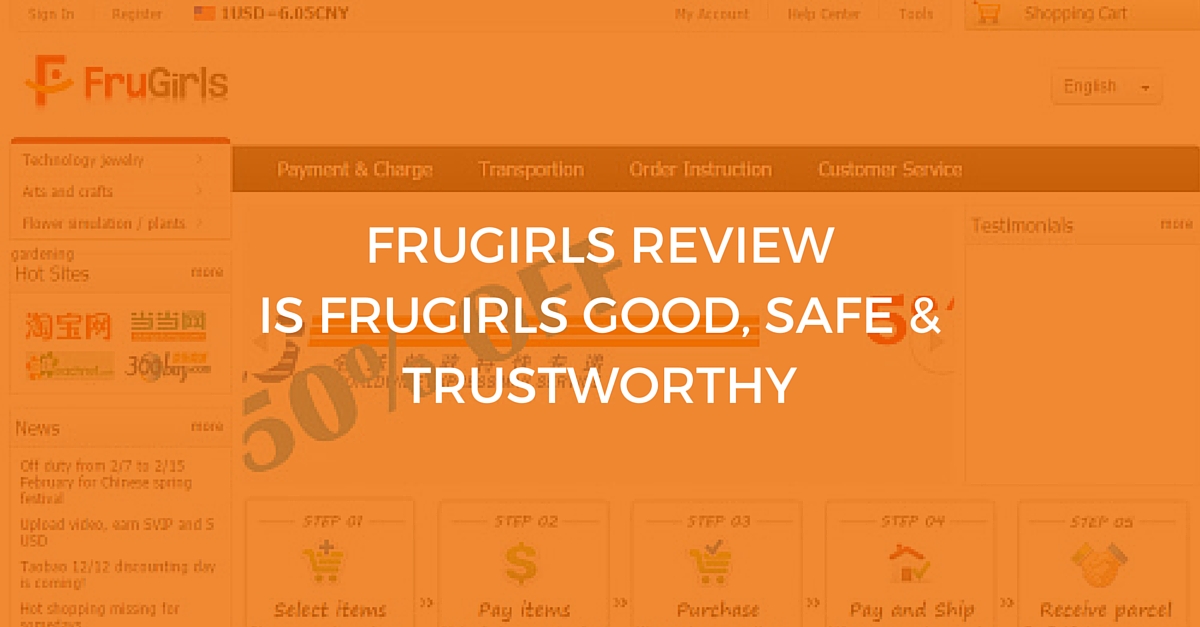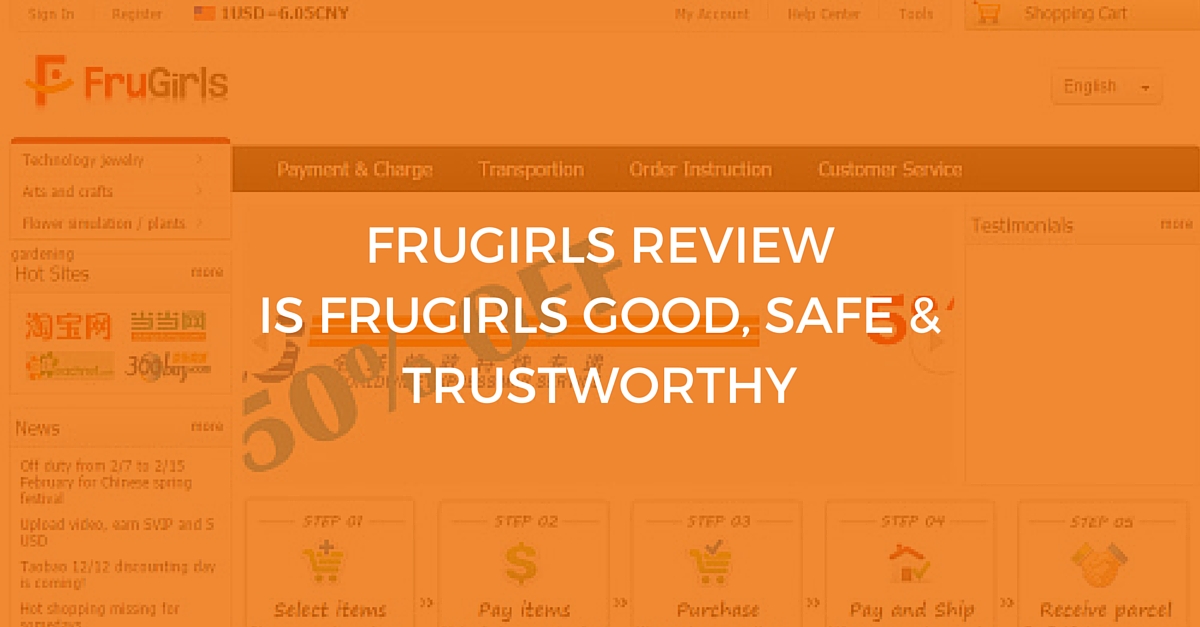 Frugirls serves the international community as a professional purchasing agent for purchasing virtually any product from online China. Frugirls' name is evocative of their service: frugal-minded folks will love the cheap prices associated with Chinese website goods, and will be pleasantly surprised at how easy it can be to buy from China.Frugirls provides services for all kinds of clients from all over the world, including individuals, companies and wholesalers. The service claims to guarantee safe and accurate transactions and expedited shipping.
Today, we bring you a review of Frugirls. What features differentiate it from the competition? Let's find out.
#1. How Does Their Website Look Like?
FruGirls certainly takes its professionalism seriously, and keeps exclusively its customers in mind starting with its website design.
The privacy-protective registration and log-in procedure which westerners have come to expect in online shopping is a major attraction of frugirls.com.
A simple Amazon-like product category dropdown provides effective search filtering.
Nice extras like instant translation of the English site into Chinese, Russian, Spanish and French brighten everyone's browsing mood.
And there's even a built-in calculation for those quick subtotaling and conversion issues.
#2. Is It Easy to Order Via Frugirls?
While new customers will be delighted to find the familiar Shopping Cart symbol on the website, the handy Ordering Tutorial really takes the cake in terms of easy access. A cleverly placed tool allows for "Quick Orders" via a fast copy-and-paste of a Taobao URL. With literally no fussing in terms of manual order form fill-in, the ordering process is one-screen, accurate and automatic.
#3. How Much Do They Charge For Their Service?
Truly frugal shoppers will appreciate the relatively low 6% (of product cost + domestic shipping) service fee.
#4. Do They Have Any Discount Program?
Yes,The truly loyal penny-pincher can get deeply discounted rates on service and delivery fees through redemption of rewards points. Points may be accrued on everything from site registration to referral of friends.
Customers are rewarded loyalty points on video-creation and YouTube upload expounding on their shopping experience. And sharing FruGirls' promotional message to all types of social networks is handsomely rewarded for any customer with 100+ friends or subscribers.
#5. What Payment Method Do They Accept?
Accepted payment is by credit card, Western Union, Web Money and wire transfer only. No PayPal available.
The company, however, offers a watertight returns and exchange policy for its account holders and commits to a 100% reliable service. Online payment security is guaranteed thanks to credit card processing by Alipay, an affiliate company of Alibaba.
#6. Which Shipping Method Do They Support?
Order fulfillment is by customer choice of EMS (Chinese express mail courier), Air-Mail Small, Air-Mail Express, SAL (Sea-and-Land), DHL, UPS and TNT.
The website's postage cost calculator is a handy tool allowing a direct apples-to-apples comparison between services based on shipment value, weight and destination.
#7. Is Their Customer Service Good?
Despite all the apparent procedural, pricing and promotional "pluses" of FruGirls, I am left feeling a bit abandoned once I've clicked "submit" on my shopping cart and placed my order. Given the potential for cultural and linguistic misunderstandings, I would prefer to be coddled with my own personal agent rather than having to rely on an anonymous [email protected] contact address to resolve problems which may arise.
Skype is also advertised as a contact method, but what company makes themselves available 24/7 on Skype to accommodate a customer on the other side of the world? Granted, the nicely stocked toolkit on the FruGirls website is wonderful to help customers check textile colors against a multi-rainbowed chart, estimate their order weight, track their shipment, even translate Chinese product words into the vernacular. However, I (and many customers ) would also value a dialogue with a dedicated agent.
#8. Do Frugirls Customers Like Their Service?
I didn't find many feedbacks from the customers online,there are some on youtube,you can check those reviews before making the final decision:
Anya: Taobao Cosplay Order from Frugirls.com review #1
BigG202: UnBoxing – Legend Blue 11s – Kinstor Toaboa – www.Frugirls.com
Robert Martinez: Frugirls taobao agent infrared 6 review
Frugirls Review: Conclusion
Overall, I would give Frugirls a 4.0/5.0! Their website is professional and their service fees were very reasonable.However, its customer support can scare away many potential customers. As usually, I highly recommend you check this website yourself to see whether or not it's the best fit for your needs.