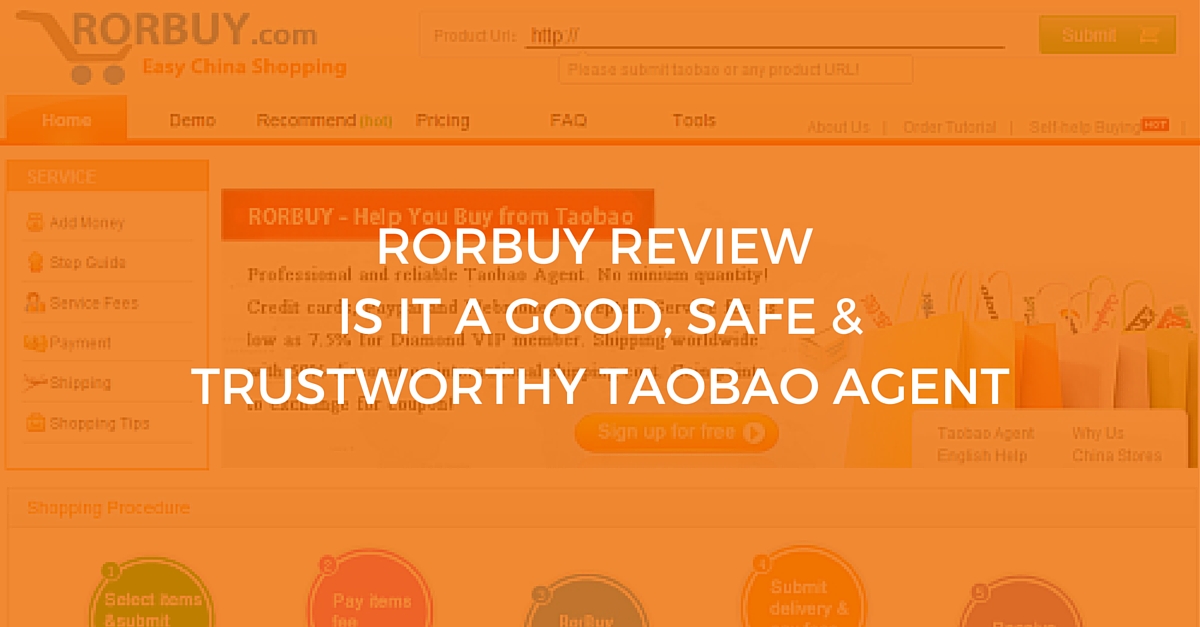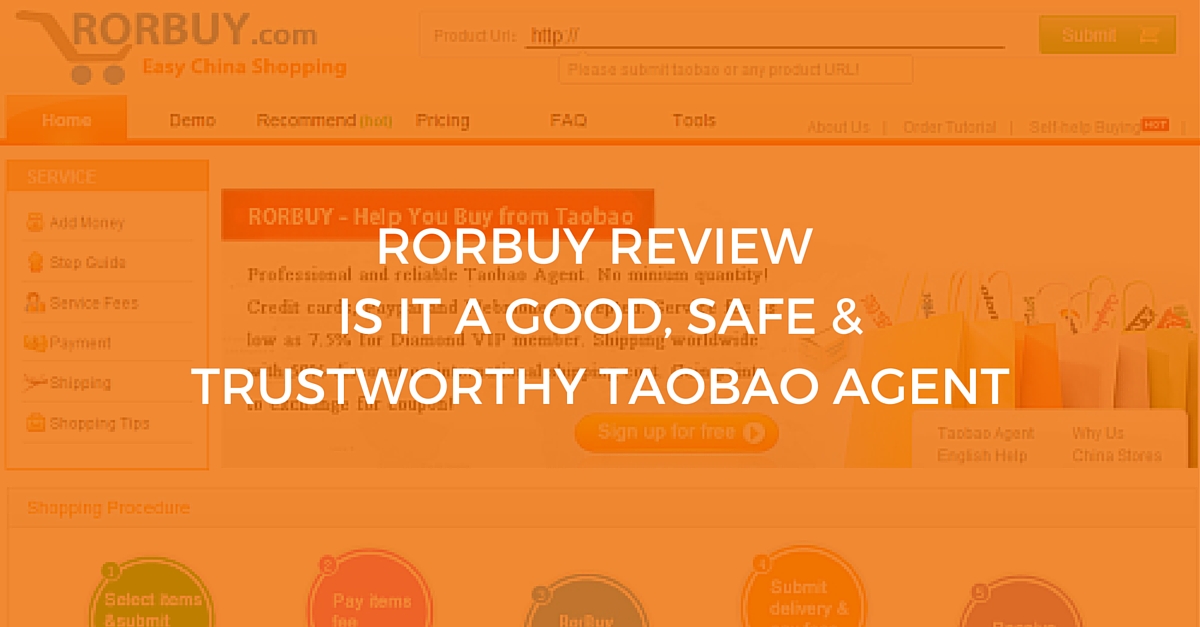 RORBUY is a professional shopping agent for the biggest Chinese online market taobao.com, and is one of the few online agencies dealing with customers exclusively in English. Offering a purchase-volume tiered membership discounting system, RORBUY clearly is courting quantity-buying wholesalers in addition to expanding its base of individual personal shoppers.
#1. Is Their Website Easy To Use And Navigate?
The RORBUY website is based on a smooth navigation system that will help western shoppers feel right at home: there's conventional registration, log-in and account creation processes. A procedural chart instructs customers to select items at Chinese web stores, copy the URL and place the order on www.rorbuy.com. On the homepage, easy-to-access links to a list of a dozen "hot" items (bestsellers) show descriptions of the product on tabao.com, along with  size detail for e.g. fashionable women's skinny jeans, a man's bomber jacket, a purple inhaler and more.
But don't judge a book by its cover. The beginning shopper may wonder why only a dozen items are visible when the website is trumpeting a shop of over 700 million items. And when choosing a "hot" item, the user is likely to be puzzled. If RORBUY is an English-language website, why are all these descriptions in Chinese only? Next step: search for, find and install Google Translate.
OK, a shopper has decided to purchase a pair of the cool ripped skinny jeans. Has sorted through the sizing issue and has decided that blue is a lovely color. Now clicks the "Shopping" button to place an order. RORBUY messages that the system is retrieving product info…  A screen appears with the item's Chinese name, but with many blanks spaces. Size and color? Yes, the shopper can fill that in. Price? Hmm, one needs to return to the previous page to copy that. Shipping cost? Ugh, one needs to consult an entirely different page of the site and take a wild guess at the weight of his pending purchase. The shopper is asking: Where's the auto-fill?
Most significantly customer-unfriendly is that virtually no direct interface to taobao.com's entire catalogue is offered, save a small yellow button ¾ of the way down the homepage. Searching further, a small-print link at the bottom that says "Online Stores" leads to a dead-end inactive FAQ page. Keep searching! Finally, a "New User" link in a subpage navigation block leads to a descriptive list of Chinese online stores taobao.com, paipai.com, tmall.com, jd.com, dangdang.com and more. So now we know where to shop, but how to get there-? – active links are missing, so the customer opens new tabs and laboriously cuts-and-pastes.
#2. How Much Do They Charge ?
They take 10% of sales and domestic shipping fees as their service charge.The "Member Grade" program, defined a points system for each Chinese yuan spent in a six-month period on RORBUY, offers enticing service fee discounts (from 10% down to 9% for Gold Members with 1,000 points; down to 8% for Platinum/10,000 (US$1700 )  and to 7.5% for Diamond/20,000 (US$3350).
#3. Which Payment Method Do They Support?
Payment methods they support:
Paypal, For new customer, they only accept up to $174(including shipping) with Paypal. For VIP members, they accept up to $400(including shipping) with Paypal.
Credit cards via Paypal
Western Union,For amounts over 400 USD, they only accept WesternUnion and Wire transfer.
Web money
Wire transfer
It should be noted from the very start that customers will be subject to paying their own exchange commissions, whether it be to their credit card companies, or to Western Union up front and in addition to shipping and the RORBUY service charge.
#4. How Is Their International Shipping?
The shipping methods are only limited to the following three:
China Post: Air parcel
EMS
DHL
#5. How Is Their Customer Service Support?
You can text them after logging in or send them an email at [email protected]  and Office hour is 09:00-17:00,within this time frame phone customer service is also available.the phone number is +86-15322306798.
Rorbuy Review: Conclusion
Let's face it, Rorbuy is a mixed bag. Smooth navigation is its greatest advantage But in terms of ease of use it's less attractive than its competitors. More importantly, it's a new player in this filed,but it still charges 10% service fee,it doesn't seem like a good idea with so many more easy-to-use and reputable taobao agents out there.
I'd be happy to learn about your experience with this agent – just drop a comment below this post.