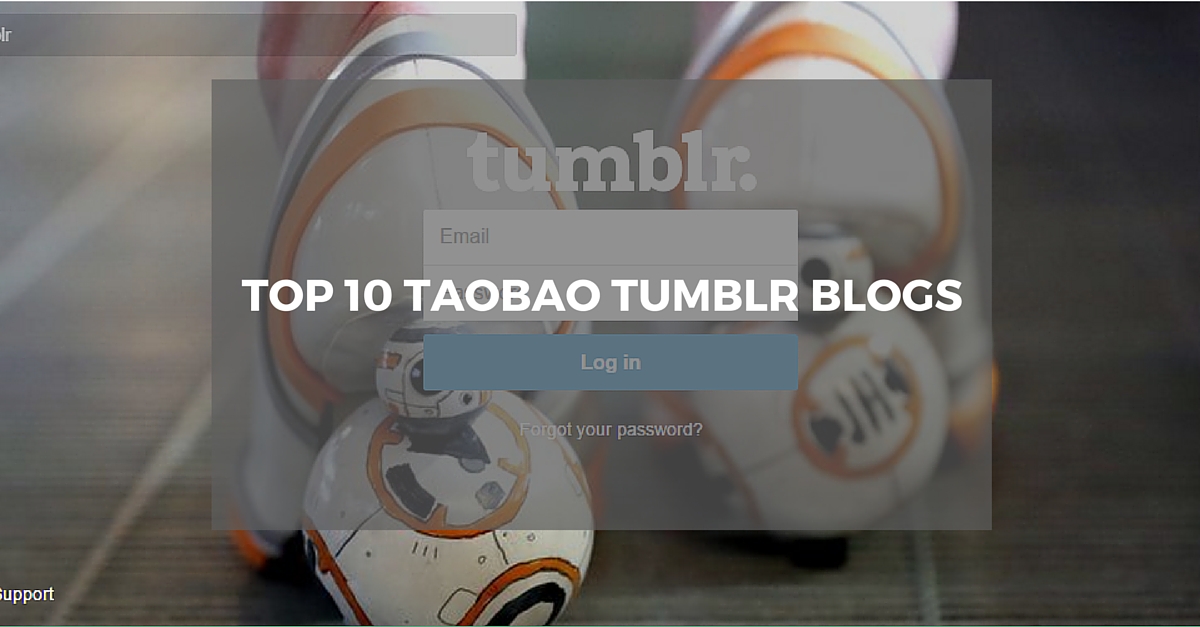 Shopping on taobao is a fun and interesting thing, and we think that collecting the best Tumblr blogs on this subject will do wonders for our audience. For this reason, we've collected the top 10 Tumblr taobao blogs.Some experienced Taobao shoppers share their "best of the best" in fashion, gifts and just plain cool stuff. If you are just getting your feet wet with Taobao shopping,These user-friendly blogs also include Taobao "how-to"s or FAQs for you to get started.
Here's our list. Enjoy the read!
Alternative and J-Fashion Finds
The homepage hover-box says it all: "Dedicated to finding affordable alternative clothing and accessories." Looking for lace-up knee high Victorian/Steampunk/Loli/Strega boots, preferably in black (size 7.5 or 8)? Or a dress like Wednesday Addams'?  Chances are good that an inspired search has already been done — or that one can be done for you.  (If you don't ask, you don't get!)
Welcome to the world of one avid blogger's personal Taobao wish-list! It's an unabashedly girly collection of plushy pastel lambs, eye-boggling leggings, cupcake-shaped contact lens cases and Hello Kitties. But there's a radiance of character and personality here that is rarely matched in other blogs. Her blog also posts items from AliExpress.
There's a lot of weird stuff that a Jersey girl living in Hong Kong comes across while trawling Taobao.  Her carefully cultivated and well-edited collection of "crap you never knew you needed" will bring a smile to anyone's face, and some of us still haven't picked ourselves up from rolling on the floor laughing.
Blogger Harlan personally introduces herself in this blog dedicated to cute, cheap fashion from Taobao.com. Her finds include jewels for more eclectic tastes, like kawaii, pastel goth, fairy kei, cult party kei, mori kei and lolita fashion – but the true gem of her inter-active space is her willingness to hunt for specific items and answer her followers' queries.
This beautiful collection of delicately feminine clothing and accessories is a place to kick back and relax. Set against a charming strawberries and blossoms tapestry and overflowing with amazing good taste, Taobao Princess isn't shy about highlighting that her favorites don't cost and arm and a leg!
This blog is a marvelous search-and-shop service for larger-size fashion. Want to know a Chinese search term to look for large-size belts? Ask here. What about plus-size garters? … The tags section is long and nicely detailed. Find all kinds of clothing and accessories for the fuller figure here.
Minimalistic in look and feel, Taobao Finds is a collection of flouncy, flowery fashion sure to appeal to a young crowd who want to make a whimsical impression. Our blogger has a soft spot for shoes, particularly those with bows and laces.
What a lovely place to browse! There are some real sweet dresses, swimsuits, shoes and jewelry reflecting Chokelate's taste in contemporary fashion. Don't fall too much in love, though – some of the posts are a bit older, and some items are no longer available.
Embark on a throwback to the '90s and '00s on this street-smart blog. There are hundreds of fashion items posted, as well as informative tips on importing Taobao purchases into western countries.  Over the past couple of years, this blog has developed a large and active community of followers too.
A gorgeous selection of the beautiful and the strange amidst the dark and the light universes of ball-jointed dolls. Dive into the world of miniature mania — purple frilly shorts, rabbit ears and howitzers, feathered party hats and even a BJD-scale embossed wheelchair with etchings harking back to ancient Celtic times.