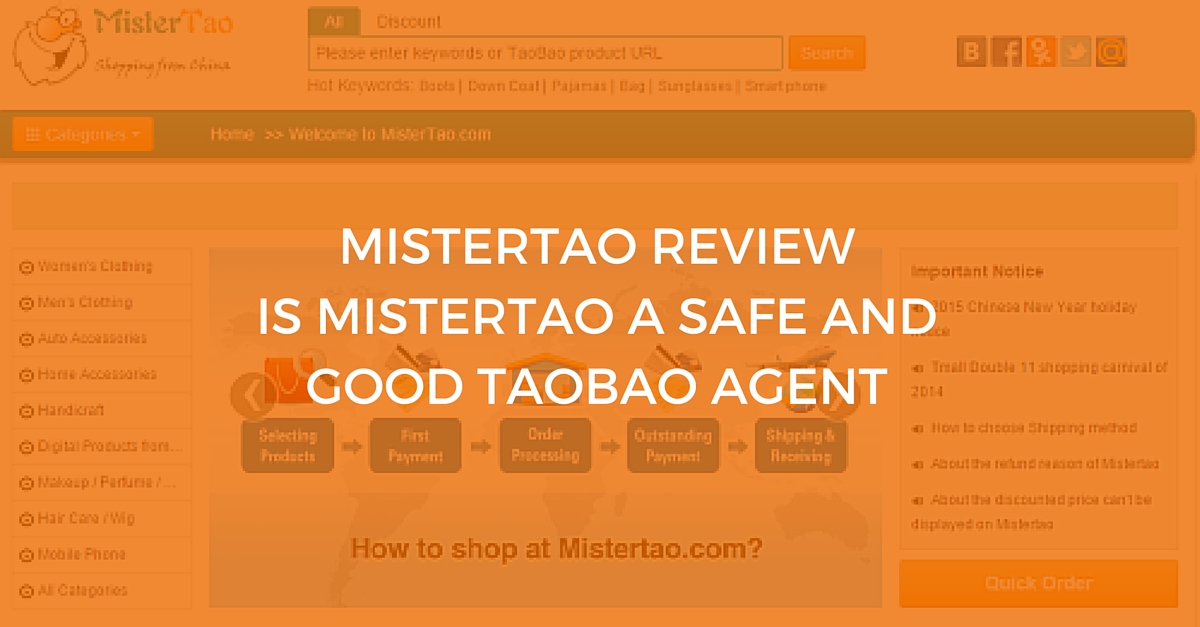 MisterTao administers "shopping from China". Advertising access to over 800 million products from Chinese Taobao websites, MisterTao was founded in 2011 by the company BuyinCoins.com, is staffed by experienced e-commerce experts and is endeavoring to be the #1 taobao agent. The major selling point of MisterTao is their masterful implementation of a relatively user-friendly online ordering system which will be familiar to western users.is it as good as it's painted? We've put MisterTao under the microscope.
#1. Is Their Website Easy To Use And Navigate?
Three website language versions (Chinese, English and Russian) are available. The "My Account" and "Shopping Cart" setups are welcoming and Amazon-store-like in their presentation.
Easy-order and easy-pay. That's the name of the game with MisterTao. A Quick Order mechanism allows for an easy copy-and-paste of any taobao.com URL to toss an item into the shopping cart.
Ordering instructions and operational procedures are super-easy to access via a simple cartoon graphic linking to detailed explanations on step-by-step ordering.
Facility of website usage is just the start. What customers really look for in a Chinese online shopping agent is shipping/insurance transparency, payment security, and finally, a reasonably-priced commission structure. The big question is: does MisterTao offer it all? Let's dive into more details.
#2. How Much Do They Charge?
At 8%, the commission of this agent appears to be a bargain, and therewith one of the most reasonably-priced Chinese shopping agents to be found.. That is, until the shopper or wholesaler digs laboriously through the website to note the details: 8% commission applies not on the purchase price + domestic shipping fee total (as is the case for the competition), but rather on the purchase price + international shipping fee total. This rather unexpected fee schedule will be off-putting for many personal buyers; for wholesalers looking to import Chinese goods this will be a major deal-breaker.
Incentives like MisterTao's Affiliate Program (offering referrers and referees 50% commission discount on their first order only) and a VIP membership (that kicks in after purchases of $1,000) don't make the pot any sweeter.
#3. Which Payment Method Do They Support?
Customers' online accounts are held in $US, and can be stocked up using major credit cards like MasterCard, Visa etc., as well as WebMoney. Western Union transfers are accepted only for orders over $1000.Again reflecting MisterTao's major markets, QIWI (the leading provider of payment services in Russia ) is also an accepted payment method.
They do not take payments from PayPal which creates a bit of difficulties as most other online shopping sites mainly take payments through PayPal.
Payment "security" terms & conditions leave the user with a sinking feeling of insecurity: the fine print remarks that payment processing services are provided by BuyinCoins. Not exactly a renowned transactional security provider.
#4. How Is Their International Shipping?
The shipment methods MisterTao offers are extremely region-specific and offer an insight into the major markets that MisterTao serves: China Post Air Mail, SAL Parcel and Air Bag Parcel; the Chinese express mail service EMS; Singapore Post; Russia Post registered mail.
Bits and pieces of information on the website lead the user to believe that registered post to other countries is also available. However, the familiar international standbys FedEx and DHL are noticeably missing from the list of shipment options, making MisterTao's claim of shipment to virtually any country appear to be less than dependable.
#5. Does Their Customer Service Good?
They have online chat option from Friday to Monday and the time frame is (GMT+8) 9:00 am – 11:00 am and 2:00 pm – 4:00 pm. They prefer to do conversation in English or Russian and will get back to your messages within 24-48 hours. You can also send them emails at [email protected]
#6. What Is Other Customer's Feedback About MisterTao?
Budgetlightforum: an English front to Taobao and Taobao agent, run by BuyInCoins
Yeezy2Liker: Unboxing replica Vans from Taobao [Agent Mistertao] [On feet!]
MisterTao Review: Conclusion
The forte of MisterTao is the ease-of-use and Russian customer support, However, there are things that can be inconvenient:they don't support FedEx and DHL as the courier,Paypal is not an option for payment. So, weigh the pros and cons for using this platform, read other customers reviews, or simply test the platform yourself to get a better idea about this taobao agent service.