Having a 1688.com account is the first step in starting your purchasing journey there. Even if you are purchasing from 1688.com through an agent, I still recommend you have your own 1688.com account.
1. Can I open a 1688.com account as a foreigner?
Yes, you can. Alibaba does not restrict foreigners from registering, as long as you have a mobile phone number, you can register.
2. Can I place an order online using my 1688.com account?
This is a very complicated question, but for most people, it's not possible to place an order on 1688.com online like you would on Ali express.
I discuss this issue in-depth in another article, if you really want to purchase from 1688, you should read it here.
3. why you need a 1688.com account
Even if most of you have to purchase at 1688.com through an agent, you still need a 1688 account, here are a few benefits :
Alibaba has been restricting non-members from browsing the products on 1688.com more and more often, and if you can't log in, you can't view many pages in 1688.
You can only see the promotional prices and discounts on many products when you log in.
You can save and bookmark the products you see to your 1688 account.
You can communicate directly with the supplier in 1688.
4. login with your Taobao account
If you already have a Taobao account, you do not need to register a 1688 account, you can directly use your Taobao account to login to 1688.com.
Alibaba Group uses a Google-like account system, as long as you have a Taobao account or 1688 account, you can access all Alibaba's domestic websites and apps.
5. Five steps to register for a 1688 account
Step 1. Go to the registration page
On 1688.com home page, click Register to go to the registration page.
Then it pops up a user registration agreement, click the orange button at the bottom of the window(Label.1) to agree to the agreement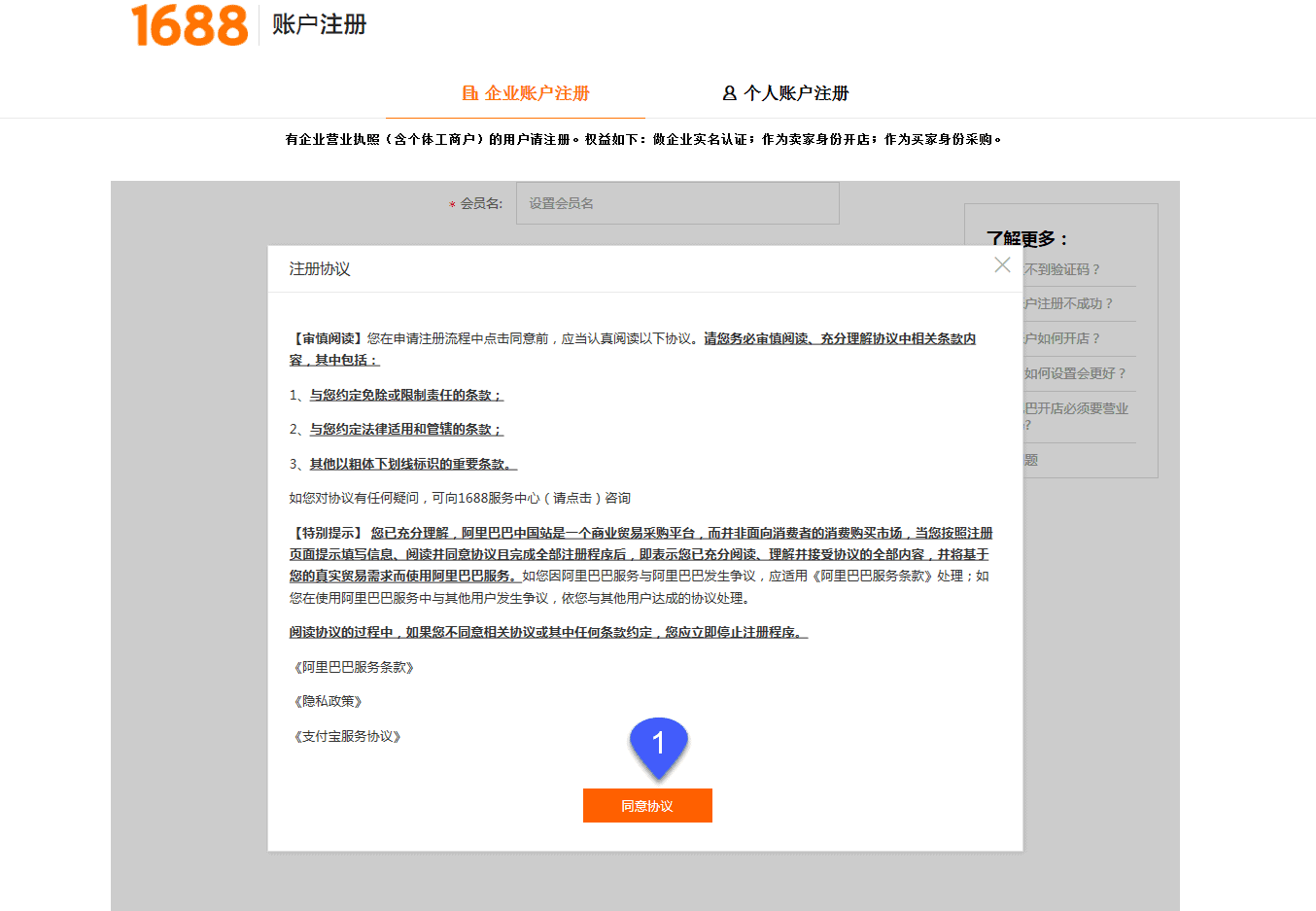 Step 2. Fill in account information
Next, it's time to fill in your account information, and here I've marked all the places that need to be explained with a blue label (Label.2 – Label.10).
Then I will explain each label.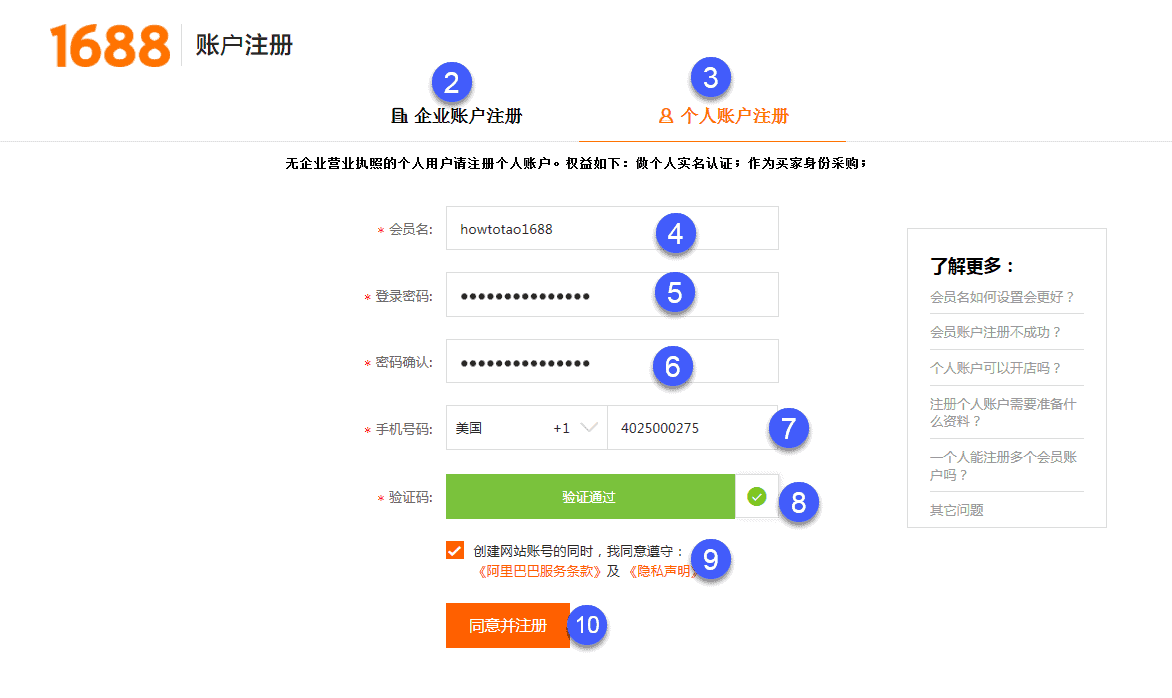 Label.2 and Label.3
These 2 labels allow you to choose between corporate or individual accounts, if you just want to buy as a foreigner, you have to choose Label.3 which means individual accounts.
Label.4
Fill in your login name here. You should note:
The length of the name is 5-25 characters,
the login name can only be set once, once set successfully, it cannot be changed.
Label.5
This is the place to set the password, here are some requirements for setting the password:
6-20 characters, the password cannot be the same as the username.
Only letters, numbers, and punctuation marks can be included.
At least 2 types of letters, numbers, and punctuation marks are required.
Label.6
Enter the previous password again.
Label.7
Select the country and cell phone number here. You have to make sure that your phone can receive text messages from China.
Because it will send you the SMS verification code in the following step.
Label.8
This is to verify that you are not a robot, just drag the verification box from left to right and you're done.
Label.9
Check this box to agree to some of its statements and agreements.
Label.10
Click the "Agree to Register" button to go to the next step.
Step 3. Fill in the SMS verification code
Next, a page will pop up asking you to enter the SMS Code (Label.11).
The SMS verification code is a 6-digit number like this:

Enter the code and click the "submit button(Label.12)".
If all goes well, your account is registered.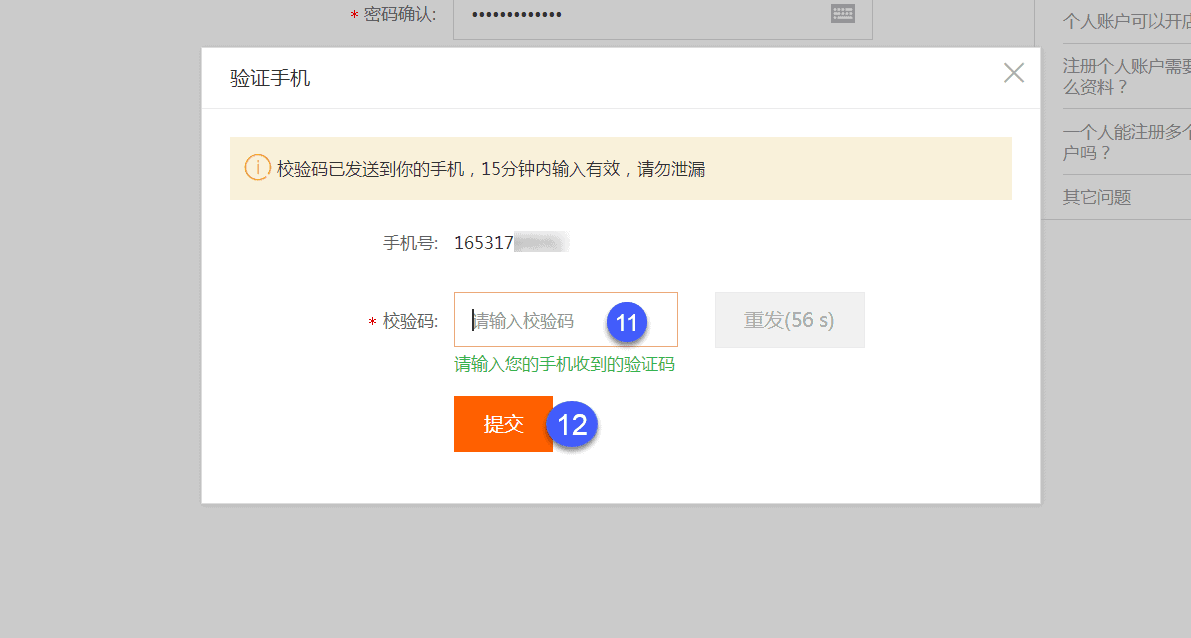 Step 4. Complete the profile of the account
On the following page, 1688.com will ask you to complete your account profile.
You don't need to fill in every option, just fill in the areas with red marks.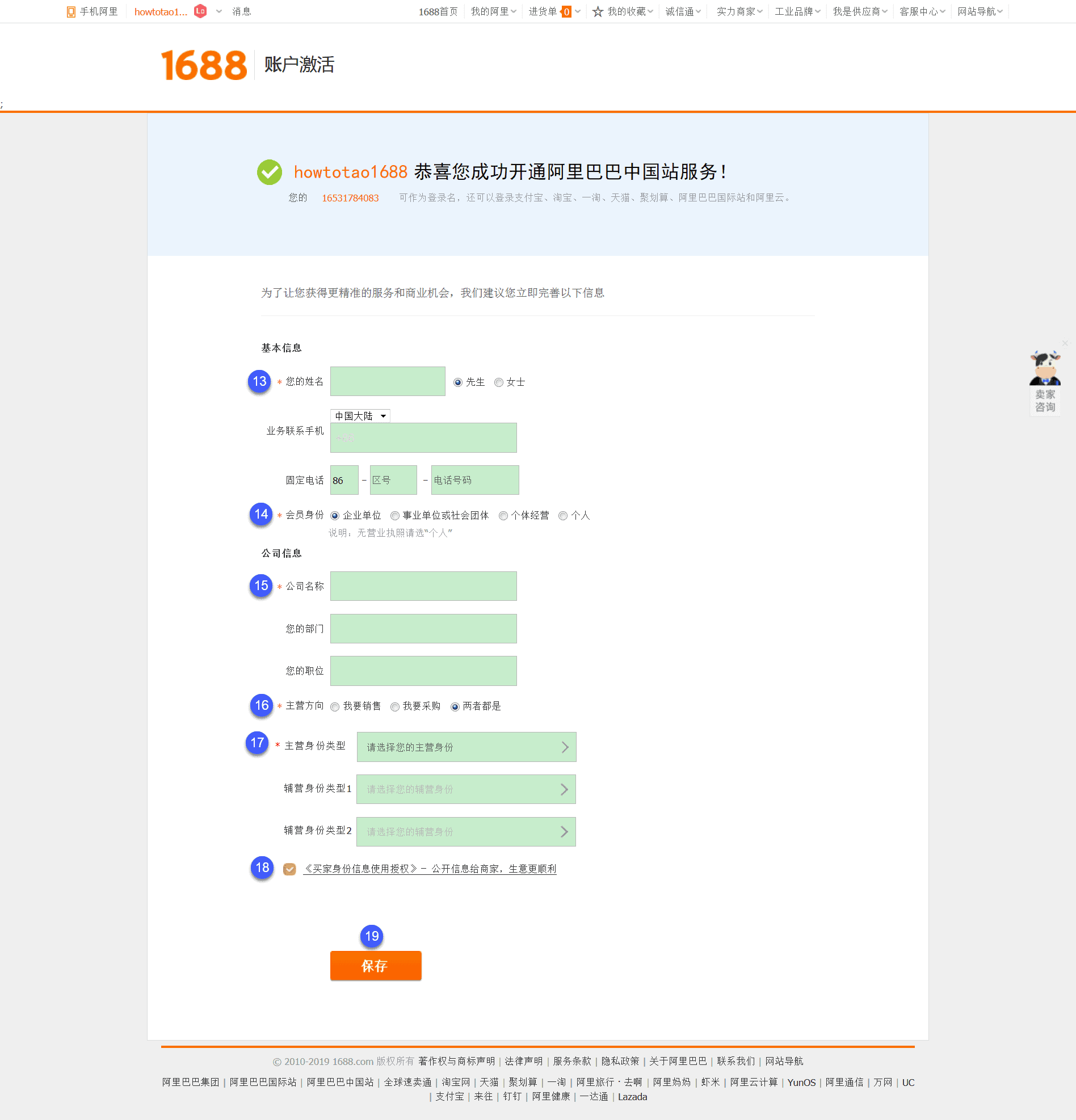 Label.13
Enter your real name here, then select your gender.
Label.14
Select the membership type here, for foreigners, it is best to select the last one, Individual.
Label.15
Fill in the name of your company.
Label.16
Here you can choose what you want to do with your 1688.com account.
there are 3 options:
1. I want to sell.
2. I want to buy it.
3. Both.
Here I suggest you choose the second one: "I want to purchase".
Label.17
Here is the option for you to choose your business model, you can click on it
The following options will pop up:

I suggest that you choose the last one "网商(the online merchant)" and that's it.
Label.18
Check this box so that the supplier can find you.
Label.19
Click the orange Save button to complete your account registration.
Update or add your account information
For your account security, you can also add or update your 1688 account information from the user center.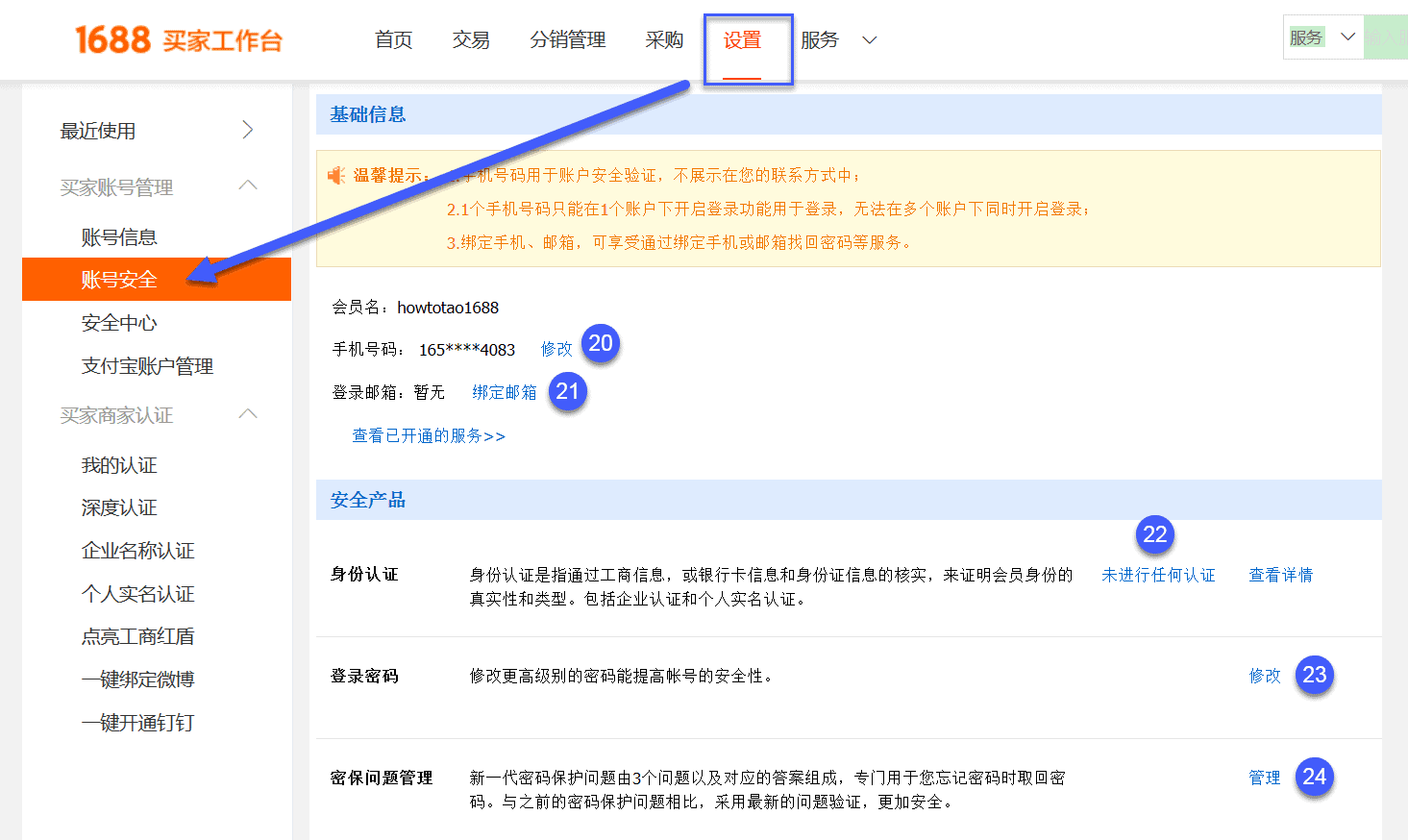 Label.20
With this option, you can modify your mobile phone number.
Label.21
You can add your email address here.
Label.22
This is for real-name verification, which is useless for foreign users.
Label.23
This is to change the login password.
Label.24
This is used to add and manage security questions.you can further protect your account from unauthorized use by adding answers to security questions.
Congratulations, Your New 1688.com account is Ready!
If you have followed the steps above– congratulations. You should now have a fully working 1688 account.
If you create a 1688 account of your own or already have one up and running, I'd love to hear from you and learn from your experience in the comments below.