Let's face it.
Purchasing from 1688.com(Chinese Alibaba) as a foreigner isn't easy.
Unlike Alibaba, you can find a lot of tutorials and experience sharing online.
However, there are not many tutorials about 1688.com. The only articles available are not clear enough and sometimes, misleading.
So, I decided to share some practical tips about 1688.com. hopefully, my article will make your 1688.com purchase a little easier.
1. 1688.com introduction
what is 1688.com
1688.com is China's No.1 wholesale B2B and dropshipping website, It's a Chinese version of both Alibaba.com and Aliexpress.com.
Like Alibaba.com, you can find products, manufacturers, and various service suppliers on 1688.com and build connections with them.
this is the traditional way you import from China.
However, in recent years, with the rise of online store owners, 1688.com has strengthened its online wholesale function.
This allows many small and medium-sized online business owners to place orders directly from suppliers.
This process is actually the same as your shopping experience in Ali express or amazon.com.
why should you buy from 1688.com
Lower and transparent prices
I think this is why most people buy from there.
Many of the suppliers on 1688.com are factories or top wholesalers which means you can wholesale products directly from factories in China.
In this way, you can bypass the export agent or trade company and purchase goods at a lower price.
And the product prices on 1688.com are very transparent, the price of the product varies according to your purchase volume.
The more you buy, the cheaper it gets. You can see this example below: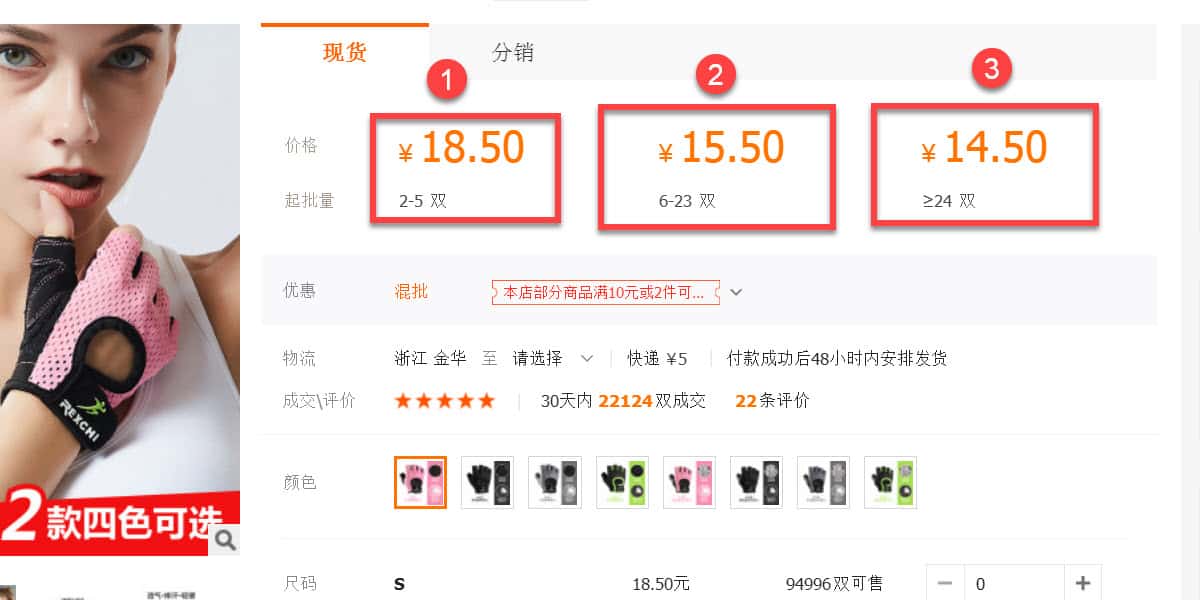 When your purchase volume is 2-5 pcs, the price is 18.5 RMB
When your purchase volume goes up to 6-23 pcs, the price is reduced to 15.5 RMB
When your purchase volume is extended to more than 24 pcs, the price is dropped to 14.5 RMB
Reach more products and high-quality suppliers
The traditional way to find Chinese suppliers is Alibaba.com or attend trade shows in China,
However, at Alibaba and the trade show, you can only reach a portion of the suppliers,
1688.com, on the other hand, is a collection of almost all suppliers in China.
you can only find certain products and suppliers there because many of them only supply products to domestic buyers and export companies.
On 1688.com, you can find your suppliers' Aliwangwang or WeChat and communicate with them directly.
Very friendly to small sellers and startups
The MOQ set by the suppliers on alibaba.com is very high, many times you need to wholesale hundreds or thousands of products at a time to get started.
If you are a small seller, it is risky to purchase so much inventory at once.
However, the threshold for purchasing at 1688.com is much much lower. For some products, the minimum order quantity is only 1 or 2 pieces.
If you are a small seller, you can set up a store with ten or more product categories for only 100 or 200 dollars.
And some suppliers offer dropshipping service where you just provide the recipient information and they can send the product to your customers all over the world.
It's almost zero cost to start a business this way.
how to make money from 1688.com
As I've already said, there are many vendors on 1688.com that offer a very wide range of products and services, these products and services can bring you a lot of money-making opportunities.
If you're angling to earn money from 1688.com but aren't sure where to start, here are several of the best and most realistic ways to consider:
1. wholesale from 1688.com
You can purchase multiple orders at once at 1688.com, send them to your forwarder's address,
and then let your freight forwarder package into one or several packages and ship it to you.
After you receive it, You can resell these products in your local store or online.
2. buy from 1688.com and ship to Amazon FBA
I know many people are doing this right now, they purchase products on 1688.com, then have their suppliers or freight forwarders label their products and boxes with the Amazon label, and then send them directly to Amazon's warehouse.
Note that I am not talking about an American seller who sends it to an Amazon warehouse in the United States, but an American seller who sends goods to his Amazon warehouse in North America, Europe, Japan, or elsewhere.
You can ship your purchase on 1688.com from China to an Amazon warehouse in the world at the lowest cost.
3. Dropshipping with 1688.com
First, you will need to secure your supplier that supports global dropshipping(there are many!).
Then, you get the order through your own online store.
Finally, you request your 1688.com supplier to fulfill and ship to your buyer.
4. Sell Custom product to Your Fans
If you have a popular blog or social media account such as youtube, Facebook or Instagram, and you have a lot of subscribers
Then you can find the merchant on 1688.com to help you customize some products and sell them to your subscribers.
5. be a 1688.com agent
You already know about 1688.com, but many people or businesses in your country are not aware of this site,
So once you are familiar with the purchasing process at 1688.com, you can build a virtual trading company.
You can set up a website in your local language to help people or small businesses in your country buy things on the 1688.com.
2. can I buy directly from 1688.com as a foreigner?
can I buy directly from 1688.com as a foreign individual?
The answer is yes, but only if you have a China bank account.
You can easily register an account with 1688.com, find products, and add them to your cart. but the biggest problem is in the last step – payment to the supplier
See the picture below: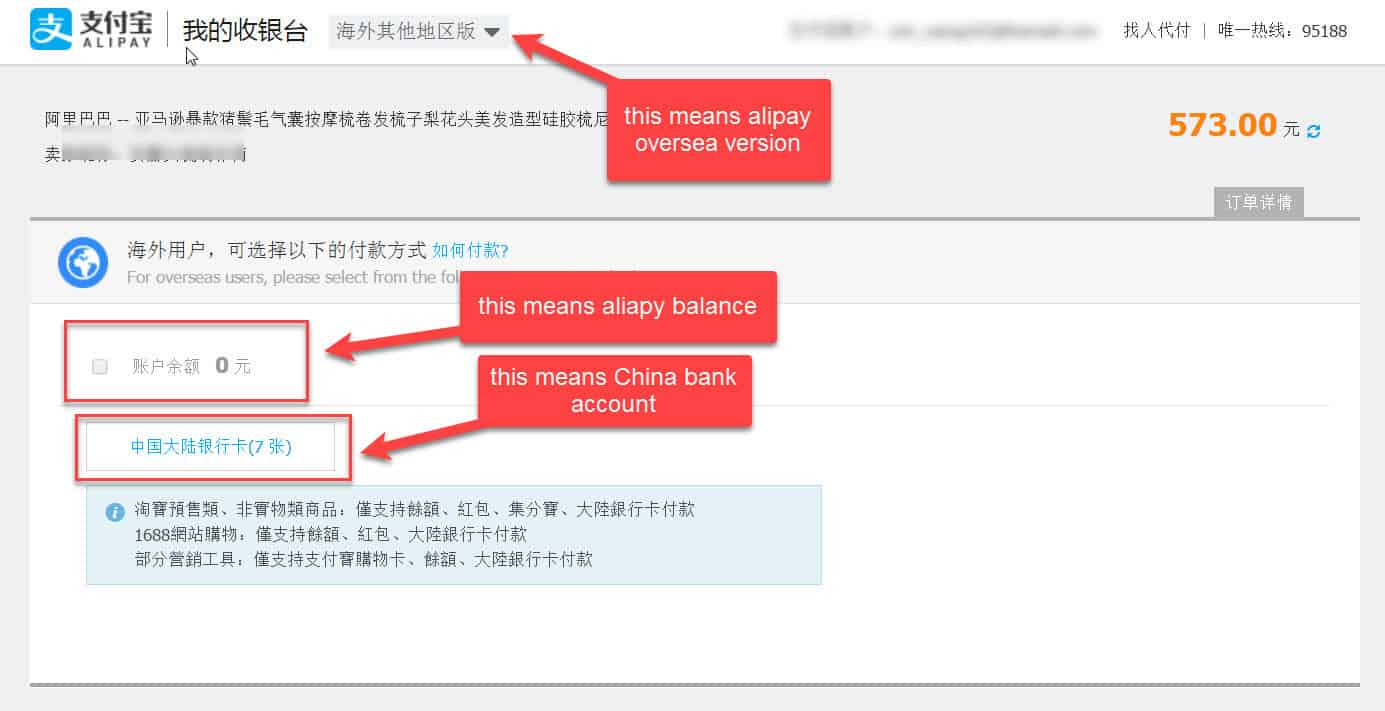 This is the payment page of ordering on 1688.com (it's redirected to Alipay page actually) and I've switched to the overseas version.
Here it says that as a foreigner, you can only pay with your Alipay balance or your mainland China bank card.
In order to enable the Alipay balance feature, you must verify your Alipay account with a mainland China bank card. so, a mainland China bank card is the key to the problem.
But you have to come to China in person to open a bank account, you can't do it over the internet or at a Chinese bank branch in your local area.
This is a huge barrier for most.
can I buy directly from 1688.com as a foreign company?
The answer is also yes. the screenshot below is the checkout page of 1688, on the left of the Alipay option(支付宝), there is another payment option, called cross-border pay(跨境宝).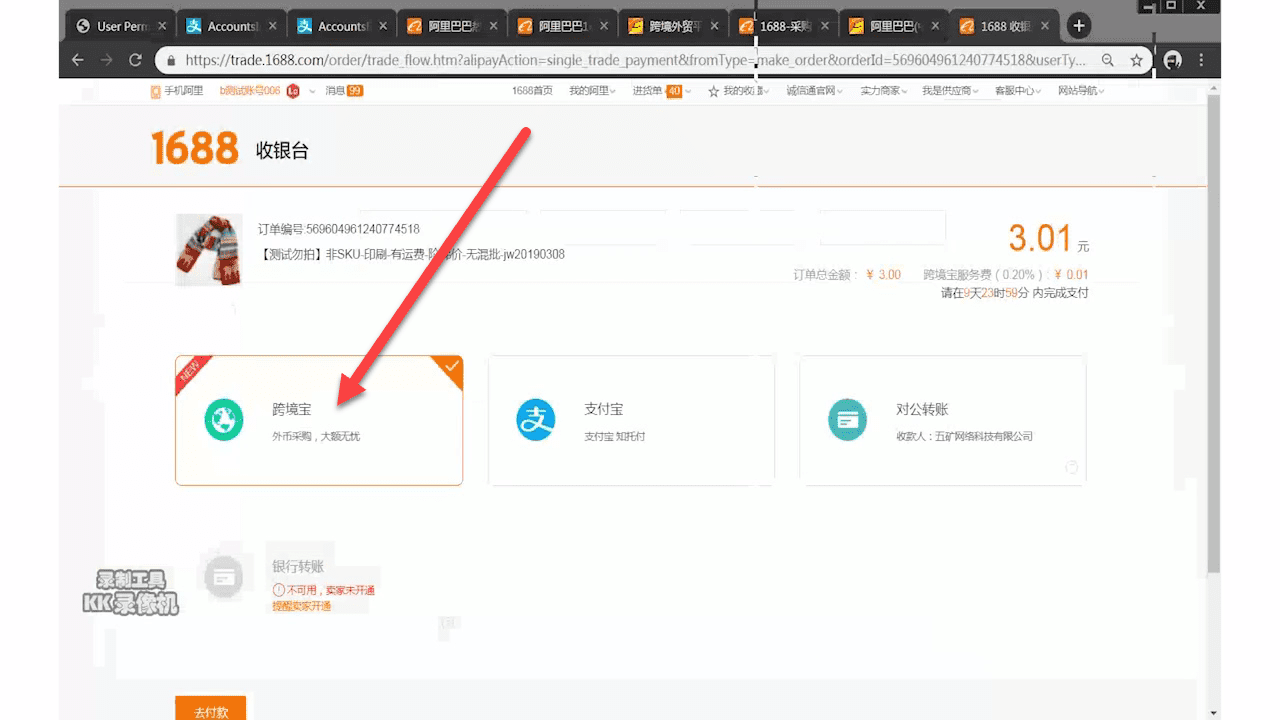 This is a new payment solution launched by 1688 and Alipay for some foreign companies. I will introduce this payment solution in part 7 of this article.
3 models to buy from 1688.com via an agent.
Now you know that it's very difficult for most people to buy and pay directly at 1688.com like at alibaba.com.
I guess that's why most foreigners don't use this site for their purchases.
Feeling Frustrated? Want to give up?
No, No, Please Don't!
Why?
Because I know that there are a lot of people who overcame these obstacles and they are making tons of money leveraging 1688.com right now!
and you can do it too.
Let me share with you some of the approaches that people are using today to purchase from 1688.com.
1. contact the supplier at 1688.com directly
After you registered your 1688.com account, you can log in to your aliwangwang account and communicate directly with the supplier.
Alternatively, you can find the supplier's mobile number or WeChat ID on the product page and get in touch with the supplier on WeChat.
The rest is just like you purchase from Alibaba, discussing product details, samples, order quantities, discounts, payment methods, etc. with suppliers
Pros
You can bypass the middleman and talk directly to the manufacturer.
Most of the sellers on 1688.com are only selling to domestic buyers. the price they offer you is usually lower than on Alibaba.
Cons
Many suppliers don't speak English, so be patient and try to use simple English.
Many of the 1688.com suppliers do not have PayPal accounts and their bank cards only accept RMB,
you have to find a payment method they can accept.
2. Buy from 1688.com with Shopping Proxy website
There are a lot of China buying agent websites that offer a service of buying from popular China online stores like Taobao, 1688.com,JD.com.
All you need to do is submit the product link on their website,
They will then help you to buy the product from that supplier.
When all your orders reach their warehouse, they will consolidate and repack them for you and send them to you through different shipping methods.
Pros
The good thing about these websites is that the procedure is simple and easy to follow, the shopping experience is great, and the whole process is just like you were shopping at aliexpress.
And they also offer a PayPal or credit card payment method.
Cons
Usually, the services offered by these sites are very limited. They will not help you source products or suppliers.
Neither will they help you check the quantity and quality of your orders.
You have to find your target products and suppliers at 1688.com yourself!
Their shipping method is only suitable for small orders,
for large orders, they do not offer shipping options like air cargo, railroad, LCL, or sea freight.
3. 1688.com sourcing and purchasing agent
If you search on google or alibaba.com, you can find a lot of 1688.com sourcing or purchasing agent.
They offer a more professional and comprehensive service, usually, you just need to provide your needs or product images and they will help you do the rest.
Pros
They usually offer more services such as sourcing products and manufacturers, samples, customizing products, customs clearance, more transportation methods, etc.
Their service is a one-on-one model which means you can get prompt and personalized service.
Many of them are fluent in foreign languages and you can communicate with them in your local language.
Cons
They only like big customers, big orders, and if your order is small, they will charge a high commission, or maybe their response is not so positive.
They will make money from hidden commissions or discounts. Usually, they will bargain with the supplier, they will not tell you if there is a discount.
In order to get your order, they all advertise on their website that they can meet all your needs. Of course, we know it is impossible.
3. create 1688.com account
In another article, I share in detail why you should sign up for a 1688.com account and the steps to do so.
I believe that article can solve your questions about the 1688.com account.
4. Find the product from 1688.com
Once you have your 1688.com account, you're in the heart of the purchasing process – finding the product you need.
Prepare product images and keywords
Image Search
Image search is the fastest way to find your product on 1688.com, so you must have several product pictures ready.
Keyword Search
For some products, it's hard to find the relevant product with pictures, so you need to prepare 3 to 5 keywords for the product and translate them into Chinese.
A little trick is that you can use the keywords to find the product on taobao,amazon or aliexpress and take a screenshot of the product,
Then use these screenshots to search on 1688.com.
Enter keywords or upload pictures
At this point, all you have to do is enter the prepared keywords into the search bar(Label.1), or click on the camera icon(Label.2) to upload the image.

If all goes well, you'll see a lot of similar products like this: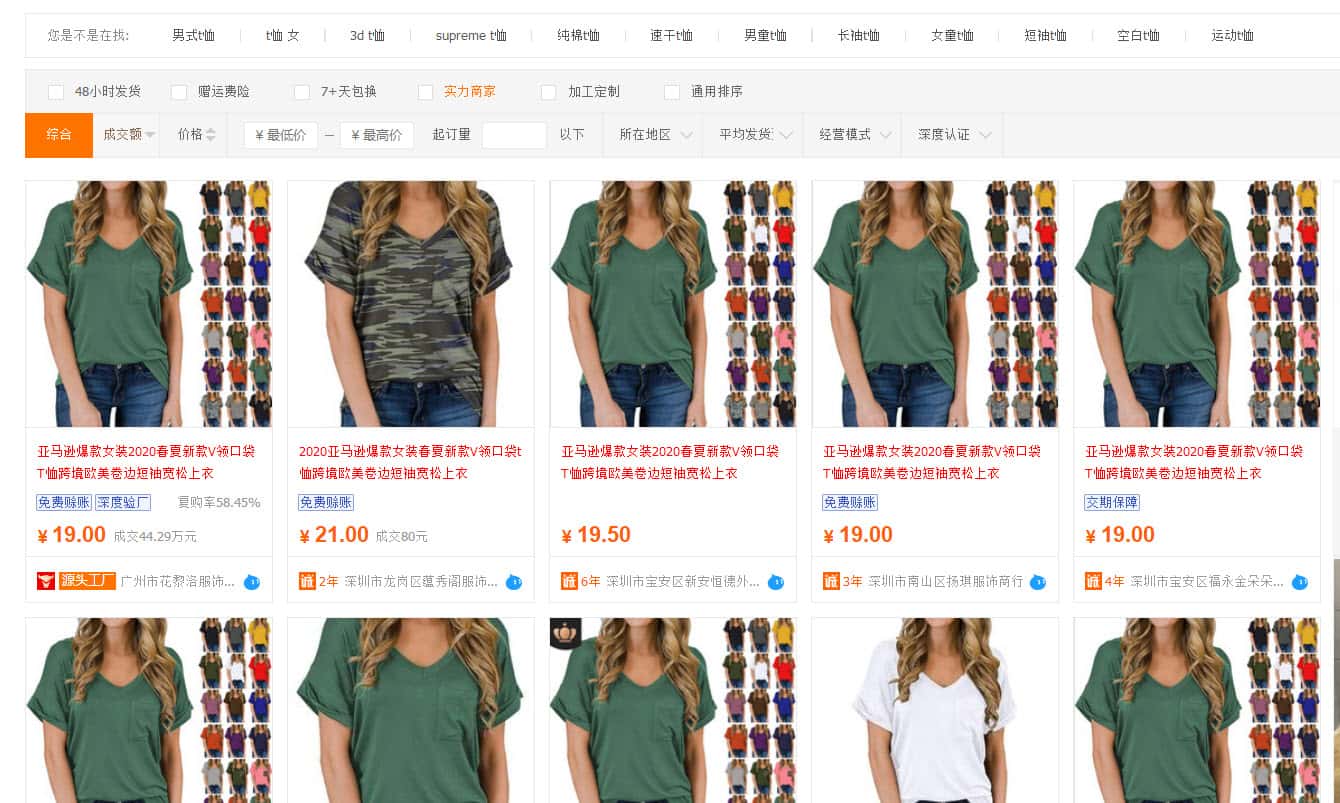 5. choose high-quality suppliers on 1688.com
The next thing we have to do is to pick one that suits you from so many similar product suppliers.
Luckily,1688.com offers a number of search filtering options to narrow down your selection, I've flagged them all and then I will explain in detail what each option means.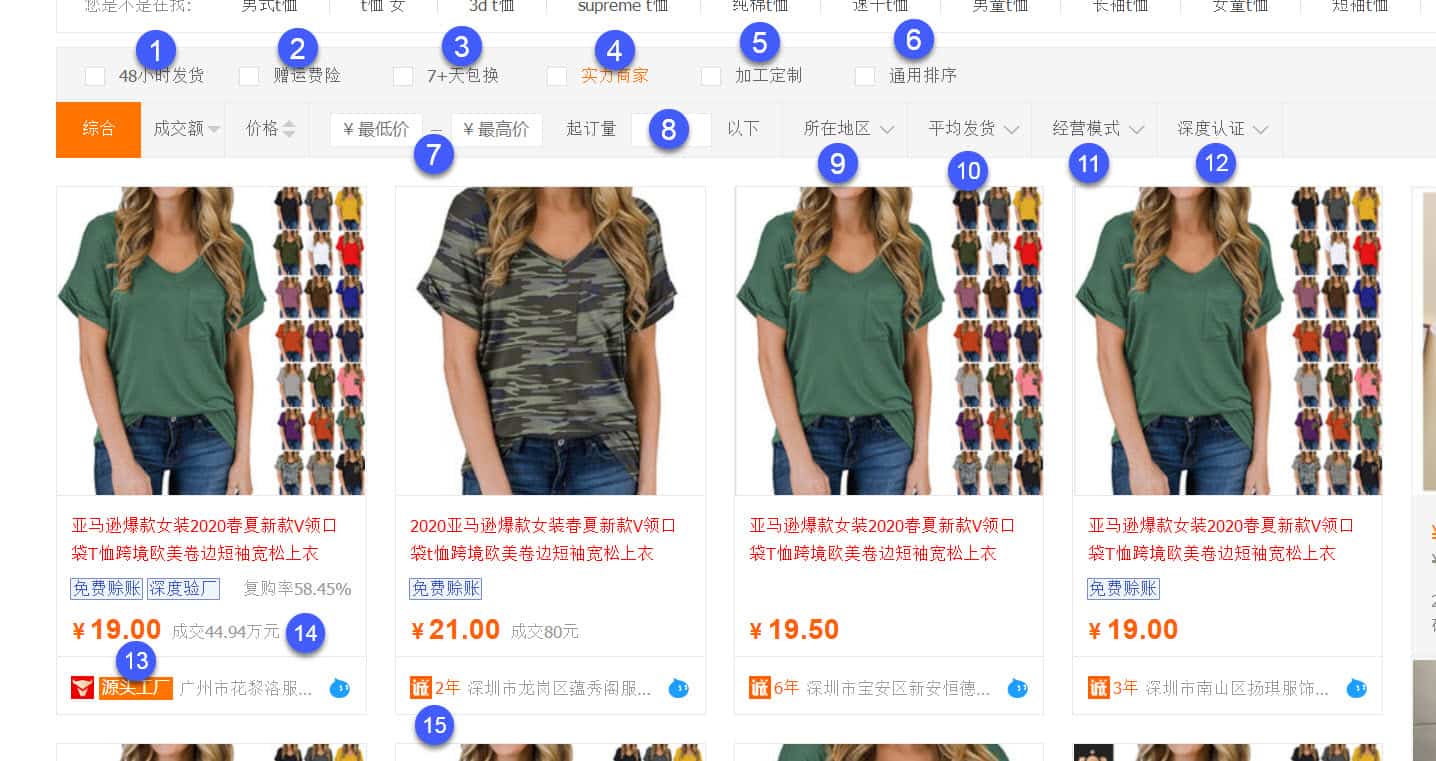 Label 1
this means that the seller can ship your order within 48 hours.
This option is very important because not every supplier has the item in stock, and some suppliers often start production after receiving your order.
Label 2
this option means that, if you are not satisfied with the goods received and want to return them, the seller is responsible for the domestic return shipping fee.
If you or your agent can do the quality control for you while the product is in your China warehouse, then this option will allow you to buy the product risk-free.
Label 3
7+ days replacement: the seller promises that within 7 days of the buyer signing for the goods, Replacement service is provided for defective goods.
If the seller fails to fulfill the aforementioned commitment, the buyer may initiate rights protection within the specified period and apply for compensation.
Label 4
this is similar to Alibaba's Gold Membership, only a certain number of quality manufacturers and distributors can be selected, usually, this means that the product is of good quality and can be delivered on time.
Label 5
This option means that the supplier can provide further customization services based on the product.
For example, if you want to change the design of the product or add some materials or your own logo, etc.
Label 6
This is to help you personalize your selection based on your past browsing and shopping habits.
Label 7
This option is used to filter the price, you can enter a price range, such as 10-20
Label 8
This is used to filter the MOQ of the order.
Label 9
This is used to filter the location of the supplier.
You can ask for the location of your logistics provider, then select the same province as your logistics provider here.
For example, if your logistics provider is in Shenzhen or Guangzhou, then you can choose Guangdong Province(广东省).
This will save you the shipping cost and time for domestic shipping.
Label 10
This is to filter the shipping time, there are 3 options:
The same day
Next day
Within 3 days
Label 11
This is used to filter the business types of suppliers, there are 4 types:
Manufacturer
Wholesale/distribution
Agent
Business services
Lable 12
This option allows you to choose a supplier that has passed in-depth inspection.
"In-depth inspection" is a service that 1688.com provides for supplier members to certify the comprehensive capabilities of their business.
It is audited by an internationally renowned certification company and produces a credible certification report.
If you are looking for a factory, then you can choose
In-depth Manufacturer inspection(深度验厂)
if you want to work with a trading company, you can choose
In-depth Wholesale/distribution inspection(深度验商)
Label 13
If you see this logo, it usually means that this is a large manufacturer and has passed the in-depth manufacturer inspection.
Label 14
This shows the sales of this product in the most recent month. You can see the popularity of this product from this data.
Label 15
This sign means that this supplier has been a paid 1688.com seller for 2 years.
Usually, the longer they have been a paid supplier, the more stable and reliable the supplier is.
6. communicate with the seller
For most of the products on 1688.com, you can place an order directly.
However, for some products, the seller sets some restrictions or requires you to communicate with the seller before placing an order.
Therefore, communicating with the suppliers on 1688.com is a very important step for your purchase there.
if you buy via an agent, they can do this for you, but they may lie to you about the price, etc..
So if you want to deal on 1688.com for a long time and build your own supply chain, you have to learn to communicate with them using some tools that Chinese suppliers often use.
This is a necessary skill!
What to communicate with suppliers
1. bargain with the supplier.
The seller has indicated the tiered price on the page, but this does not mean that this is the final price.
If your order volume is not bad, you can try to ask the supplier for a discount.
In addition, you can also ask the seller to reduce or exempt domestic shipping costs, which can also save you some money.
2. Confirm product details, delivery time, etc..
Usually, the pictures on the product page are all modified, and you can ask them for more real product pictures.
Also, many products are not in stock in the seller's warehouse,
If your order is urgent, it is very important that you confirm the delivery time with your supplier
3. Ask about product certifications
On alibaba, many suppliers will indicate which certifications their products have passed, such as CE, FDA, RoHS.
However, many sellers on 1688.com will not specify these.
If your imported products require these certificates, you need to communicate with the seller in advance.
2 tools for communicating with 1688.com suppliers
1. Aliwangwang (阿里旺旺)
Aliwangwang is the official chat tool in taobao and 1688.com,
here is the download link.
Note: Trademanager is the international version of AliWangWang, can not be used in Taobao and 1688.com, can only be used in alibaba.com and aliexpress.
All you have to do is click on the blue icon, and the chat interface will pop up.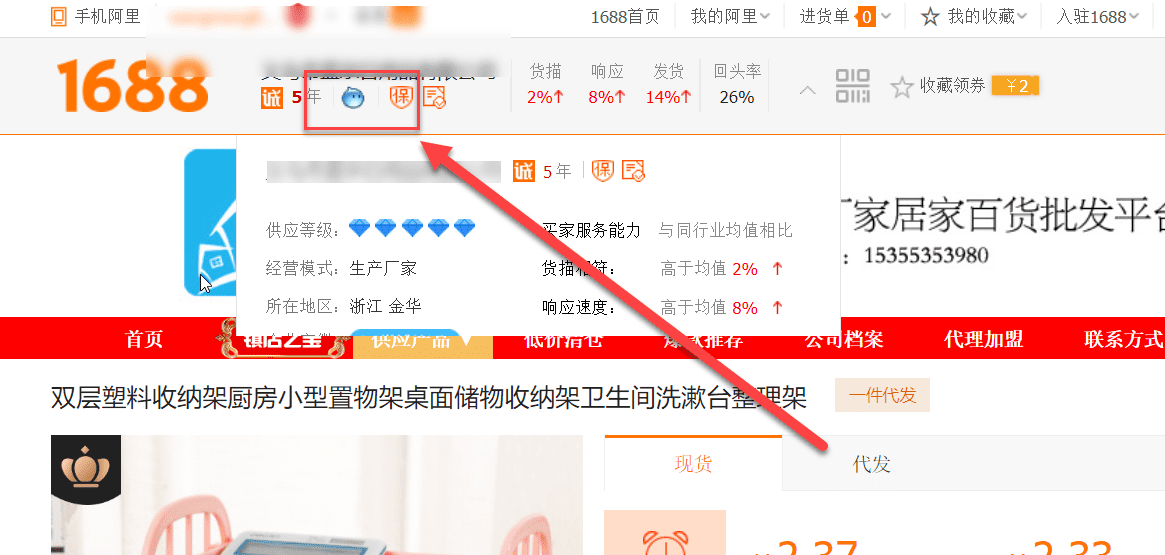 2. WeChat
Wechat is a chat tool similar to WhatsApp, and in China, almost everyone has a WeChat account.
The suppliers on 1688.com pay a lot of attention to WeChat marketing, and they will usually push you new promotions or new products on WeChat.
If you want to establish a long term relationship with the supplier, I suggest you add them as a friend on WeChat.
Usually, a supplier's cell phone number is their WeChat ID.
You can find their phone number in the upper right or lower-left corner of the product page.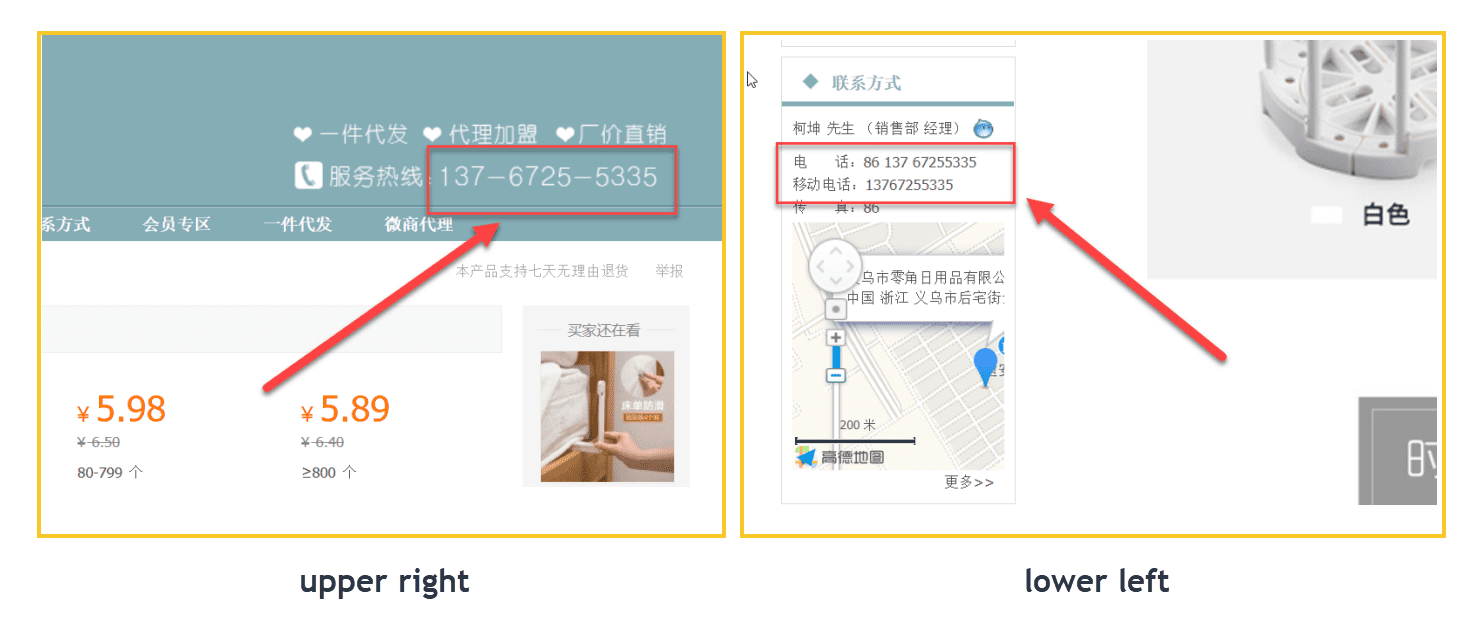 7. payment and place order
If you are purchasing from 1688.com through an agent, payment is simple,
Usually, they offer a convenient way to pay, like a credit card or paypal.
But if you can't stand their high exchange rate and commission, or you want to bypass the middleman and directly establish a relationship with the supplier,
You need to know some other payment methods.
Most of the suppliers on 1688.com do not support PayPal, bitcoin, international credit cards, and their bank accounts do not accept US dollars.
Here are some of the payment methods I know that you can use to pay them:
1. Alipay
Paying through Alipay is the cheapest and most convenient way, but…
As I mentioned above, if you want to make Alipay payments to 1688.com suppliers, you must have a Chinese bank card to verify your Alipay account.
However, the Chinese bank account does not support online or remote account opening, you have to go to the Chinese bank office in person to open an account.
If you often travel to China or attend exhibitions, you can open a Chinese bank card.
2. Alipay Business account with 1688 cross-border pay
1688 cross-border Pay(跨境宝/Kuajingbao/KJB) is a payment solution offered by 1688 and alipay for companies registered in certain overseas countries and regions.
This solution allows foreign companies to pay their suppliers on 1688 directly through their own alipay and 1688 accounts.
Because this is the official solution provided by 1688 and Alipay, so your account security is totally guaranteed. you no longer have to worry about your 1688 or Alipay account is frozen or restricted.
Another advantage is the fees they charge are very low, far lower than the cost of your purchase through a 1688 agent and their exchange rate is more competitive than the bank's live rate.
If your company is interested in this solution, you can click here and here to learn more about it.
3. Alipay "Pay for you" feature
Alipay has a feature called "Pay for you" which allows you to invite your friends to pay for you.
If you have friends in China, you can ask them to pay for you.
4. bank deposit via online transfer
Almost all suppliers support bank transfers, however, they can only accept RMB.
Companies such as Transferwise or Paysend allow you to transfer RMB directly to the private bank account of the supplier.
5. Westunion
Western Union is relatively simple, you only need to know the name and address of the recipient, this method is more suitable for small payments.
6. Chinese people in your country
Nowadays, many Chinese people going abroad to study or do business,
you can build a connection with them, and ask them to pay for you, then you only need to pay them in the local currency.
8. domestic shipping
The seller can usually ship your order within 24 hours after you have paid for it,
Most suppliers' working hours are Monday to Saturday, so they will also ship on Saturday.
These suppliers will ship your order by express or courier, and it will take 1-3 days to reach your address in China.
After they ship, they usually provide you with a tracking number, so you can track your package on the order page or ask your agent for the tracking number.
Usually, the shipping price set by the supplier on the product page is relatively high.
Generally, the express price is about 1 RMB per kilogram for intra-provincial transport.
and for inter-provincial transportation, the price is 2-3 RMB per kilogram.
If the supplier's shipping fee is too high, you can directly or through your agent, ask the supplier to modify the shipping fee.
and most of them are willing to do this for you.
9. warehouse
Usually, the goods will arrive at your China warehouse in 2-4 days after the seller ships them.
Quality Control
Product quality inspection is best completed at this stage, if the product is found to have problems, you can contact the seller to return or exchange,
If you don't find the problem until you receive the product, it will be very troublesome and the cost of shipping it back to China is a big expense.
You can ask your freight forwarder or agent to help you do some simple quality control, such as taking pictures of product details and packaging, check the quantity, etc..
product label
I know some importers need to add some additional tags, such as amazon tags, or your product logo, etc.
You need to talk to your forwarder in advance to see if they offer similar services like this, not every forwarder is willing to offer such services.
Consolidation of packages
If you purchase goods from different suppliers, you can send them all to the same address and combine them into one package to save on shipping costs.
10.International shipping
In my opinion, if you want to make big money from importing from China, you must have absolute control over the logistics from China to your country.
This is very critical !!
Logistics will affect your total cost, customs clearance, inventory control, etc..
If you can't control the logistics, your import business will never grow big.
When I say absolute control, I mean the following points:
1. You must know 4-5 mainstream shipping methods from China to your country.
2. You must have the ability to choose the appropriate one for your goods.
3. You must have 2-3 freight forwarders who can provide these shipping methods and offer you competitive prices and stable services.
In this article, I introduced some knowledge about international logistics that you must know, and I recommend you to read it.
11. Customs and tax
Usually, your freight forwarder or agent will assist you with customs clearance,
They will prepare for you a series of documents for the export declaration of the country of origin (China) and the import declaration of the country of destination.
Your supplier or you only need to prepare the relevant invoices, packing lists, and other product information needed for an export declaration.
For some products, it is also necessary to attach relevant test reports of the destination country market for import declaration.
For example, electronic products in the EU market generally need to pass the CE certification.
The rechargeable products will require MSDS battery safety test report, etc.
12. Final words
This post is finished here, but I feel that there are still many topics that have not been explained clearly.
I plan to write more articles about 1688.com to help those who want to import from there. If you want to be the first to be notified, you can subscribe to my mailing list by clicking on the subscribe button below.
And if you have any doubts about this article or have any questions about 1688.com, please leave a message below.
I would love to read your messages and reply to your questions.