Welcome to the most complete best taobao agent list and guide!😀😀
I launched the list in 2015 (the first on the internet!) and keep it updated every year,
But the industry is changing so fast, especially in China's strict control of the COVID-19 in the past few years. Many agents' operations and growth have been affected, some even closed their business or ran away.
So to keep up with the latest changes, I have rewritten this list this year. I tried to compare and summarize in detail the most popular Taobao agents on the market now. I believe you will have a better understanding of Taobao agents after you read this article.
1. Best Taobao Agent In 2023: Quick Summary
I am going to go much more in-depth in this post with hands-on comparisons and experience-backed opinions. However, if you're in a rush, I want to start things off by giving you a quick summary of my top picks.
So – you can either use this simple summary list as a jumping-off point. Or, you can keep reading to learn exactly why I've chosen these taobao agents.
✅ Superbuy: A great all-around option if you want premium service and extensive shipping options.
✅ Pandabuy: A great budget option that performed well in my comparison. Shipping is a little more expensive than Cssbuy and Basetao, but offers better customer service and 0 service fee.
✅ Sugaroo: It is just as good as Pandabuy, but if I have to choose one between them, I will choose Pandabuy because it's website is simpler and cleaner.
✅ Cssbuy: Has low shipping rates and exchange rate losses, but has mediocre customer support. Can be ok if you don't mind customer service too much.
✅ Basetao: Another budget-friendly agent, their air express options like UPS and DHL are the cheapest.
2. Taobao Agents Basic Information
When I pick a Taobao agent, the first thing to look at is the basic information of these agents, mainly includes the years of foundation, history and warehouse address of these agents..
I personally prefer taobao agents running stable for more than 2 years, I have seen many new agents in various forums, publish tempting ads to attract customers, when the number of customers and the amount of money reach to a certain point, they will shut down their website, and run away with the money.
So I am not going to put a new agent into my list, no matter how tempting he said.
Here is the basic information I have gathered about these top agents:
Superbuy – Superbuy is not a long-established agent, it was founded in 2016, but its former company, dotdotbuy, was founded in 2012.
It provides two warehouse addresses, one in Huizhou, Guangdong Province, and one in Hong Kong. In most cases, we use their Huizhou warehouse address.
Wegobuy – They started their Taobao shopping business in 2019, not long ago. in the beginning they put their warehouse in Hangzhou, now their warehouse address is in Huizhou.
Sugaroo – Sugaroo was established in 2020, their warehouse is also in Huizhou.
Pandabuy – Pandabuy was founded in 2021, and their warehouse is located in Huizhou,too.
⚡⚡There is a very very close relationship between Superbuy, Wegobuy, Sugaroo and Pandabuy, I mean they may be independent at the operational level, but the shareholders behind their companies are closely related.
The advantage of this relationship is that they can have more parcels for export in total, so they can get better price from the shipping companies.
The bad thing is that they will monopolize the market, I believe that these agents now already occupy at least 50% to 60% of the market share.
Cssbuy – It was established in 2012, is one of the oldest Taobao agent. Their warehouse address is in Hangzhou.
Basetao – Basetao was opened in 2015 and their warehouse is situated in Guangzhou.
42agent – 42agent was previously known as tobaoring.com, founded in 2011, their warehouse is in Beijing.
Parcelup – formerly known as Taobaofocus, was founded in 2009, their Chinese warehouse is in Guangzhou, but their operations team is based in Europe.
Yoybuy – Yoybuy was founded in 2008, their warehouse is in Shenzhen.
Bhiner – Bhiner was founded in 2012 and their warehouse is in Shenzhen.
From the perspective of company size, Superbuy and Yoybuy are two of the most powerful players in the industry, they both have strong capital support behind them,
Yoybuy received venture capital many years ago, and the founder of Superbuy was one of the founders of Tencent Group and has his own investment company. They are unlikely to collapse or suddenly run away.
In terms of location, I would choose to agents whose warehouse are in south of China (Guangzhou, Huizhou, Dongguan, Shenzhen …) ,
Most of the parcels are exported through these cities. Shenzhen alone exports 40 percent of China's overseas parcels each year.
Warehouses in these cities usually mean more shipping methods, cheaper shiping rates and faster transit time.
3. Service Fee
Regarding their service, my primary concerns lay in these specific aspects:
Whether they support other sites besides Taobao
Whether they provide QC pictures
Whether there are additional services, such as membership, business dropshipping, wholesale purchasing, etc..
Superbuy – Superbuy supports most of the popular Chinese shopping sites (taobao, Tmall , 1688, JD, weidian, yupoo, xianyu, pingduoduo, yupoo), But they charge a certain fee for shopping on other platforms except Taobao and Tmall.
They also provide expert services for business customers, charging 10% as the service fee.
They offer standard 3 free qc photos but you can ask for more detailed pics for a cost(5 RMB per item).
They also offer a very large number of additional services and you can see their paid services here.
Wegobuy – Not surprisingly, wegobuy offers similar services to superbuy, and even their additional services are the same.
One major difference I found is that wegobuy does not offer a service for business, they seem to be letting superbuy take care of the business customers.
Sugaroo – Sugaroo provides free service for order from Taobao, 1688,Yupoo, Weidian and other shopping platforms with 5 free qc photos.
Pandabuy – Pandabuy also supports 0 service fees for purchases on most Chinese websites, and they also offer image search on their website, a feature that is very important to some people.
Cssbuy – Cssbuy supports most Chinese websites, the service fee is 6%, they also provide Drop Shipping and FBA To Amazon service, which is good for many business people.
But they do not offer free qc photo service, it costs 1RMB per photo.
Basetao – Basetao supports most of the Chinese websites with a 5% service fee. But if you are a member of WagoonLadies, it can be reduced to 3%.
They offer free QC pictures and Free measurement.
They also offer a "search for me" service, where you only pay them 1RMB and provide the item photo or item titles, and they will help you find these products on the Chinese website.
42agent – 42agent also supports most Chinese websites, but for some sites like xianyu, their service fee is 12%, which is much higher than other agents. They do not support orders that violate intellectual property rights such as replica, counterfeits, pirated copies, etc.
They offer free product pictures for less than 3 items, if more than 3 items they will charge 5 RMB per item.
One of their exclusive services is the unboxing videos for ShipForMe orders, where you can check your items via video.
I feel like this agent seems to be gradually switching to certain verticals like lolita. they even opened a lolita store called 42lolita.
Bhiner – Bhiner service fee is 5%, support Taobao, 1688 and Tmall. It seems that bhiner are taking a differentiated path like 42agent with a separate website(cosplay.bhiner.com) dedicated to sell cosplay related stuff.
But considering the high exchange rate fees and high domestic and international shipping costs it charges, I wouldn't recommend using it unless it's cosplay products at a much lower price than other sellers.
Yoybuy – The base service fee for yoybuy is 10%, but if you buy from WeChat or Xianyu, they will charge an additional 10%, which is 20% in total. Their service fee is the highest among these agents.
they charge 2 usd for item photos. yes, 2 usd…
Parcelup – Parcelup's basic service fee is 10% inclusive of the payment gateway fee. They also support purchases from 1688 or xianyu at no extra charge. They do offer free photos as well.
4. Payment Fees and Methods
When choosing a payment method, there are two main points you need to pay attention to. The first is security of your money and the second is cost.
These agents are all trustworthy, and no matter which payment method you use, your money is safe. If you are still not sure, you can use Paypal or credit card.
Payment companies and these agents will also charge a certain fee. Sometimes, the fees can be high. For example, some agents charge a 4% handling fee for Paypal transactions.
I have listed the payment methods and fees supported by these agents for your reference.
Superbuy – Superbuy supports 12 payment methods:
Paypal(2.9% + US $0.3)
Bitcoin(2%)
Kakaopay(3.5% + US $0.2, South Korea)
Giropay(2.9% + US $0.3, Euro Zone countries)
MyBank(2.9% + US $0.3, Italy)
Wise(0 service charge,40% discount on exchange rate)
Qiwi(5.2% + US $0.35, Russia)
Credit Cards(2.9% + US $0.3)
Sofort(2.9% + US $0.3, Euro Zone countries)
Gcash(3.3% + US $0.25, Philippines)
Promptpay(4% + US $0.2, Thailand)
T/T bank transfer
Wegobuy – Wegobuy supports 6 payment methods:
Paypal(3.7% + US $0.3)
Credit Cards(3.7% + US $0.2)
Alipay(0 service fee)
POLi(3.7% + US $0.3, Australia, New Zealand)
Wechat Pay(0 service fee)
Giropay(3.7% + US $0.3, Euro Zone countries)
Sugargoo – Sugargoo supports 5 payment methods:
Paypal(3.5% + US $0.3)
Alipay(0 service fee)
Wechat Pay(0 service fee)
Wise/Bank transfer
Offline Payment
Pandabuy – Pandabuy does not list the rates of payment methods, the rates below are my calculations based on the top-up results.
Paypal(3.7% + US $0.3)
Credit Card(3.8%)
Alipay Plus(2.8%,payment made in EUR)
Stripe(3.8%,payment made in EUR)
UnionPay(3.8%)
Alipay(0 service fee)
Sofort(2.6%)
Wise(0 service fee)
Cssbuy – Cssbuy supports the most payment methods, 20 in total, and some local payments are very friendly for users from South America and Africa.
Paypal(3% + 0.3 USD,no replica)
Credit Card(4%+2.5 RMB,Max 200 usd)
Alipay(1%)
Wechat(1.5%)
IDEAL( 1%+0.3EUR)
PIX(2%+0.5EUR)
BOLETO(3.2%+0.5EUR)
LOTERICA(3.2%+0.5EUR)
PicPay(3.2%+0.5EUR)
Deposit Express Brasil(3.2%+0.5EUR)
Mercado Pago(3.2%+0.5EUR)
QIWI(5.5% + 0.35)
Sofort(2.5%+0.35)
Trustpay(4.5%+0.35)
Giropay(2.45%+0.35)
Dotpay(3.75%)
Banco Do Brasil(4.3%+1.8)
Alipay Plus(4%+2.5RMB,Max 200 usd)
Paypal Gift(0 service fee)
Wise(0 service fee)
Basetao – Basetao supports 5 payment methods on their website, but you can email their customer service to activate paypal payment, they also provide Wise payment information on discord.
Giropay(3.3%+0.35€)
Sofort(2.5%+0.35€)
NETS(3.2% + 1.8 SGD)
Bancontact(2.2% + 0.45 €)
Multibanco(3.2% + 0.45 €)
42agent – 42agent supports 4 payment methods:
PayPal(4.4% + 0.3 USD)
Credit Card via PayPal(4.4% + 0.3 USD)
Bank transfer (T/T)
Wise
Bhiner – Bhiner supports 6 payment methods, but they only accept Western Union or TT transfer for your first order if the order value over 500 USD.
PayPal(4% + 0.3 USD)
Local bank transfer(only USA, 1%)
Bank transfer (T/T)
West union
Wise
Bitcoin(2%)
Yoybuy – Yoybuy supports 6 payment methods:
PayPal(3.50% + $0.30)
Credit Card via PayPal(3.50% + $0.30)
Credit Card via Stripe(3.80% + $0.30)
Wire transfer
Unionpay(2.6%)
Alipay(2.99%)
Parcelup – Parcelup supports 6 payment methods, they do not charge a fee for their transactions because they add this fee into their own fixed exchange rate.
PayPal
Alipay(Payment in RMB)
Wechat(Payment in RMB)
Western Union
Unionpay(Payment in RMB)
Paypal or credit card is my preferred payment method, it will make your transaction more secure and you can apply for a refund if there are some problems that cannot be solved through communication.
If you want to save money, you can use Wise transfers, I noticed that these agents don't charge a fee for this payment method, and some like superbuy offer a discounted exchange rate if you use Wise transfers to topup money.
Another thing you need to be aware of is that if you pay in your local currency, these payment methods will convert your local currency into US dollars before transferring to these agents, so there is a loss of currency conversion from your currency to US dollars.
5. Exchange Rate Fees
Many people don't realize that the exchange rate difference is a big expense when you use these Taobao agents. The exchange rate difference is based on a percentage, so you could also say that this is actually a hidden commission they charges you, and what surprised me is that many agents don't even mention this fee on their website.
I spent a long time and used a lot of methods to collect the fixed exchange rates set by these agents, and I made a comparison between these rates and the current exchange rate, so now you can clearly see the actual level of their fees.
Agent
Fixed exchange rate
Current exchange rate
(8 March 2023)
Exchange rate
difference(%)
Paypal fee
Service fee
Superbuy
1RMB = 0.156USD
1RMB = 0.144USD
7.69%
2.9%
0 or 10%
Wegobuy
1RMB = 0.156USD
1RMB = 0.144USD
7.69%
3.7%
0
Sugaroo
1RMB = 0.157USD
1RMB = 0.144USD
8.28%
3.5%
0
Pandabuy
1RMB = 0.156USD
1RMB = 0.144USD
7.69%
3.7%
0
Cssbuy
1RMB = 0.149USD
1RMB = 0.144USD
3.36%
3%
6%
Basetao
1RMB = 0.154USD
1RMB = 0.144USD
6.49%
4.4%
5%
42agent
1RMB = 0.152USD
1RMB = 0.144USD
5.26%
4.4%
8%
Bhiner
1RMB = 0.162USD
1RMB = 0.144USD
11.11%
4%
5%
Yoybuy
1RMB = 0.156USD
1RMB = 0.144USD
7.69%
3.50%
10%
Parcelup
1RMB = 0.157USD
1RMB = 0.144USD
8.28%
0
10%
Exchange rate difference + Paypal fee(payment gateway fee) + Service fee = Your real commission fees for using these agents.
I don't want to say much more, the table speaks for itself. You can clearly see the extra profit they make through the exchange rate.
I did a comparison of exchange rates 4 years ago before covid-19, and I put a screenshot of it here: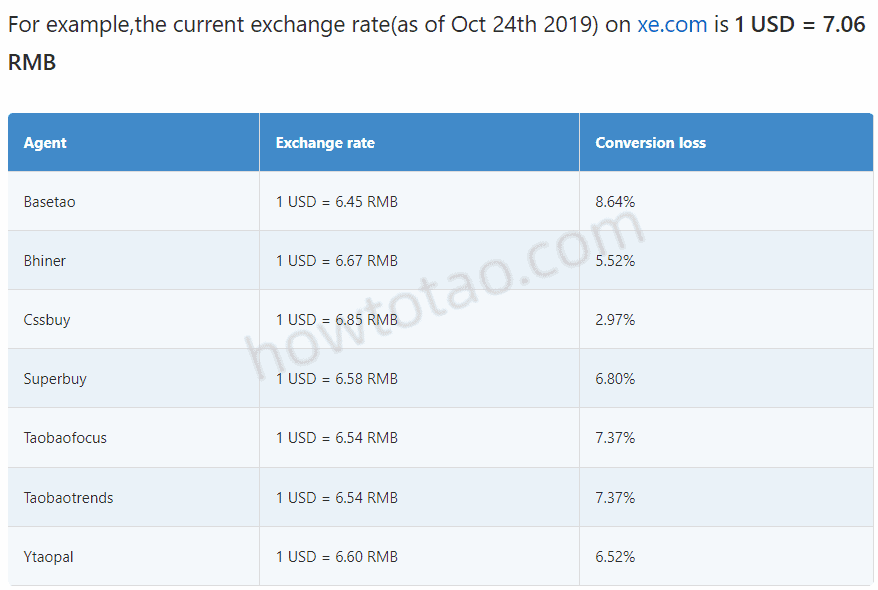 6. Shipping Methods and Rates
The biggest expense you will pay for your Taobao purchases is the international shipping costs, which can sometimes be higher than the value of the goods themselves. So, it is very important to choose the right shipping route and control the shipping cost.
I also believe that the ability to provide a wide range of shipping routes and cheap shipping rates is the key to measuring the competence of a taobao agent.
These agents usually work with other freight forwarders and do not provide shipping services themselves. Strong and competitive freight forwarders are located in places where China exports a lot of goods, such as Shenzhen, Guangzhou, Yiwu, etc.
This is why I recommend that you look for Taobao agents located in the south of China. Usually the agents in the south can provide more diversified and cost-effective shipping solutions.
Shipping cost calulaor is a pretty useful tool!
If you are going to buy from Taobao often, you should definitely take some time to learn about the shipping routes and rates to your country offered by these agents.
Fortunately, these agents offer shipping calculators, so you can quickly find out the rates they offer to your country.
I have included links to these shipping calculators here:
My analysis of the shipping solution and shipping rates of these agents(based on one example).
I know you may be a little confused using these estimators because there is a lot of jargon and abbreviations, so I'll give you an example here. Since Taobao officially supports shipping to the US, I'll also include the official shipping solution for comparison.
Let's say I want to ship 10kg of general Taobao goods from China to the US,  let's see who offers the best and cheapest route.
Taobao offical shipping – Taobao officially offers 3 shipping options:
air freight standard – 1316 RMB
air freight economy – 891 RMB
sea freight – 460 RMB
The advantage of official shipping is that it is officially supported by Taobao, so the timeliness and stability are guaranteed. In addition, at present, these shipping solutions do not take volumetic weight into account as billing weight, which is a huge advantage if you buy relatively light goods.
Superbuy – Superbuy offers the most complete shipping solutions to the United States and provides postal and air express that are not offered by the official shipping, these solutions can usually mail some restricted products such as electronic products, cosmetics, replicas, etc..But Superbuy's prices are generally higher than several other popular agents I listed below.
Wegobuy – Wegobuy seems to focus more on EMS and air express. But its prices and routes do not have an advantage over Sugargoo and Pandabuy, for example, HK UPS,wegobuy's price is 1568 RMB, sugargoo's price is 1250 RMB, pandabuy's price is 1242 RMB.
Wegobuy's price is much higher than the other two.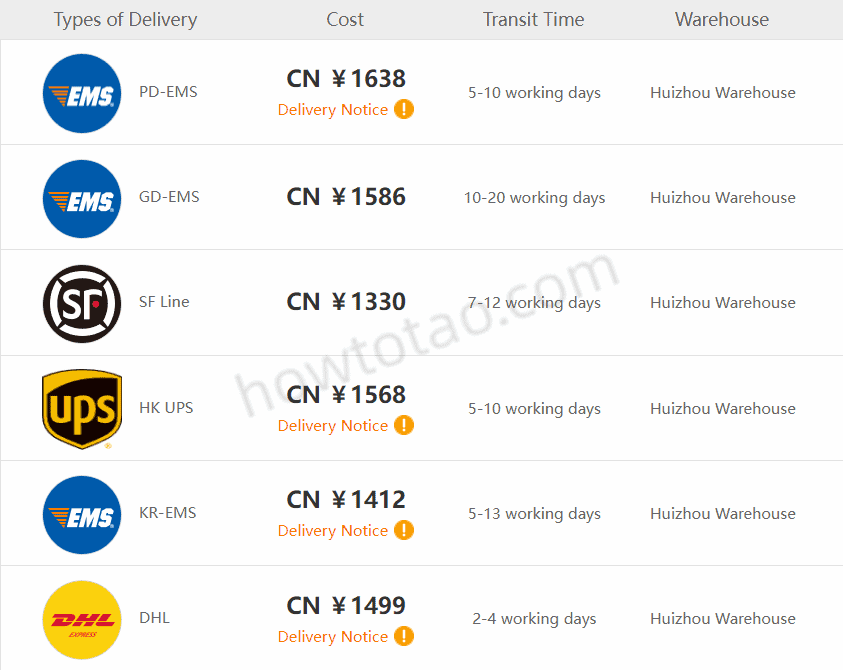 Sugargoo – Sugargoo offers the most complete UPS and Fedex shipping routes, its price is in the middle level, Sugargoo and Cssbuy's SAL(China post) price is the lowest among these agents.
SAL usually takes 1-2 months to receive the goods, but its price is low and does not count the volume weight, so it is more suitable for mailing low-value and not urgent goods.
Pandabuy – Pandabuy offers a variety of EMS services, and the price is lower than other EMS, and its ups services price is also lower.
Cssbuy – The overall price of cssbuy is one of the lowest among these agents. Most of its routes are locally based(HZ), so if you are buying general goods, you will see a fast transit time,
But if you choose a route based on another city(HK or SZ), you may experience longer transit times than other agents.
Basetao – The overall shiping price of Basetao is one of the lowest, its DHL price is the lowest if the quote is true. Its other postal and express routes are also relatively low.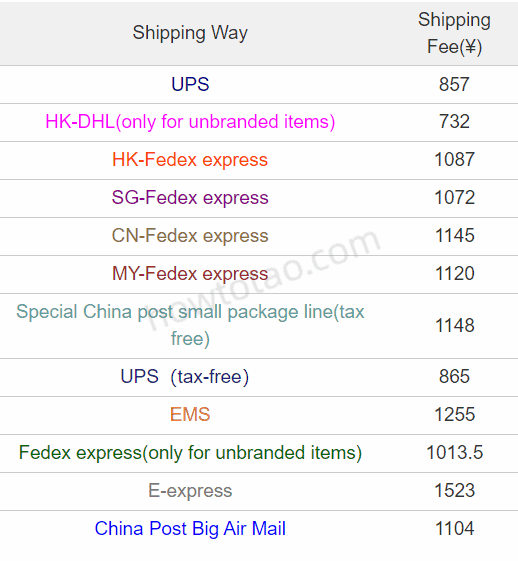 42agent – 42agent's overall prices are high, and because it is based in Beijing, it cannot offer special routes for the US such as sea freight, or Hong Kong based routes.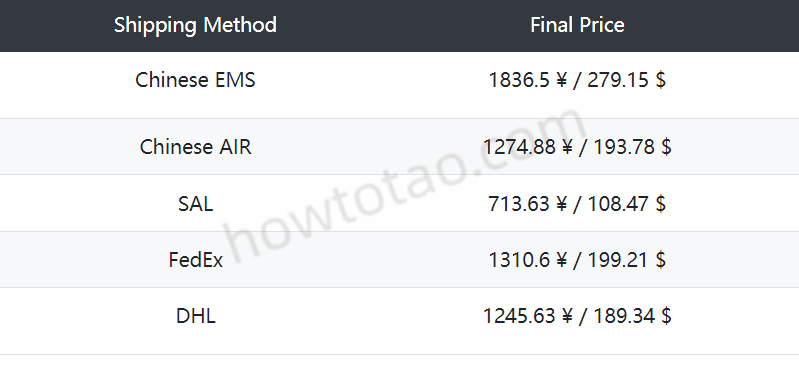 Bhiner – The overall shipping price of bhiner is relatively high, even though its economic route is far higher than other agents, and considering that its exchange rate difference is also the highest(11%!), I can find no reason to make it your first choice.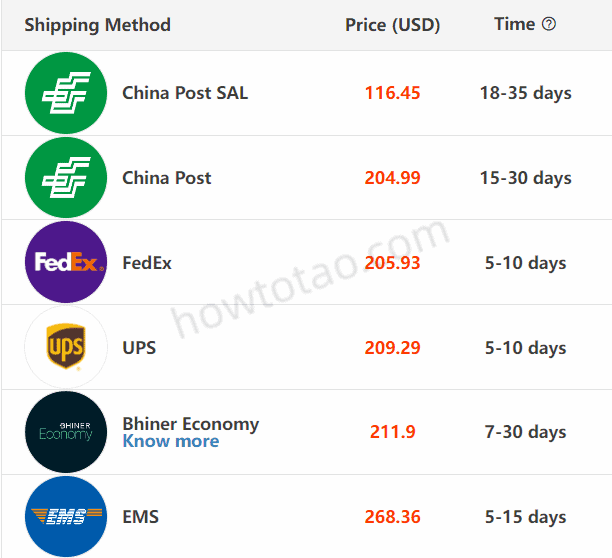 Yoybuy – Yoybuy does not offer any postal routes, and the prices of its air express routes are not very competitive. I will use it as a backup option.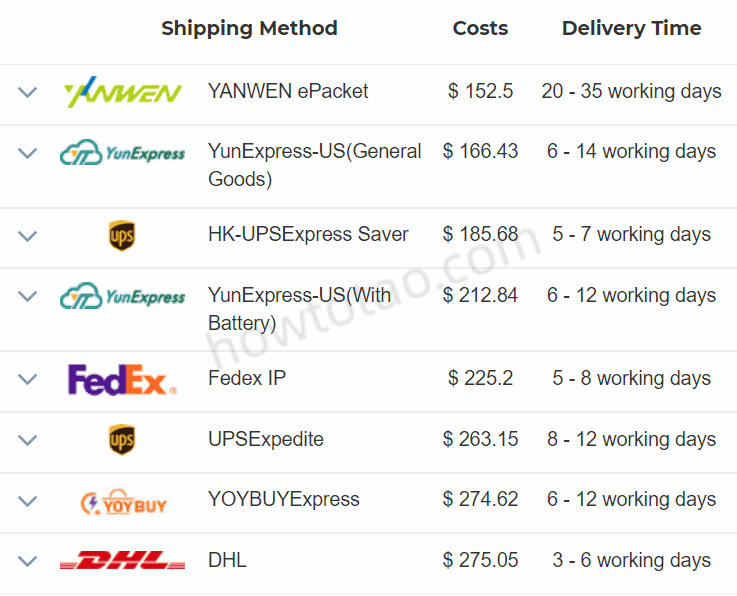 Parcelup – I think Parcelup's shipping solution is set unreasonably, first of all, its price level is classified based on different product types, which is not right, and secondly, putting dhl, fedex, ups in the same price is also illogical, they have a huge price gap between.
This setup may make it easier to handle different customers' shipping requests, but consumers are not stupid, they will know there are better options out there.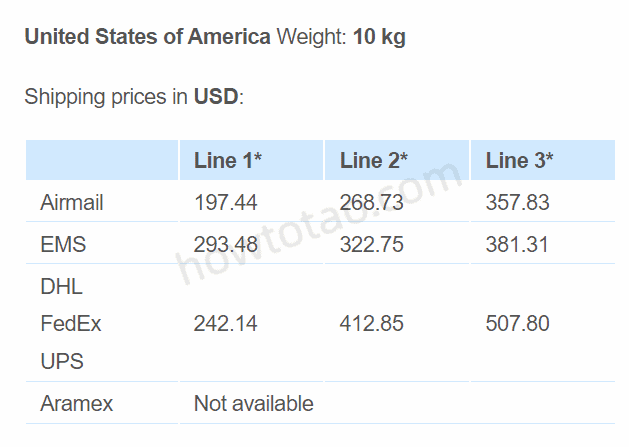 My conclusion is simple, I will choose one between Sugaroo,Pandabuy,Cssbuy and Basetao if I care most about shipping cost.
7. Customer Service
Fast response and effective problem solving are the two factors I value most about customer service. I use this to measure the health of an agent's operations.
If an agent is suddenly very slow to respond or unwilling to solve problems, it means that something is wrong with the company, either the company is experiencing internal problems, or is poised to run away with the money.
Luckily, the agents I selected were able to provide reliable and effective service so far.
Superbuy,Sugaroo,Wegobuy,Pandabuy,Yoybuy,Parcelup – I chatted with them on livechat and asked them a few questions and they responded quickly and efficiently to my questions.
Cssbuy – Cssbuy was able to respond quickly to my questions, but their customer service seemed to be at an entry level and did not fully solve my questions.
Basetao – Basetao does not provide livechat, they provide email and discord support.
42agent – 42agent does not support livechat, but provides email, whatsapp and wechat support.
Bhiner – Bhiner uses livechat and in-site messaging support. But when I chatted with them on livechat, they didn't reply to me even though it showed they were online.
8. Final thoughts
In my opinion, the taobao agent that takes the cake are Sugaroo and Pandabuy. When you draw the line and consider service fee, shipping rate and customer support, they are just the best options out there.
But they are not the only taobao agents you should consider. Other taobao agents like Superbuy, Cssbuy, Basetao have their place in the market, and they also provide great Taobao shopping services.
I laid the facts out for you.
But the choice is yours to make.