Taobao is incredible.
Apart from its Chinese-only interface.
If you can read and write Chinese, then you'll probably be OK.
If not, then ordering directly on Taobao can be a pain.
That's where Taobao agents come in.
In this post, we're going to talk about what Taobao agents do and why you might want to use one.
Then we'll introduce you to 5 of the most popular options, and compare them to help you pick the right one.
Let's get started!
Note: I updated this article in March 2021. Because Taobaotrends closed its business(very sad! ), I added another old agent – 42agent.
At the same time, I also updated the exchange rates they are using this year and marked the difference between their rates and the current rates.
1. Top 5 best Taobao agent compared (in a nutshell)
In the following table, I'll give you a quick snapshot of each of the agents I looked at.
I thought this would be ideal not just for those of you who are short of time, but also for people who already have an idea of what they're looking for.
However, there's a lot more to each of these agents than a simple chart can convey, so we recommend you take the time to go through our full reviews below.
Basetao
Cssbuy
Superbuy
Ytaopal
42agent
Image
Service Fee
5%-0%
6%-3%

no service fee for taobao order
expert service fee :10%

0%

6-12% Service Fees
The minimum service fee is 30 RMB

Payment

Giropay fee: 3.3% + 0.35 €
POLi fee: 2.75% + 0.5 AUD
iDEAL fee: 2% + 0.7 €
Paypal: unknown
eNets:SGD fee: 3.2% + 1.8 SGD
Bancontact fee: 2.2% + 0.45 €

PayPal fee: 3% + 0.3 USD
Creditcard fee: 4%+0.3
Alipay fee: 1%
Wechatpay fee: 1.5%
bitcoin fee: 1%

Paypal: 2.9% + US $0.3
Credit Card: 2.9% + US $0.3
Giropay: 2.9% + US $0.3

Credit/Debit Card: 4.4%+0.3
bitcoin fee: 1.5%
iDEAL fee: 3.3% + 0.35 €
Paypal : unknown

PayPal fee: 4.4% + 0.3 USD
Credit card fee: 4.4% + 0.3 USD

Exchange Rate Loss(Fee)
1 RMB = 0.162 USD(5.56%)
1 RMB = 0.158 USD(3.16%)
1 RMB = 0.164 USD(6.71%)
1 RMB = 0.165 USD(7.27%)
1 RMB = 0.162 USD(5.56%)
Shippping Fee
calculator here
calculator here
calculator here
calculator here
calculator here
QC Picture

Insurance fee: 2% of total cost(optional)
QC picture: Free

QC picture: 1.5 RMB per item
MEASURE SIZE: 4 RMB per item

Rehearsal packaging: 20 RMB per parcel
QC picture: 5 RMB per item

No Picture Preview Fees
Insurance fee: 5% of total cost(optional)

No Picture Preview Fees
Customer Service
good ,friendly
ok,but response slower
friendly and professional
fast and personal
friendly and fast
Total Rating
4.6/5
4.7/5
4.8/5
4.6/5
4.5/5
Note: The exchange rates listed in the table above are what I found on their official website, and the percentage loss is based on the current exchange rate of the day, which is 1 RMB = 0.153 USD (as of April 19, 2021, on xe.com).
2. What Taobao agent is (and why you might need one)
Taobao Agent is the middle man between the Taobao seller and the international buyer.
They will buy Taobao items on your behalf, package everything and deliver it to you.
Some of the key services a Taobao agent usually offer:
negotiates with the seller and buys the product for you
Product Quality Check
return and refund
Storage, Packaging,and Order Consolidation
international shipping with ePacket,ems,ups,DHL etc..
Taobao agent makes it easier for you as a foreigner to buy from Taobao, by:
Providing an English website and English customer service support.
Convenient Payment Method
Enabling you to preview how your item looks before it ships out to you.
3. What to Look for When Choosing a Taobao agent
When it comes to choosing a Taobao agent, there are a ton of options to choose from.
So, how do you choose the best one? In this part, I will go over 5 things you should consider when selecting a Taobao agent to use:
Website Interface – how does the interface work and does it make it easy to navigate and place an order?
Service – what shipping options do you get and if they provide value-added service like QC photos, insurance, measure size, etc.
Customer support – what contact methods they offer and if their support is fast and helpful.
Price – how high is their service fee, shipping rate, and the most easily overlooked cost-the exchange rate.
Online Reputation – How is their feedback on the Internet, any reviews on Trustpilot, Reddit? Also, try to avoid paid reviews that only say goods things about that agent.
With these factors in mind, let's take a look at the best agents with their Pros and Cons.
Note: Unlike many other articles which are biased in favor of one particular agent, we've reviewed each of the agents totally independently and are happy to answer any questions you might have.
4. reviews of The 5 Best Taobao agent
Now that you have a solid understanding of Taobao agents and how to choose them, let's introduce the specific agents we'll be comparing in this post.
Here are the brave candidates:
I'll talk about each of them in-depth, but if you'd like to try them out right away, feel free to click through the list above.
Superbuy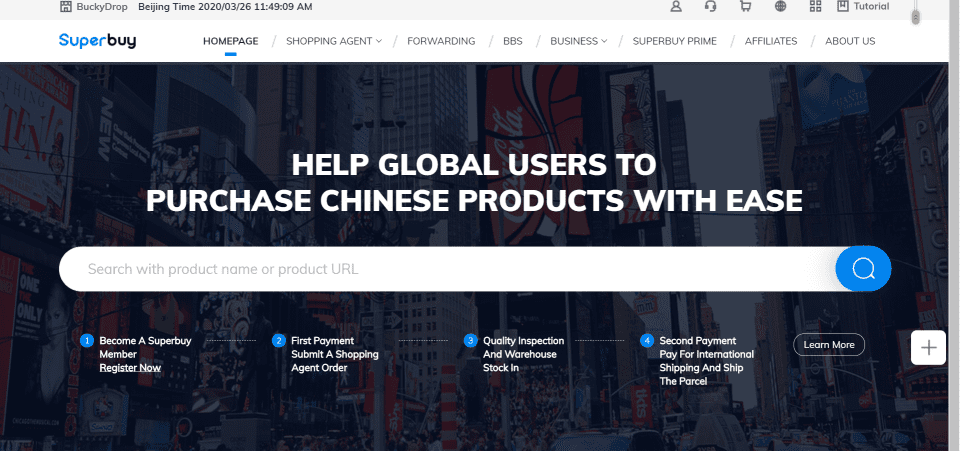 Superbuy, formerly known as Dotdotbuy, is the strongest Taobao agent currently available. They offer professional, reliable Taobao proxy shopping services to individuals and small business owners all over the world.
They're also one of the few Taobao agents that provides a free mobile app that lets you place an order inside your smartphone.
You'll also get access to their bilingual customer service and exclusive direct CEO email. Their support staff is very helpful and responsive and will help you work through your issues very quickly.
If I were to start to shop on Taobao today, Superbuy would be the agent that I would choose.
Pros:
No service fee for Taobao order
Unlike other agents, Superbuy will not charge any service fee for your Taobao orders. You will save some bucks.
Simple and easy to use interface
You don't need to spend hours of searching and reading to learn how to use their service, their website is clear and easy to use, you will be able to create your new orders in a few clicks.
The shipping fee is refundable
Their Rehearsal Packaging service can give you accurate billable weight, thus paying less shipping fee. They will also refund you the excess shipping fee after your parcel leaves the warehouse.
Customer service
Support from Superbuy was superb, extremely friendly, and professional. In fact, I think customer support is one of superbuy's core advantages over its competitors.
Cons:
Expensive shipping fee
Superbuy's shipping fee is not cheap in general, especially for some postal service like EMS,ePacket.
High currency exchange fees
According to our calculation, nearly 7% hidden exchange fee is charged whenever you top up your money on their website.
10% expert service fee
The industry standard of the service fee is 5% – 8% of total order value, much lower than what superbuy charges.
Our Grade: 4.8/5
Cssbuy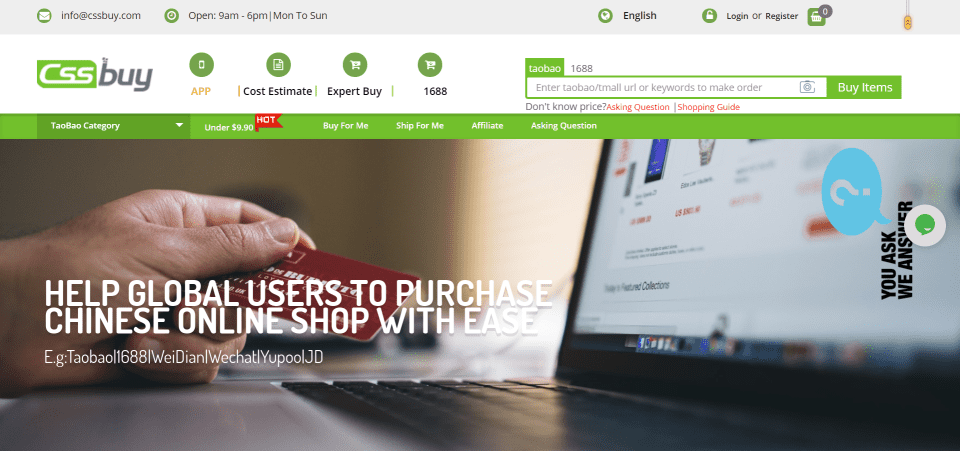 Cssbuy is an arguably popular and cheap Taobao agent. They have been making a name for themselves in the Reddit replica community for a while now.
Cssbuy is one of the cheapest agents we tested. That benefit, combined with their wide range of shipping methods, makes them a good choice for anyone that's looking for a cheap but reliable Taobao agent service.
Pros:
Offers a lot of shipping methods
they offered various shipping methods like China postal, the preferential line, and some tax-free lines.
Cheap shipping rate
their shipping rate is generally the cheapest among the popular agents I tested. for hot shipping methods like ePacket,SF-express, DHL,they have a better price.
Cheap currency exchange fee
It seems every agent charges a hidden exchange fee, Cssbuy charges approximately 3% of the money you top up,this is the lowest I can find till now.
Mobile app to use
their mobile app is buggy, not as good as superbuy, but it is one of few agents that have this feature, so better have it than nothing, right?
Cons:
They don't have 24/7 support service
you have to contact them during their working hours and their response may be a bit slower than the other agents.
Slow delivery and process time
parcels usually take a very long time to be "accepted" by the shipping companies.
Cssbuy is located in Hangzhou, but the major shipping agents are operated in Beijing, Shanghai, Guangzhou or Shenzhen. so shipping agents need several days to receive the parcels.
Many complaints about missing or wrong parcels
Cssbuy gets parcels mixed up from time to time, if you search, you can easily find many threads talking about this issue.
Our Grade: 4.7/5
Basetao
Founded in 2015, Basetao is a Guangzhou-based Taobao agent that offers Chinese website shopping, repacking, and shipping services to customers around the world.
Pros:
Low service fee
their service fee is only 5%, and when you apply for their VIP Promotion plan, the fee can be reduced to 3%.
Free QC photos
When your items reach their warehouse, they will take pictures of items for you to preview, and according to user's feedback, their QC pictures are very clear and high quality, and it is totally free.
Good , friendly customer service
I did not see too many complaints about their customer service. and if you order on WeChat or weidian, they will not add any extra fee, I know some other agents add some additional fee if you order there. They don't accept orders from WeChat anymore.
Cons:
High currency exchange fee
they use a high exchange rate, which results in paying around 6% more than the real exchange rate.
Hard to use website
Basetao's website is slightly difficult to use than others. Using it for the first time, it took quite a while to find what I was looking for.
No apps for smartphone
Basetao does not have an app, considering the popularity of smart devices and the number of time people spends with mobile apps, they really should build an app to allow their customers to place orders on their phones.
Our Grade: 4.7/5
42agent
42agent, formerly known as taobaoring, was founded in 2011 and is one of the first companies to do tao agent, its company and warehouse are in Beijing.
When it was taobaoring, I had a very good impression of it, because it was one of the few companies that could provide a transparent list of fees on their website. It also had a good reputation among its users.
After changing their name to 42agent, their website has undergone a major change and their core business is clearly listed on the website: Ship For Me,Shop For Me, and Dropshipping.
Pros
Transparent and clear fee structure
What impressed me most about this agent is its transparency and honesty. Its website clearly lists the services, fees, payments, shipping, etc.
I have reviewed a lot of agent websites and few of them are as clear as this one.
Customer service
they have friendly and fast customer service, usually, reply within 24 hours, and also support Email, Support Ticket, WeChat, Whatsapp, Skype, Facebook, etc.
unboxing video service
They provide a free unboxing service, which is very good and very useful in some cases, for example, some OWhat sellers require you to provide an unboxing video
in order to provide after-sales service. In this case, you can ask them to record an unboxing video for you.
Cons
High exchange rate loss
Like many other agents, 42agent also charges a very high exchange rate loss – 5%!
Outdated website design
Their website is too basic, it looks like a website from 10 years ago.
I believe if they put some effort into the design of the website, it will greatly improve the first impression of the user.
Limited shipping options
They are a company from Beijing, in the north of China. the cross-border e-commerce and international shipping there is not as developed as in the south of China, such as Yiwu, Guangzhou, Shenzhen.
So the shipping solutions and prices they offer are not very competitive, especially in some popular countries.
And they are not as tolerant of restricted products(like branded or replicas) as other companies.
Our Grade: 4.7/5
Ytaopal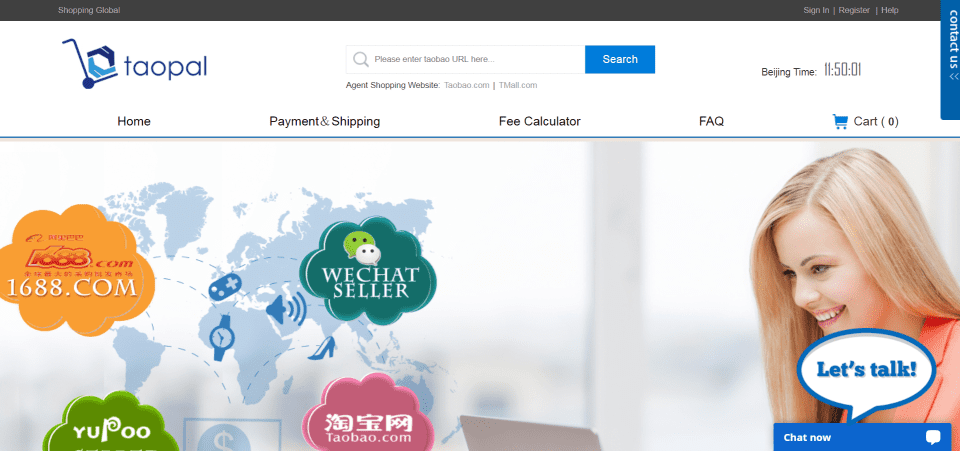 Yaopal is a relatively new player for us when looking for the best Taobao agent. The company has been making a name for itself in the Reddit community lately thanks to its affordable prices and very good customer service.
Pros:
Customer service
They respond very fast, very helpful. if you have a big issue, you can contact one of their workers on Wechat instead of living chat.
QC photos
they provide good photos for you to have a general look at your item and they do take additional pictures and even measure the items if you ask for them.
Cons:
Lack of shipping methods
They only have three options – epacket, EMS, and DHL. Cheaper options like SF-express, airmail, ups, or FedEx are not provided.
High exchange rate
as far as I know, their exchange fee loss is the highest,7.27%! you can see the comparison here, I guess this explains why they have such a low service fee.
Our Grade: 4.7/5
5. Which Agent has the cheapest shipping rate
Shipping cost is a very huge topic. I have already explained and compared it from 7 popular agents in another post. Here I will only outline the conclusion from that post:
USA Shipping cost summary
In general, the cheapest taobao agent for USA is Cssbuy. They offer a competitive price for most of the shipping methods.
For small parcels under 2kg, you can use EUB(epacket), the rate is cheapest and you can usually receive your parcel within 2 weeks.
For medium parcels, SF-EXPRESS and China Post SAL are good options.
SF-EXPRESS is faster and China Post SAL does not charge the volumetric weight which is good for large but lightweight parcels.
For heavy parcels(>30kg), SF-EXPRESS and DHL are both acceptable.
UK Shipping cost summary
The cheapest Taobao agents for the UK are Cssbuy and 42agent.
Cssby is cheap for small parcels and 42agent has a better rate for large parcels.
Tax-free lines and E-express are two of the low-cost shipping method to the UK.
Canada Shipping cost summary
Bhiner,Cssbuy, and 42agent have a good price for various shipping methods to Canada.
Bhiner is cheap for China post-SAL.
Cssbuy is cheap for EMS and DHL
42agent has a lower price for FedEx for large parcels.
Australia Shipping cost summary
Superbuy offers the cheapest shipping rate for most of the shipping methods.
Ytaopal also has a good price for EUB and EMS.
42agent provides a reasonable price for DHL for big parcels.
Philippines Shipping cost summary
42agent has a lower shipping rate in general.
Cssbuy has a better price for small parcels.
And for big parcels, both Basetao and Bhiner offers a cheaper rate for FedEx and DHL.
6. WHAT ARE YOUR EXPERIENCES WITH TAOBAO AGENT?
You saw my analysis. Now, what about you?
What are your own experiences with Taobao agents?
Your feedback and reviews are more than welcome in the comments section here!