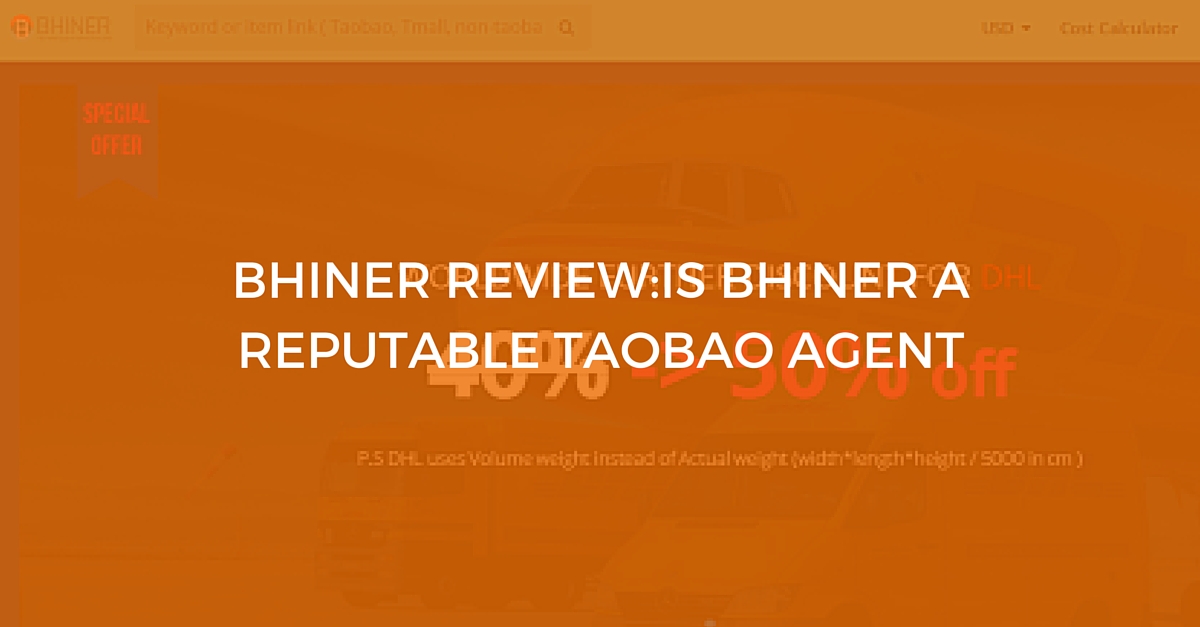 Billed as a professional Taobao agent helping international buyers to order products from Taobao.com, the focus of Bhiner is its offer of a seamless, simple shopping experience.Bhiner's advertises its top features as:
Responsiveness – Shopping from anywhere by mobile phone or iPad (Note: it is probably "Convenience" that is meant.)
Passionate staff – Dealing with people who care about the customer
Pictures before delivery to reduce the risk of receiving incorrect items
Simplicity – providing a user-friendly platform
Check, check, check, check. But how do these features fit into the grand scheme of ordering from Bhiner?
#1. Is Their Website Easy Of Use?
The Bhiner website design reflects this streamlining. The homepage has a modern feel emphasizing a stylish yet carefree shopping experience. Featured products are minimalistic in their presentation. It's like leafing through a high-end women's fashion catalogue.
It's a snap to throw a product into a registered account holder's shopping cart.  The shopping cart experience is a pleasant one. The integrated message/e-mail functions for remarks and questions to Bhiner about cart items is a welcome and convenient addition.
Unfortunately, informational sections of the website also trend towards the minimalistic: both the "How Bhiner Works" and the FAQ pages are "coming soon".
Lacking a comprehensive, filterable list of product categories complicates the search process, a process run exclusively via keyword search. The only available filter is one based on price range.
#2. How Much Do They Charge?
First, Bhiner's 5% (price of goods + domestic shipping) service charge is one of the lowest in the business.
Second, Bhiner is one of the few agents who clarifies the risks of purchasing and importing possibly illegal imitation goods.
Third, detailed and informative Customs and Duty tips on the Bhiner website helps shoppers detour around potential high-cost taxes and time-consuming local customs inspections.
[su_note note_color="#Fef5c4″]Read more: Taobao Agent Pricing Comparisons[/su_note]
#3. How Is Their Customer Service?
A close examination of the Bhiner website yields few clues on how to contact Customer Service. The bottom of the "Help" section notes that staff members are ready to answer questions by email or Skype contact. Otherwise, the Bhiner message box and message/email functions are available after account login. A local clock on the Bhiner homepage shows current online availability of customer service agents, as long as it's between 9am and 6pm.
They have a translation service which translates Chinese to English or you can email them at cs@bhiner.com for your target item.
#4. What Payment Methods Are Supported On Bhiner?
Payment methods range from PayPal to popular credit cards, bank transfers, MoneyGram, and Western Union – although most incur service charges or are subject to minimum amounts.
#5. What Shipping Methods Do They Support?
Bhiner support the following shipping methods: DHL, EMS, Aramex, UPS, Fedex, China Post: Air parcel, SAL parcel, HongKong Post, Bhiner Express. They offer 40% Discount discount on certain shipping methods.
The handy tool of an automated approximate shipping-price calculator based on product cost, parcel weight and destination provides a quick, comparative result for costs and delivery times to any destination.
#6. Are Bhiner Customers Happy With Their Service?
Customers seemed to be pleased with their service and their website. They were also happy with the pricing, saying that it was good agent and worth the money. However there have been complaints over their domestic shipping fee and some customers have found they were over charged for this fee.
Rennie: How to Order from Taobao using Bhiner.com
Lucielly Neko: Review Taobao bhiner
Pastelbaby: First Taobao Order
Kamie: Taobao Know-How: Part 2
To learn more about How Bhiner Taobao Agent Works,check out this video.
[su_youtube url="https://www.youtube.com/watch?v=B3eSmrK8Jz8″ width="620″ height="350″]
Bhiner Review: Conclusion
Overall, I would give Bhiner a 4.0/5.0! They were helpful and quick to reply and their service fees were very reasonable. I deducted a point for two reasons:
1. Their domestic delivery charges seem to be a little more expensive than the taobao sellers advertise them as.
2. Not one of the usage tutorials touted in the "Help" section are actually available (yet), so first-time users may be reluctant to cross the threshold into a foreign shopping experience unless they are adventurous, intuitive explorers.
[su_box title="Must-Read Posts on Taobao Agent" box_color="#ef6c00″ radius="2″]
[/su_box]