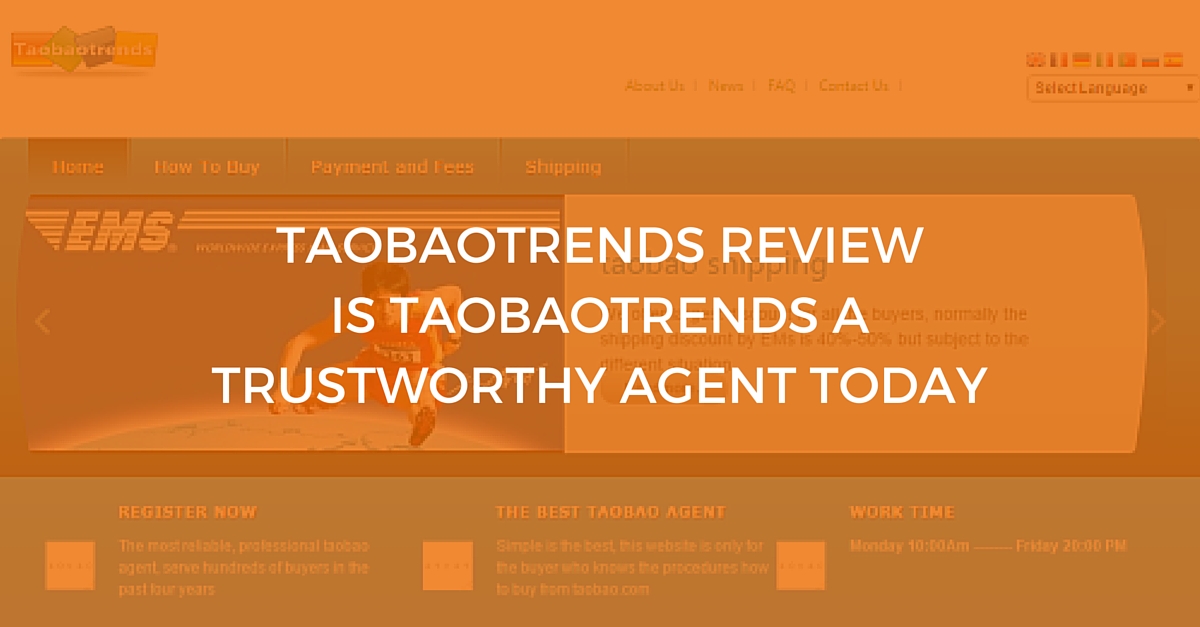 Taobaotrends has been in business as a Chinese B2C and C2C sourcing and shipping agent for 4 years. It aims to serve international buyers who are experienced in taobao transactions, therewith eliminating much of the lengthy explanation texts that overinflate the websites of the competition.
Is it a good option for you? In this article we're taking a closer look at the areas that may impact your decision.
#1. What's the Highlights of Taobaotrends?
Tabaotrends communicate with the seller at the buyer's direction;
Communicate feedback to the shopper by email;
Orders items at the shopper's direction, taking photos of the actual goods if requested;
Checks the products for defects prior to consolidating for shipping;
Sends the tracking number to the customer;
And invoices the buyer twice (once for the goods and once for shipping).
#2. Is Their Website Easy To Use And Navigate?
The Tabaotrends website takes a minimalist point of view. Navigation is short and sweet: How to Buy. Payment & Fees. Shipping. That's it! No currency conversion tools, no unwieldy and innumerable shipping option cost multipliers
Shoppers are required to create an account and password. An easy cutting-and-pasting of the URL of a chosen product suffices to start filling the online shopping cart. The user menu within the purchase application is clean and slick. And, come to think of it, who really needs anything more than Submit Order / Shopping Cart / Order Histories / Shipping Address / Profile? There's no need for drawn-out explanatory notes or policy details.
#3. How Much Do They Charge ?
Tabaotrends have 10% service fee of the total item cost and domestic shipping fee, meaning within China only. Their minimum service charge is 35RMB.
A hidden cost that may not become apparent until it's time to fork over payment is the slightly higher-than-bank rate currency exchange with which Taotrends calculates. Their background explanation is that this elevated exchange covers their 3% PayPal fees.
#4. Which Payment Method Do They Support?
Shoppers may feel a bit put off by the small number of payment methods Taotrends offers: only PayPal and Western Union. However, included in the PayPal option is the ability to charge to popular credit cards including MasterCard, Visa and Discover.
#5. How Is Their International Shipping? Do They Offer Any Discount For EMS?
Taotrends' recommended shipment method is EMS, which ships to 182 countries. The 40-50% EMS discount that Taotrends offers sounds attractive too. International couriers like DHL, UPS, TNT and Fedex may also be chosen by the customer, but are not nearly as cost effective as EMS.
A major marketing point of this agent is their claim to offer the biggest discount available on the EMS Chinese express mail service – between 40 and 50%, subject to each individual situation. If applicable, these savings represent a whopping price advantage since courier rates from China to, say, the US, normally start at around US$ 70 for a 500g package.
#6. How's Taobaotrends's Customer Support?
For the uninitiated, the prospect of ordering from a website offering no more customer service than an email address may appear daunting. There are no Skype or messaging contact options, so it seems superfluous to be told that "Working Time" is 10am to 8pm, Monday – Friday. Nonetheless for the do-it-yourselfer who's done it all before and needs little or no hand-holding, Tabaotrends offers a refreshing, independent shopping experience.
A page of shopping "Tips" is a welcome guide for anyone looking to get the most of their taobao experience: buy robust, high-caliber items, look for quality indicators in the product descriptions, and stick with sellers whose high reputation has been recognized in their online presentations.
#7. What Is Other Customer's Feedback About Taobaotrends?
taobaolove: TAOBAOTRENDS.COM REVIEW
Amaranth's Castaways: Taobao Order Box Opening
thesodagirl: One Eye Has Never Looked So Good: My First Taobao Review!
redroses3164: taobao trends order review
terrayla: shopping service review taobaotrends
recastbjdhaven: Ordering From Taobao – Bjdpifa Example
Taobaotrends Review: Conclusion
Overall, I would give Taobaotrends a 4.5/5.0! They have great customer service and always respond quickly,They are very swift with updating order statuses so that you don't have to constantly check the site for updates to the order.but their website looks outdated and I do think they should remodel their site a bit.As usually, I highly recommend you check this website yourself to see whether or not it's the best fit for your needs.