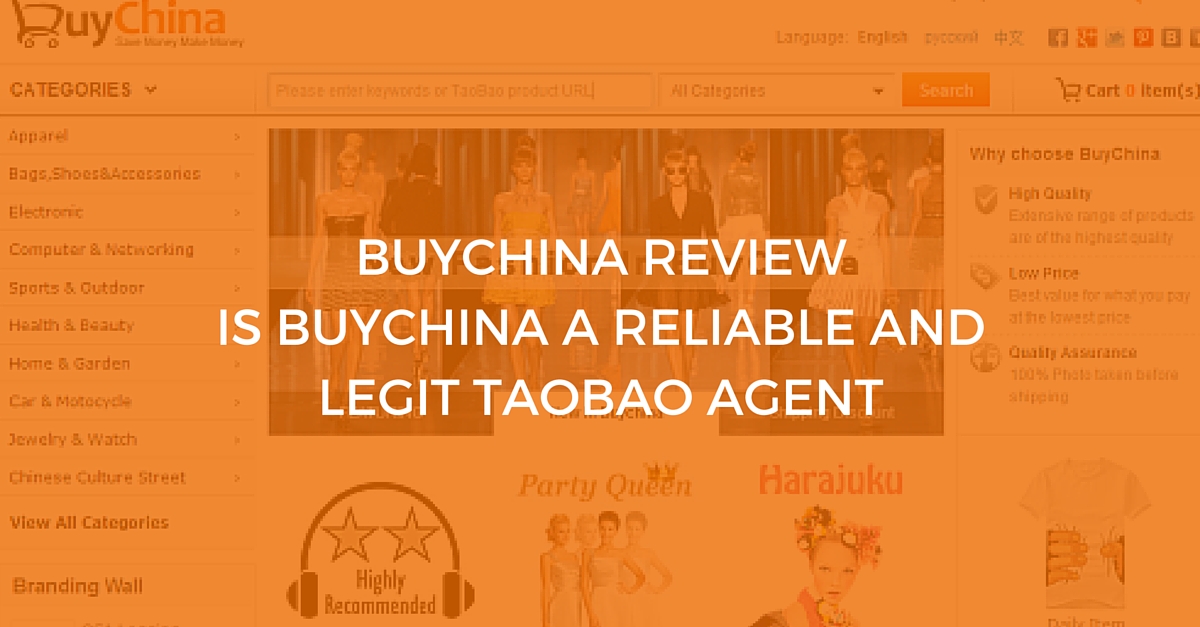 BuyChina calls itself an international version of the largest online store (China Taobao). For the uninitiated, it's a no-holds-barred international eBay platform that unlocks the door to over 700 million items in the Chinese market. Website layout, navigation and usage will be familiar to western shoppers. Offering site translations in Russian and Chinese, BuyChina is bound to appeal to more markets too.
#1. Is Their Website Easy To Use And Navigate?
Using realistic imagery and high-quality photos, the homepage spotlights priority topics such as newest offerings on BuyChina; various categories of available products, ranging over uncountable subsets within apparel, computer, sports equipment, jewelry, home & garden and much more. A newsfeed of current testimonials ticks off one "perfect", "excellent" and "great experience" comment after another.
A handy and accessible "Purchasing Demo" powerpoint-style presentation depicts a step-by-step procedure: Pick products -> Order and Pay -> Purchase -> Shipment and Delivery with examples of shopping directly from BuyChina as well as the Taobao website.
Highlights Of This Agent
Automated pricing options including international shipping, embedded in each line item; real-time transaction status updating the agent's purchasing and processing steps, and items' arrival at the BuyChina warehouse.
Instructions on using Google Chrome's translation tool for those Taobao positions in Chinese-language only are great.
Lucid explanation on interpreting the reputation of Taobao sellers through users' ratings based on a heart, diamond and crown system.
#2. How Much Do They Charge ?
Unlike other agencies, its charge is not based on an amount including domestic shipping fee; rather, it is 10% of item cost PLUS a 3% payment commission – fees that remain quite high above the competitors.
#3. Which Payment Method Do They Support?
The company makes an effort to build the customer relationship by offering secure and official payment methods of Visa, MasterCard, Western Union, EBANX, WebMoney and bank transfer. More payment options will be available on BuyChina in the future.
The website operates exclusively in US$. (Chinese- and Russian-language customers, as well as the Europeans, may not be so happy, but support is provided in the form of a currency-exchange rate chart.)
#4. What Shipping Method Do They Support?
Suggested methods include DHL, US Postal Service, China and Singapore EMS (express mail), Air Parcel, SAL (sea-and-land) parcel, China, Hong Kong and Singapore Post systems.
Tips on packaging and weight limitations, as well as on how to economize in the face of customs and import duty regulations, are offered in easily digested articles.
Customers are one click away from tracking their shipment thanks to an "Inquiry" link on each account page, precluding any necessity of visiting a FedEx or international post office tracking system separately.
#5. Does Their Customer Service Good?
BuyChina's staff members are touted as being professional, friendly, reliable, and, given the sophisticated server-based processing system, customers are not tied to one particular agent, but can have inquiries handled by any team member. Customer service promises include communication via a dedicated support@buychina.com address, or the person-account messaging system, with a maximum response window of 24 work-hours; a commitment to support customs delays or tariffs inquiries by supplying relevant and cost-effective paperwork; a refund policy and agent support in the event of an exchange.
#6. What Did Other Customer Say About BuyChina?
karyyeung: Buychina.com and Taobao
morinoreason:BuyChina and Taobao Wigs Review
cyanideandlaace: Buychina/Classical Puppets petti review
abearandabunny: THE COMPLETE GUIDE TO BUYCHINA: MY REVIEW
kawaiib0rn:Oh Darling I Wish You Were Here
BuyChina Review: Conclusion
All in all, BuyChina looks set to deliver what it promises. Its almost obsessive focus on the customer delivers a pleasant browsing experience. The only very nebulous facet of BuyChina is its service fee-quite high above the competitors.I have mixed feelings about this taobao agent. On one hand, it has some unique capabilities you won't see in other taobao agents, but on the other, it has a decent amount of room for growth.