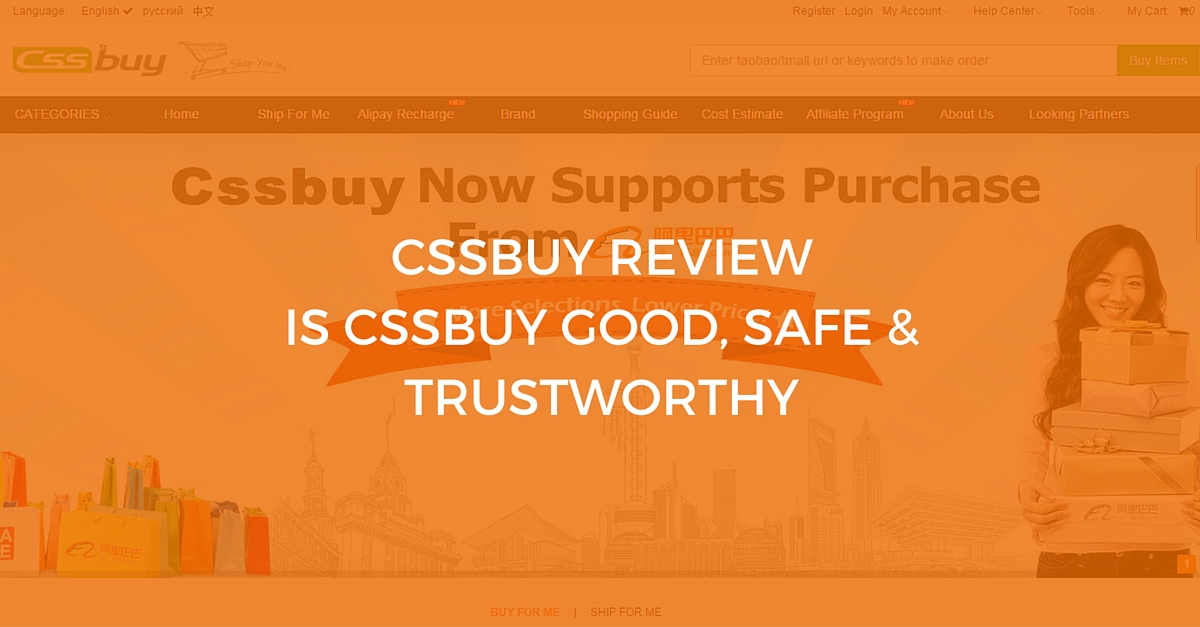 CSSBuy is a clean, slick, streamlined taobao agent that is a pleasure to use. The company has been in business for 4 years and has served customers in more than 20 countries. CSSBuy calls itself "the easy door to do business in China".Is it? Does it live to its promises? Today, we take a closer look at Cssbuy,Read on to find out.
#1. Is This Website Easy To Use?
An extremely attractive feature of CSSBuy for the newer non-Chinese user is its "up-front" appearance.
The registration and account creation process is easy and quick,Photos and email addresses of staff agents are showcased right on the homepage.
The "Shopping Guide" details in powerpoint form the step-by-step ordering, purchasing, payment and shipping procedure for purchasers.
"Terms of Service" are written in professional English. The "Returns Policy" likewise. The customer is informed precisely of expectations and obligations, and specifically about a procedure and limitations for returning products. CSSBuy clarifies repeatedly that in its capacity as an agent, the company cannot promise that a manufacturer will fully satisfy expectations in a return/exchange situation.
#2. What Service Do They Offer?
In addition to a purchase-and-ship option subject to a service fee of 6% (of items' price + domestic shipping to warehouse), a ship-only option with 0% service fee is also available – enabling CSS Buy as a simple shipper/handler for those shoppers with enough experience and adventure to venture out to purchase from Chinese stores on their own.
Users should note that CSSBuy does not offer a pre-packing photo service. And for the most part, the customer is contracted with acquainting him-/herself with national customs and duty regulations to expedite delivery.
#3. How Much Do They Charge?
The huge advantage of this agent remains its 6% service fee and even lower rates available for those shoppers collecting points based on purchase volume (Gold membership =5% fee based on purchases of RMB 5000+; Platinum membership, 4% fee based on RMB 50,000+; Diamond Membership, 3% fee for RMB 200,000+ purchases). Additional premiums and discounts are available through contests, for example promoting the website on social media.
#4. What Payment Methods Are Supported On CSSBuy?
Payment methods include PayPal, Western Union, WebMoney, Wire Transfer, Chinese bank transfers and Alipay recharge – most of which are subject to further service fees. All transactions are based on the Chinese yuan, so American or European credit card users working with PayPal, for example, will be responsible for additional currency-exchange commissions as well.
#5. How Is Their International Shipping?
They support DHL,EMS,China post air mail,Shipping by sea.A virtual shipping calculator based on purchase value, weight and destination showcases CSS Buy's many proposed options.Shipping insurance and a tracking service are both offered too.
#6. Do They Have A Good Customer Service?
A "Service Board" offering direct Chat and Skype contact to individual staff is a fixed feature on the homepage.Multiple Customer Service email and Skype addresses reinforce a feeling that the agent is there for the customer.
There are also ample warnings regarding the danger of purchasing low-quality goods from non-reputable vendors. (Unlike several other Chinese shopping agents, CSSBuy does not promote a quality-ranking system for online stores. The uninitiated may find it difficult to distinguish between fake and real goods, or between trustworthy and shady third-party malls.)
#7. What Is Other Customer's Opinion About CSSBuy?
Vishesh Agarwal: Not refunding my money
Yeezy2Liker: How to order from Taobao with an agent – CssBuy
[su_youtube url="https://www.youtube.com/watch?v=rXAKhT42N4Y" width="620″ height="350″]
CSSBuy Review: Conclusion
CSSBuy does provide an impressive pricing, but a distinctive lack of information about finding Chinese shopping websites dealing in the English language may find some shoppers turning on their heels and running for a website with more ease-of-use.Therefore, CSSBuy can be a good candidate for those who already had taobao shopping experience, but I can't recommend it for newbie.
Dear CSSBuy customers, we'd love to hear from you! Just drop a few lines in the comments.