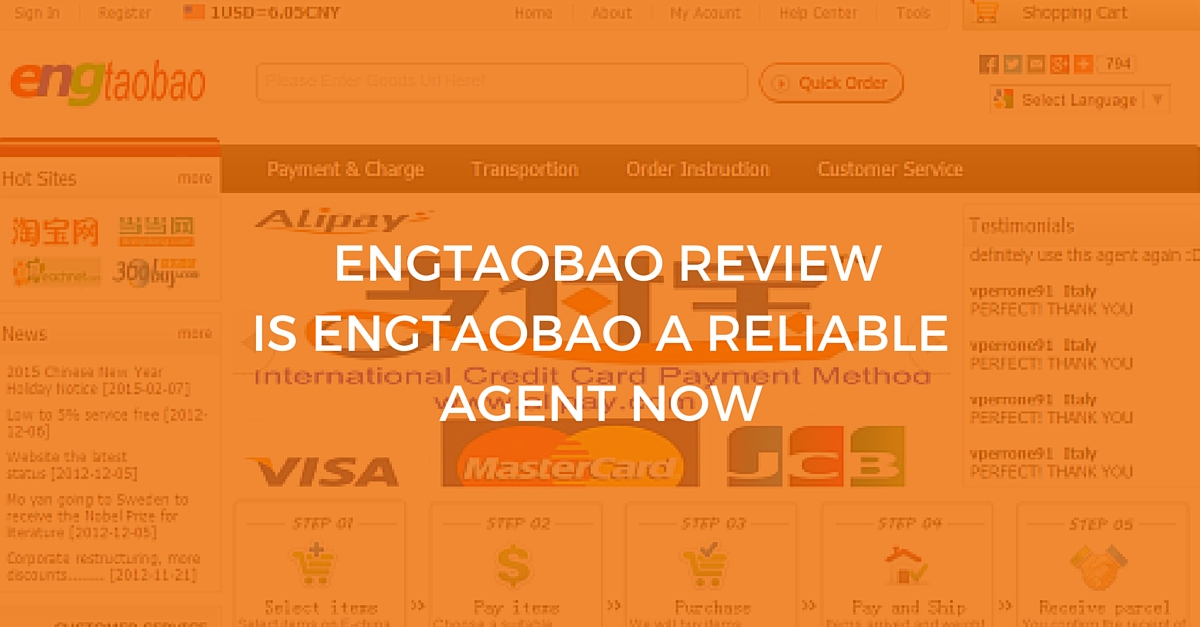 "Happy shop, happy life" is the mission of Engtaobao. Functioning as a service agent for overseas consumers shopping on Chinese websites, it claims to offer "flexible payment methods, competitive pricing, quality assurance, wide product range, world-class customer service, fast international shipping".The question is, is it as good as it's painted? We've put Engtaobao under the microscope.
[su_note note_color="#Fef5c4″]Quick sidenote: Engtaobao is a service agent for overseas consumers shopping on Chinese websites like taobao.com,but it is not the English version of Taobao.com.[/su_note]
#1. Is Their Website Easy To Use And Navigate?
The user also has the quick-and-easy option to select items from the homepage's "Hot Shopping" list. More copious details on products can begleened with help from size conversion and color charts and a vocabulary list (Chinese->English) of common products.The handy set of links to taobao.com, dangdang.com and jd.com is a welcome addition to the homepage.
However, a step-by-step chart of the purchase procedure disappoints; the links to each step (Select items, Pay Items, Engtaobao Purchases Items, Pay & Ship, Receive Parcel) are inactive — detailed information must be sought elsewhere on the website.
#2. How Much Do They Charge?
Engtaobao is one of the lowest-priced service agents, with a service fee of 6% of purchase total + domestic shipping. You can see from this chart,most of the agents will charge you 8%-10%,only a few of them charge you less than 8%. Engtaobao is one of them.
Engtaobao has a vip program like other agents,Points-based VIP and SVIP members receive benefits lowering the fee to as little as 5% – a true bargain in a wide provider field.
You should note that Engtaobao will charge you an opaque "Chinese Customs Fee" of 1% of purchase + domestic shipping which is pretty high,most of other charge you less for this fee.
[su_note note_color="#Fef5c4″]Read more: All The Fees Involved in Using a Taobao Agent[/su_note]
#3. Which Payment Method Do They Support?
Engtaobao seems to pride itself on its secure international payment system. Alipay (Chinese third-party no-commission payment system akin to PayPal) is its foundation for processing major credit cards, including Visa, MasterCard, AmEx and Maestro. Payment methods of Western Union, bank transfer and PayPal may also be used.
The US dollar is the only accepted currency. A static exchange rate of 1 $US = 6.05 RMB (yuan) is posted on the homepage, with a different rate in the Toolbox's Currency Exchange section (6.15). Unsure about that one!
#4. Do They Have A Good Customer Service?
Significant prominence is given on the homepage to the e-mail address of Engtaobao's staff. Extended hours of operation, Monday-Friday from 9am to midnight, is a particularly nice feature.
However, without Skype or a phone number, the customer looking for quick turnaround may be left out in the cold.
#5. How Engtaobao Protect My Items? Do They Have A "Quality Guarantee" ?
Engtaobao appears to be one of the few Chinese shopping agents that does not offer a pre-packing photo service of purchased items, a feature safeguarding the customer against hefty international shipping costs for mispicked, damaged or wrongly-colored items. In effect, the only "quality guarantee" that Engtoabao.com offers is the ability to make a complaint/claim, or return products for a refund – all only after receipt. The customer is responsible for return shipping. Those shipping costs can add up.
#6. How Is Their International Shipping? Do They Offer Any Discount For EMS?
International shipping is executed with EMS, China Post air parcel or SAL (sea-and-land), and couriers UPS, DHL, FedEx and TNT.
An advertised 50% discount on shipping by EMS (Chinese express courier) makes engtaobao.com particularly attractive for the penny-pinching customer.
They have a few tips to expedite shipments through destination customs; however these suggestions are sparse and applicable only for customers in specific countries (Japan and Italy are particularly vigilant regarding counterfeit goods).
#7. What Is Other Customer's Opinion About Engtaobao?
Here are what other users have to say about Engtaobao:
cosplayspark: Engtaobao Wig Review
Engtaobao Review: Conclusion
In the end, several important details on this website are too shaky for an overall endorsement. If a photo service, a customer service phone number or even a reliant exchange-rate chart were introduced, Engtaobao might be just right for many happy shoppers looking for a super-low service fee.
Engtaobao customer? Share your experience in the comments!
[su_box title="Top 5 Must-Read Posts on Taobao Agent" box_color="#ef6c00″ radius="2″]
[/su_box]