Superbuy(Formerly Known as Dotdotbuy) has been around for quite some time (since 2012), attesting to its popularity and success as a taobao shopping agent.
Superbuy prides itself on "A Trusted Taobao Agent". And judging from shopper feedback, they accomplish this with flying colors.
In this review, we will guide you through all major Superbuy features and discuss the pros and cons of using this agent.
1. Placing order on superbuy
1.1 Add your item URL on superbuy homepage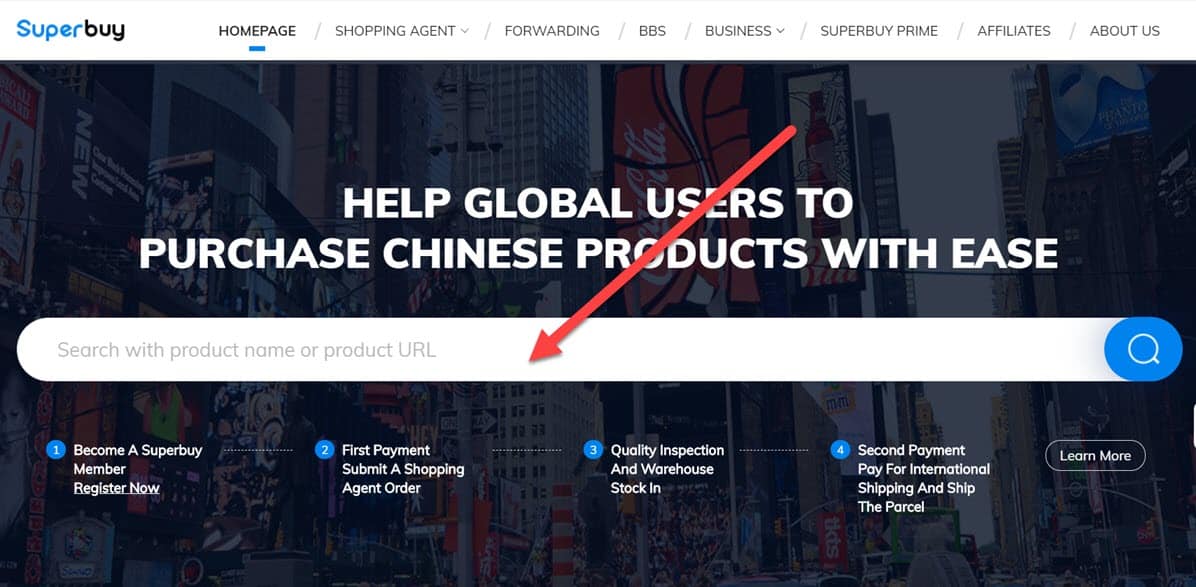 Superbuy supports most of China's shopping sites,here is a shortlist of them:
Taobao
tmall.com
Jd.com
1688.com
yupoo.com
wechat
weidian
Note that only taobao, tmall does not charge a service fee.
For ordering on other sites, you have to use their expert service and a 10% service fee is charged.
1.2 select or input your item details and add to your cart
for taobao,Tmall,1688 or jd orders
Superbuy can grab item information from the original link,so you will see an English item page like this: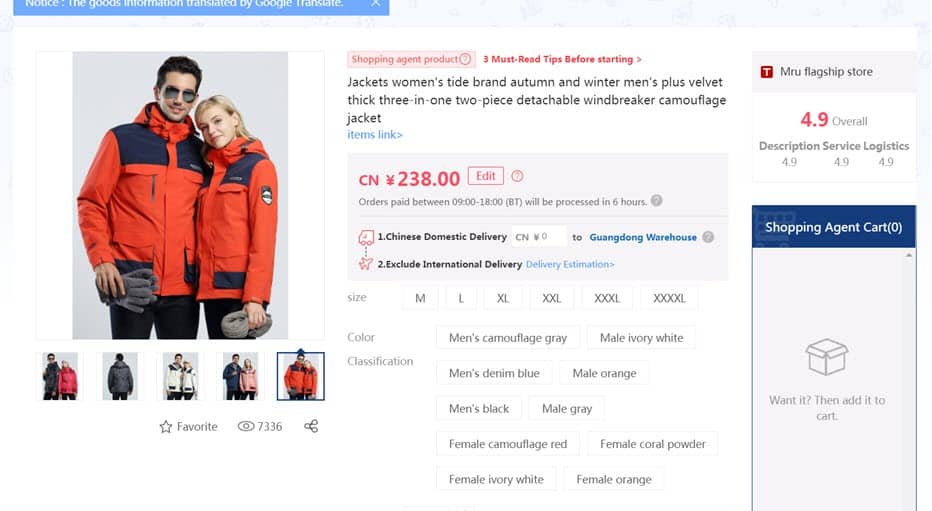 you just need to select the color and the size of the item you want and click "Add to Cart".
For wechat,wedian or yupoo orders
Superbuy cannot obtain the product information from wechat,wedian or yupoo.if you buy from there, you will see a form like this:
You have to manually fill in the relevant information so that superbuy can purchase it for you.
Link: this is the item link you need to input so that the agent will know where to purchase.
Name: this is the Chinese name of the product. just copy&paste the Chinese item title is ok.
Remark: this is where to input the item size or color options or anything you want to tell the agent.
if you buy from yupoo or wechat,you have to add seller wechat id in "Remark" so that the agent can contact the seller and purchase it for you.
Product price: add the product price and quantity here.
Warehouse: choose Guangdong warehouse
Chinese domestic delivery fee: add the domestic shipping fee here.
Upload pictures: if it is wechat orders, you can upload the item photos here.
Note: this form is similar to their expert service form which means they will charge you 10% service fee.
If you don't want to pay for the service fee, you can always ask the seller for Taobao link instead.
1.3 Pay for your orders
after you add all orders to the cart, you need to top up your wallet and pay for the order value.
Note: Sometimes Superbuy will not allow you to use PayPal for some products like counterfeit products and you need to simply top up your balance instead of paying directly with PayPal.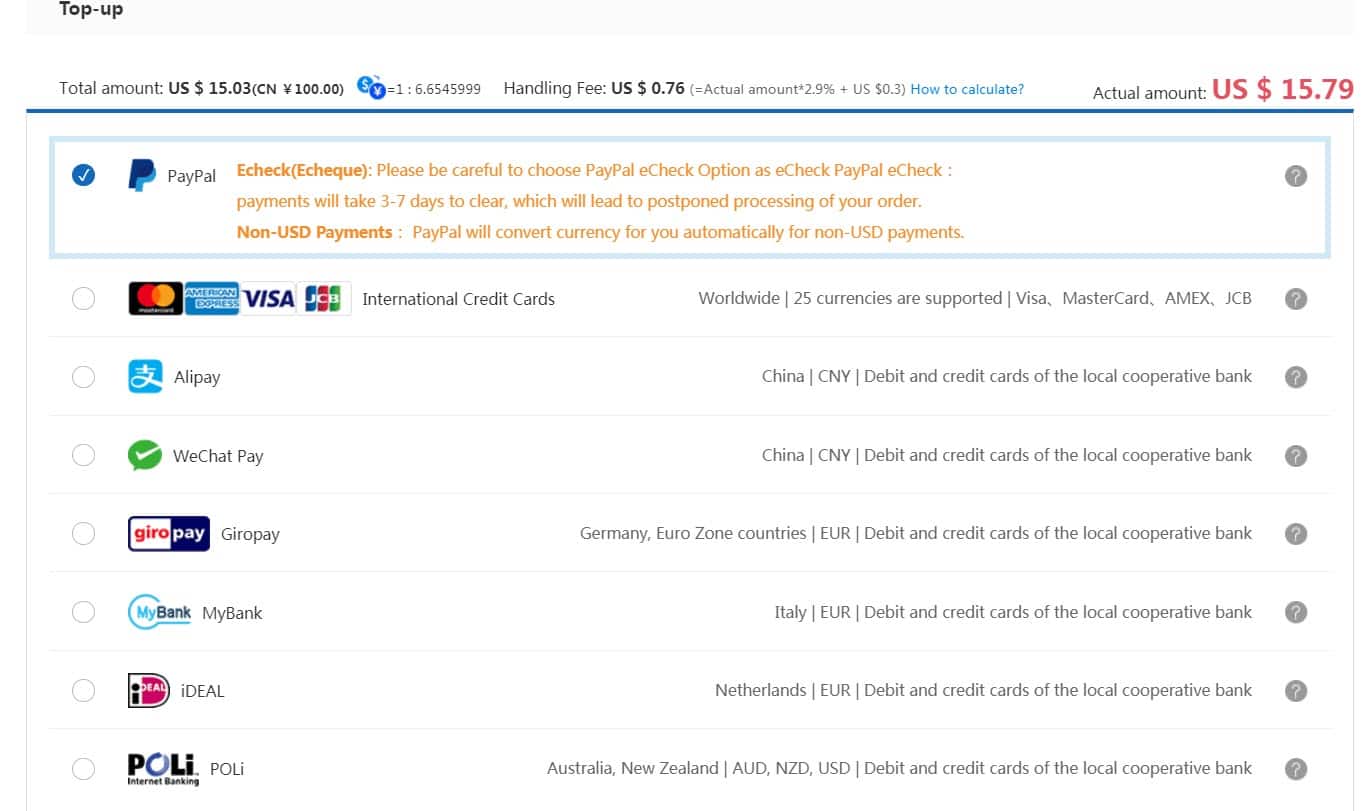 the payment method they support:
Paypal
credit card
alipay
wechat pay
Giropay
Mybank
iDEAL
POLI
Bank transfer
the handling fee is 2.9%+0.3 USD per top-up except using Alipay or wechat.
also don't forget the conversion fee as superbuy uses a fixed USD-RMB rate which is lower than the live exchange rate when you convert USD to RMB,the fee is around 5% as of I am writing this post.
plus the10% expert service fee might be incurred,so the total cost can be up to 18% of your total order price.
This is not cheap!
what superbuy cann't ship
here are the superbuy prohibited items: perfume, simulation guns, banknotes, antiques, weapons, knives, gunpowder, drugs, lighters, high-risk chemicals.
superbuy Imitated items
if you buy branded items, sometimes,superbuy will mark it as an 'imitated item' which means they think this item is high risk to be seized by Customs.and some shipping options will not be available to use.
you can try to contact live support to remove this tag, but it may not work if it is a very famous brand.
also if your shipment gets seized by China customs, they will give you a full refund.
if it is held by your customs, then you have to bear this loss yourself.
Note: Superbuy recently opened a new website called wegobuy,they said they want all replica purchases to be on WeGoBuy and not on Superbuy.
this means you will not be able to buy any branded or reps on superbuy anymore.
2. Order arrives in the Superbuy warehouse
Once the order has been submitted and you pay for the items+local shipping, you can manage your orders here: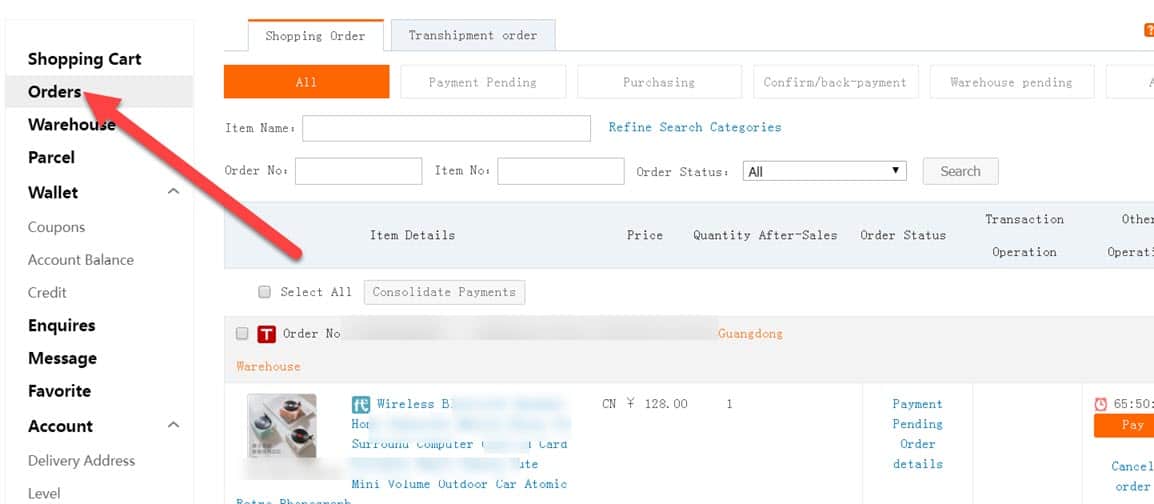 Once items arrive in the Superbuy warehouse, you will receive an email notification.
then you can click on "View the inspection" to see photos of your items taken by the warehouse, you can check if the items fit the description.
Note: The photos they take can be unclear, to see more details of your item, you have to contact their live support and give them your order number and request better QC photos.
where is superbuy warehouse
superbuy has two warehouses,one is guangdong warehouse and another one is hongkong warehouse.
Guangdong warehouse is located in Huizhou (near shenzhen and guangzhou).
Hongkong warehouse is in New Territories.
most of the time,you will use guangdong warehouse address to receive your items.
superbuy storage period
superbuy free storage period is 90 days,After the 90-day free storage period expires,they will charge you 0.1 RMB per DI per day.
3. Choose your shipping method and Submit Delivery Order
when your orders all arrived and checked,you can click on the Warehouse icon on the right sidebar to access the ready to ship items.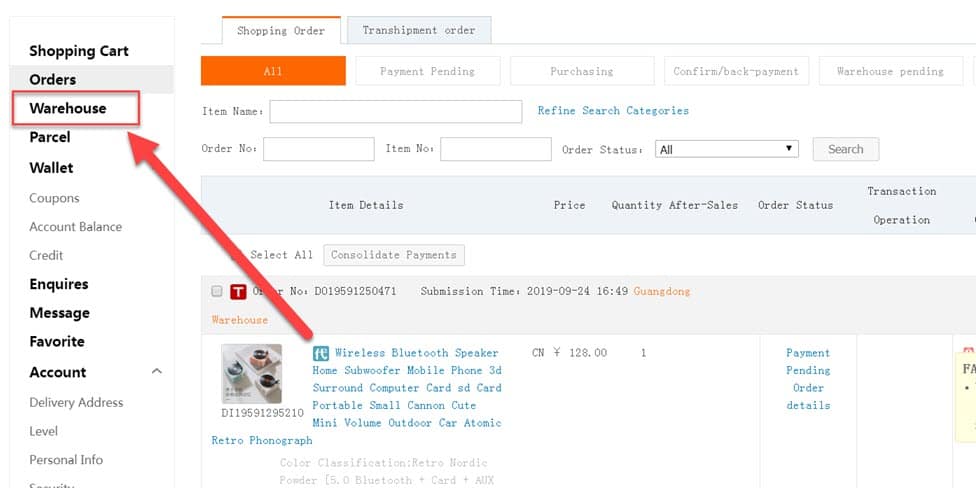 Now You can see the size and weight of each item and combined weight of the parcel on the right bottom corner.
click on submit you will be taken to the choosing carrier page where you need to choose the shipping method.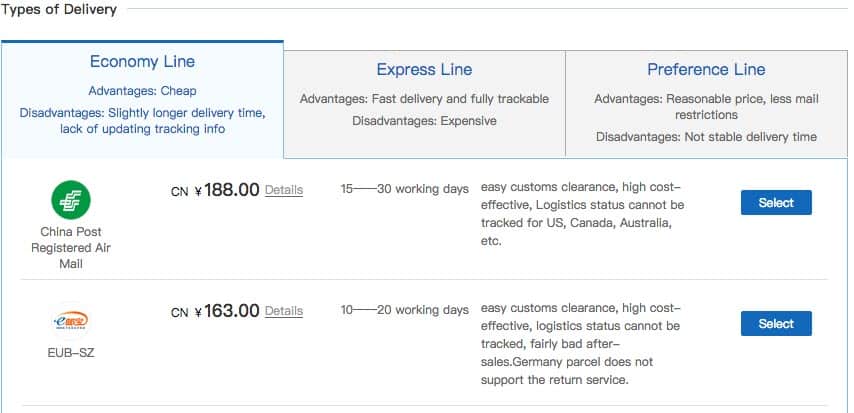 superbuy shipping cost:
Here is the superbuy shipping fee calculator.
you can get an estimated shipping fee and compare it with other agents.
Honestly,superbuy shipping fee is expensive,if you care about the price,then superbuy may not be your best option.
Refund for the excess shipping fee
in most cases, the initial shipping costs you paid is significantly more than the real cost.but this is not the final cost.
In 1-5 days(the day after your parcel leaves their warehouse), they will update your parcel status with the final cost.
Then they refund you the excess.
Declared amount:
The declare amount is the total value of your parcel that is shown to the people at customs,Based on this value, they judge whether your parcel should be taxed.
You don't have to declare the true value for your parcel if you want to avoid the tax.
here is the tax-free amount for some countries:
USA: 800 USD
Europe: 22 EURO
Canada: 20 CAD
Australia: 1000 AUD
for the USA,the declared value I suggest is $10 to $15 per kg.
this is a sweet spot that can avoid Customs tax as well as balancing the size and weight of your parcel with the value.
Rehearsal Packaging:
rehearsal packaging is a paid service that costs 20 yuan per parcel.
with this service purchased,Superbuy will weigh your parcel again and give you a more accurate billable weight before it is finally shipped out.
the billable weight and shipping cost will change (generally lower) after they re-weigh your parcel.
4. Tracking and after-sales
You should be able to get your tracking number on my parcels page
after it is being shipped out.
How to track your superbuy shipment
1st, you can go to the official website of the shipping company you use,for example,if you ship with EMS you can enter the tracking number on the USPS website and track it there.
2nd, you can use a website called 17Track,it can automatically decipher any tracking number and track it for you.
this is good for the economy and tax-free line shipment as sometimes we don't know who is the true carrier.
3rd,if the tracking is stuck, not updating or invalid, you can always chat with their LiveChat, they will give you a clear explanation.
superbuy return and exchange
on my warehouse page, for the item listed, there is a return option.
you can apply for a return or exchange within 5 days once it arrives at the warehouse.
If your return request is approved, you pay for the domestic shipping fee+10% service fee to send it back(Note: you have one free return/exchange per month).
this only works on most of taobao, tmall or 1688.com orders as rules there says customers can return within 7 days without any reason.
if you buy on other sites like wechat,yupoo,some sellers do not accept returns or exchanges.so you need to pay attention to their return/exchange policy.
Quick tip: Return and reorder is easier and faster than exchange as the process of exchange takes a longer time.
5. Superbuy review
Let's face it, Superbuy is a mixed bag.
Its most positive sides are quick responses, friendly customer support, and speed of service.
However, the service fee and shipping fee are fairly high which makes it less attractive than its competitors.
and the order process is debatable,some think their ordering process is simple and easy to use, some think it is tedious and easy to get confused.
I'd be happy to learn about your experience with this agent – just drop a comment below this post.