I know it is very difficult to pay directly to the suppliers on 1688.com as a foreigner, so I've been always following online for the ways foreigners can use to pay directly on 1688.
A few months ago, I discovered a new payment solution launched by 1688 and Alipay for foreign companies.  The name of it is called 1688 kjb solution(跨境宝/kuajingbao) which means cross-border payment solution.
In this article, I will introduce this solution based on my knowledge and some official information I found online.
1. what is 1688 kJB payment solution
1688 KJB solution is a cross-border payment solution officially provided by 1688 and Alipay.
This solution allows companies registered in certain countries to purchase directly on 1688.com using their own 1688 and Alipay business accounts.
Here are some of the highlights of this solution:
The security of your 1688 and Alipay business account is guaranteed
Whether you are currently topping up your Alipay account through a third-party top-up provider or using the Alipay tour pass, this is not an officially approved solution for foreigners, which means that the 1688 and Alipay will not guarantee the safety of your account and funds.
On the other side, KJB is the official payment solution exclusively for foreign companies, The security of your account is not a problem at all, you won't have to worry about your Alipay or 1688 account being frozen or unable to log in anymore.
Support for high volume payments
KJB solution's single-day transaction limit is 100 million USD, and the single transaction limit is 10 million USD.
This amount is far more than the third-party top-up or Alipay tour pass can offer you.
They only charge a very low purchase transaction fee, much lower than the commission you pay to the agent. meanwhile, they offer a better exchange rate than the bank's live rate.
These will greatly cut your overall purchasing costs,
Lower purchasing costs mean more profit,
That's why we're not minding the hassle of going to this all-Chinese website to purchase products, right?
2. how does 1688 KJB solution work
Setting up and Using 1688 KJB payment solution requires a total of 5 steps:
Register and verify your 1688 account
Register and verify your Alipay business account
Alipay business account link to your 1688 account and activate KJB solution
Top up your Alipay business account(Multiple currencies supported)
Select the KJB option when paying on 1688.com
I'll cover each step in detail in the following section. You only need to follow these steps to complete the entire KJB solution setup process.
3. 1688.com Account
The first thing is that you must have a qualified 1688 buyer account.
In order to use the 1688 kjb solution, your 1688 account must meet the following 2 requirements:
It must be a verified 1688 account.
It must be linked to a verified Alipay personal account.
As Alipay has improved its verification process , It is not difficult to achieve the above requirements as a foreigner now,
I have already talked about how to register and verify your 1688 account, link to Alipay account in another article. You can click here to read it.
If you follow the steps I mentioned in that article, you can get it done in less than 10 minutes.
4. Alipay business account
Alipay business account is the core of the whole solution, there are many details you need to be aware of.
So I have written another article to explain Alipay business account in detail as much as possible.
In that article, you can learn about Alipay business account registration, verification, link to 1688, top-up, etc.
5. Using KJB payment solution (跨境宝) on 1688.com
Once you have done what you need to do on the Alipay business account, using it on 1688.com is a very easy thing.
I'll give you a brief overview here:
Step 1
Click "Order Now(立即订购)" to go to the checkout page
Step 2
In the "Transaction method(交易方式)", select the first one, that is "Guaranteed transactions(担保交易)"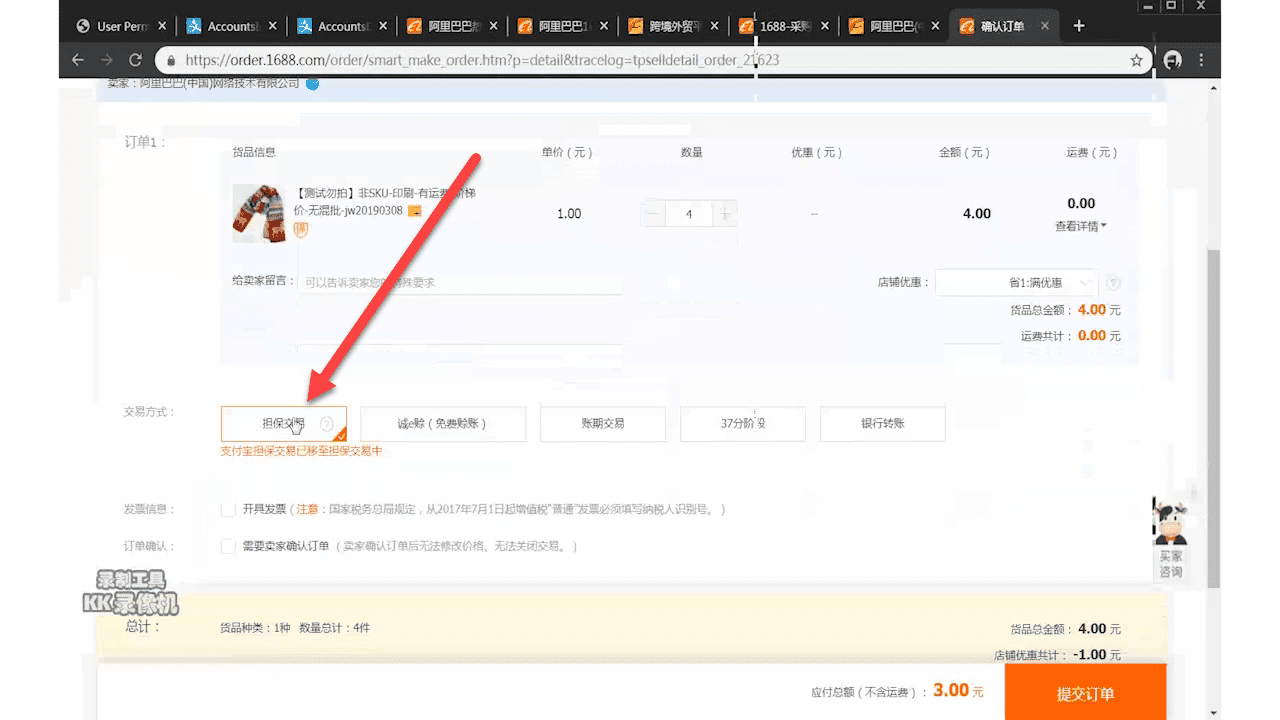 Step 3
Now we come to the payment method page, choose the first one here, "KJB solution (跨境宝)"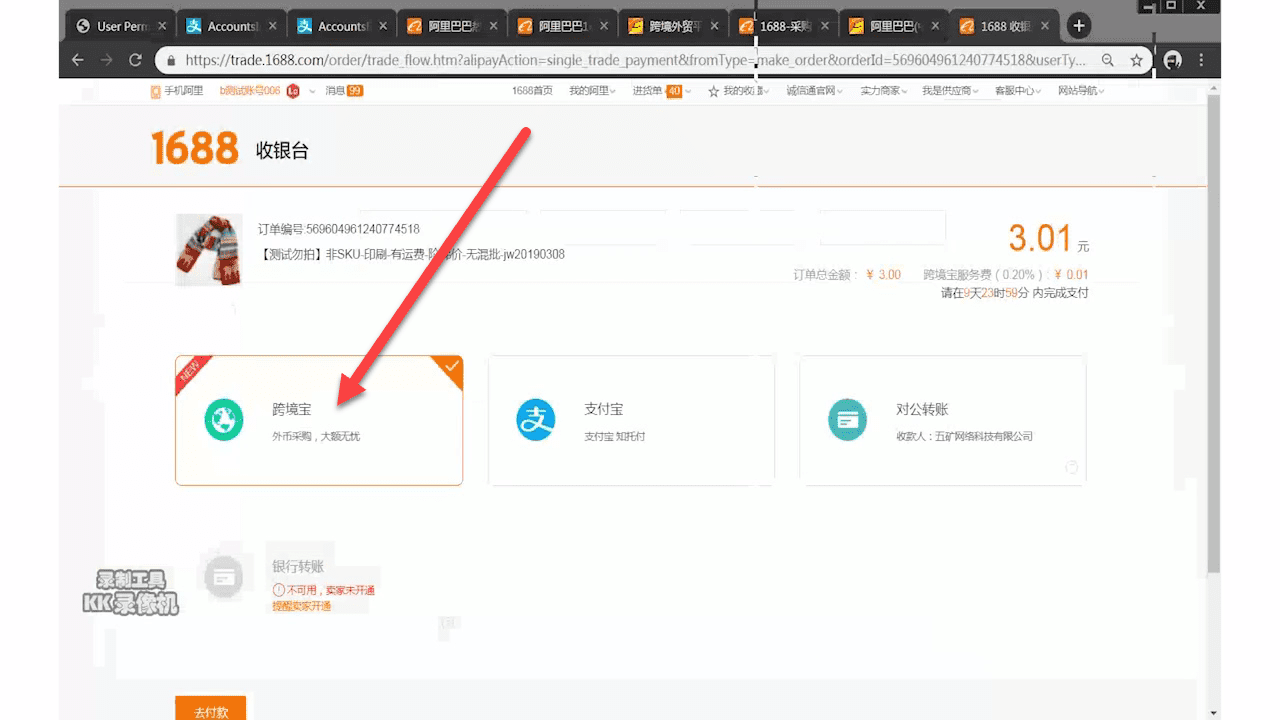 Step 4
On the pop-up payment confirmation page, enter your Alipay payment password.
Note that the Alipay payment password here refers to your Alipay personal account password, you need to register a personal Alipay account and set up a payment password.
You should have registered a personal Alipay account before verifying your 1688 account, if you have not registered, here's an article that will help you learn more.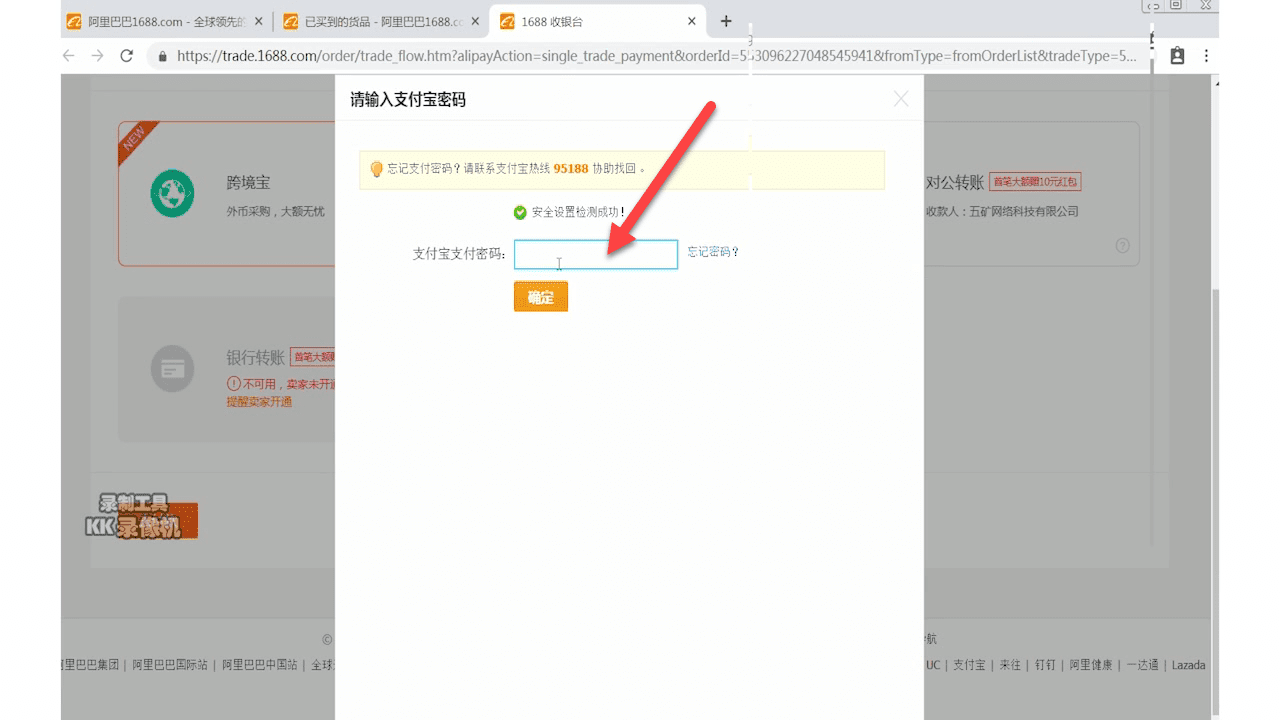 If everything goes well, this page will be redirected to the order details page, which means you have paid successfully and you can wait for the seller to ship your order.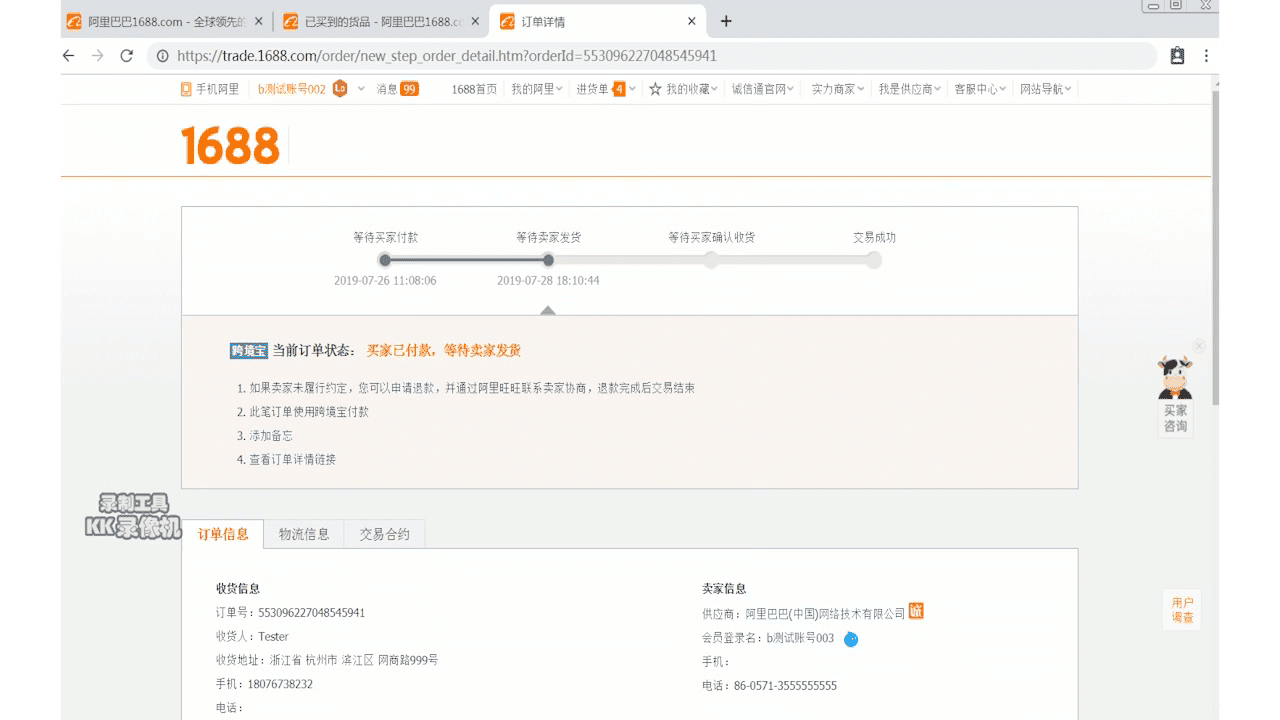 What if the supplier does not support KJB solution (跨境宝) payment
Generally, 1688's paid supplier' stores are enabled by default with this option, if they are not,
You can ask your suppliers to click this link to sign the agreement to open the KJB solution (跨境宝) payment.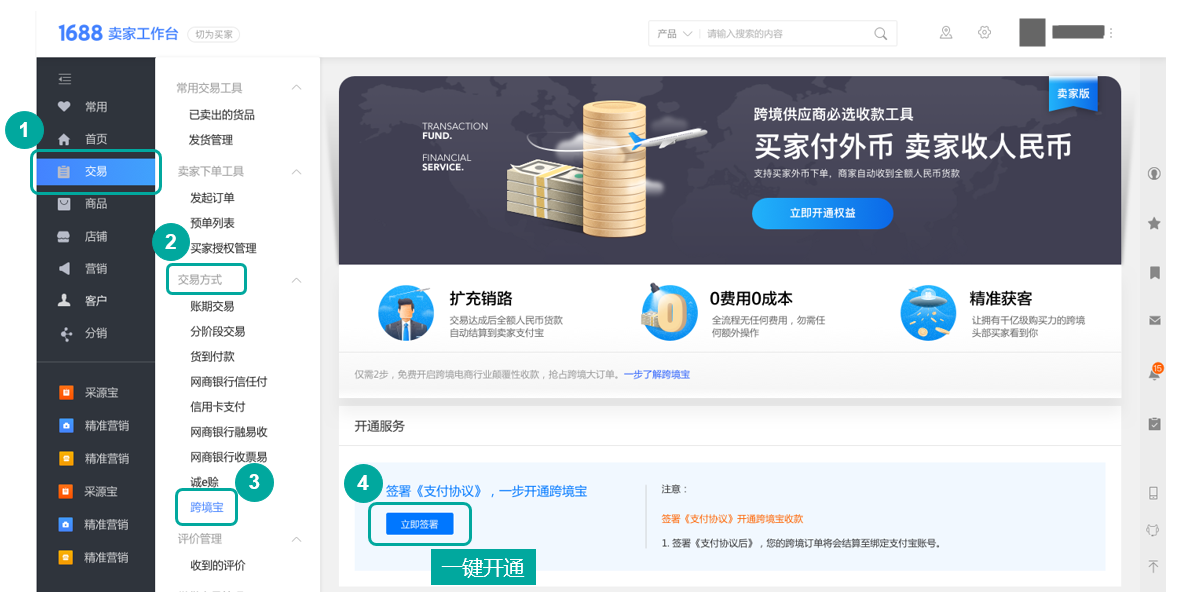 At the same time, you should also note that some products are not allowed to buy via KJB solution, such as products related to these: pornography, gambling, drug abuse, violence, terrorism, plant seeds, nutrients, cigarette paper, harpoons, etc.
For specific products that cannot be ordered, you need to ask Alipay business's customer service.
6. Transaction Fee
The only fee for using 1688.com's KJB solution is the transaction fee. here is the official list of transaction fees:
| | |
| --- | --- |
| Applicable Monthly Transaction Amount(RMB) | Transaction fee |
| 0 – 100K | 0.20% |
| 100K – 3 Million | 0.15% |
| 3 Million – 10 Million | 0.08% |
| 10 Million – 25 Million | 0.03% |
| 25 Million – 80 Million | 0.02% |
| More than 80 Million | 0.015% |
This transaction fee is determined by your applicable monthly transaction amount on 1688.com.
There are two calculations for working out this applicable amount:
Last month's transaction amount on 1688
Average monthly transaction amount (up to the latest 12 months) on 1688
It is the greater of these two amounts that will be used.
7. Bulk buy In 1688.com via API
The 1688.com team also offers the option to purchase and pay in bulk on 1688 via the API. With their API, you can
Check whether the supplier has opened the cross-border pay API(more info)
Cross-border pay order batch payment API(more info)
Batch payment status messages API(more info)
Here are some example API they provide:
alibaba.trade.payWay.query
Check the payment methods or payment channels that can be used for unpaid orders
When paying through ERP, you can get the link to the cashier for bulk payment through this API link.
A single order returns the 1688 cashier address, while multiple orders return the Alipay cashier address.
for multiple orders, ERP can guide users to jump to the cashier link to complete the payment action and check the user's login status in 1688 before payment.
alibaba.crossBorderPay.url.get
Get the payment link to use cross-border pay
alibaba.accountPeriod.list.buyerView
View all acquired billing period credits
alibaba.creditPay.url.get
Get the payment link to use eCredit payment
If you want to know more about the 1688.com api, you can click here to go to their official page to read more.
8. My View of this Payment solution
The initial target clients of this payment solution are Chinese sellers who sell on overseas e-commerce platforms, such as Aliexpress or Amazon. It is convenient for these sellers to purchase directly on 1688.com.
In the last year or so, they have just started to open up this payment solution to some foreign companies.
So this solution may not be a mature one for you, I do not recommend that you abandon your 1688 agent to use this solution at the present time.
You can test this solution first, and when you are completely familiar with it, you can switch to this solution entirely.
Also, I have another idea, is it possible for you to have your agent's 1688 account link to your Alipay business account?
In this way, every purchase made by your agent is more transparent and you save time in transferring money to your agent.
9. The opportunity to make money with 1688 kjb solution
I found a huge potential money-making opportunity from this payment solution, that is, you become a 1688 agent yourself.
Now, as a foreigner, there are still many barriers to buy on 1688,
After you have set up your 1688 KJB solution, you can offer 1688 purchasing service in addition to purchasing products for yourself.
In other words, you can purchase products on 1688.com for customers like you, and then charge a certain commission.
Now, most of the 1688 agents in the market are Chinese companies, if you can provide localized services to your customers, they can't compete with you.
10. Final words
More and more foreign businesses are showing interest in 1688.com, and it is clear that 1688 has noticed this, now they have brought out the kjb solution, but this is not the end,
I am sure they will launch more features to facilitate foreign users.
That's a good thing for you.
So, if there are any good suggestions, questions, or feedbacks about 1688.com, you're welcome to leave a comment below.