In my
last post
, I showed you all how you can buy directly from taobao.com. I received tons of positive feedback and great questions from that article, and I can't explain how much I appreciate it – thank you all! but I failed to explain product search well enough in my last post,which I know is one of the
most important part!
In this post,I am going to share with you some practical ways and tips of search on taobao.com.I use some of the search tips myself as Chinese.
1. Image search on taobao.com
this is the most common method and has been mentioned a lot on reddit and some other forums.
1.1 change region on taobao
most of the time,when you try to taobao.com,you will be redirected to world.taobao.com.but the image search feature is not enabled on world.taobao.com. so the first thing you need to do is change from your region to 中国大陆. see screenshot below: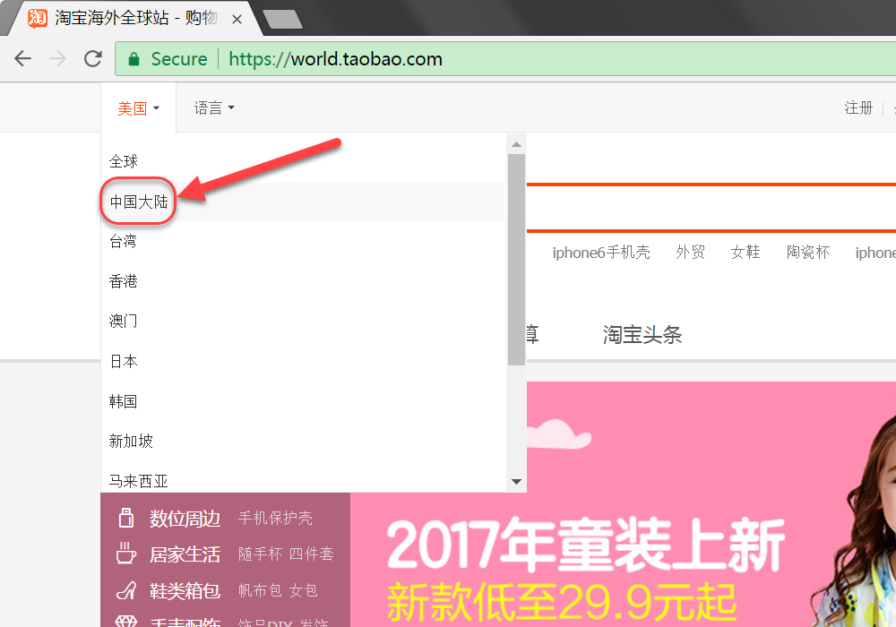 1.2 upload the image
this step is pretty easy and straightforward,just click that little camera icon at the end of the search bar to upload the image. There are something you need to take note of.
the image format must be .jpg or png.
image size should be larger than 201*201
image file size should be less than or equal to 5M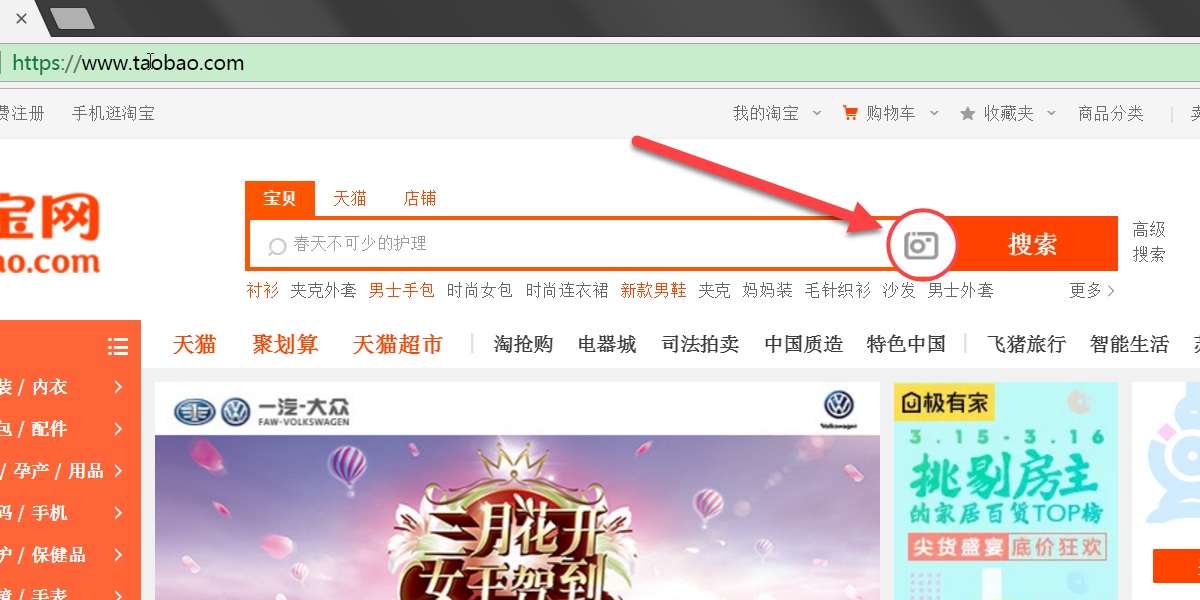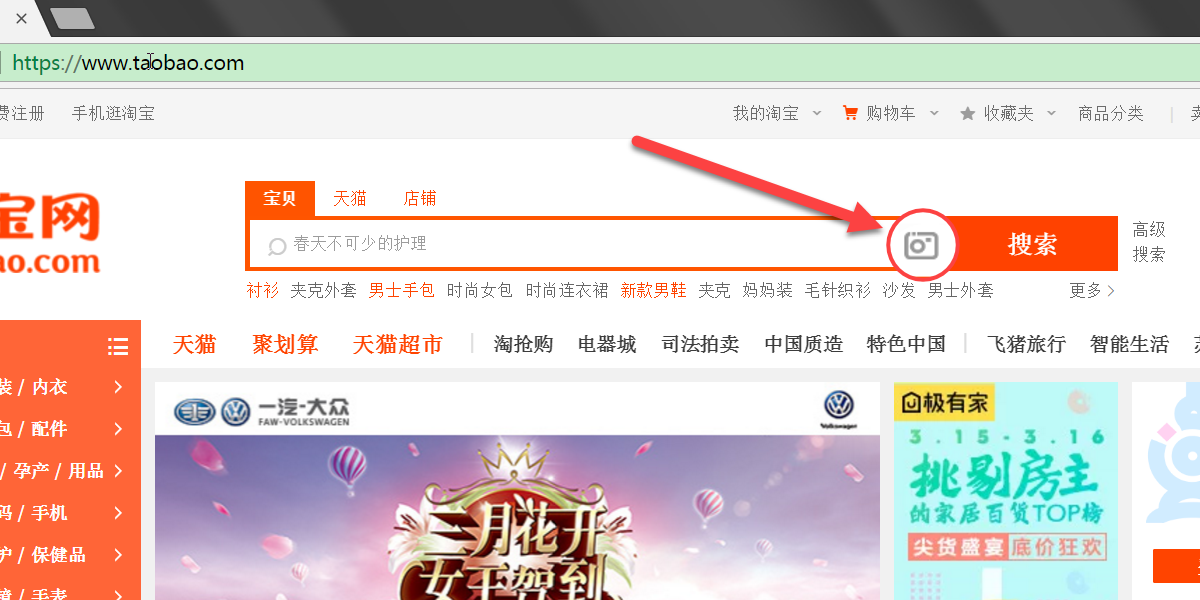 1.3 taobao image search results
Taobao will find and display listings that are same or similar to the image(with price tagged!).Clicking on any product image will direct you to the specific product page.
Don't forget to change your location back to your country if you want to use taobao official forwarding service.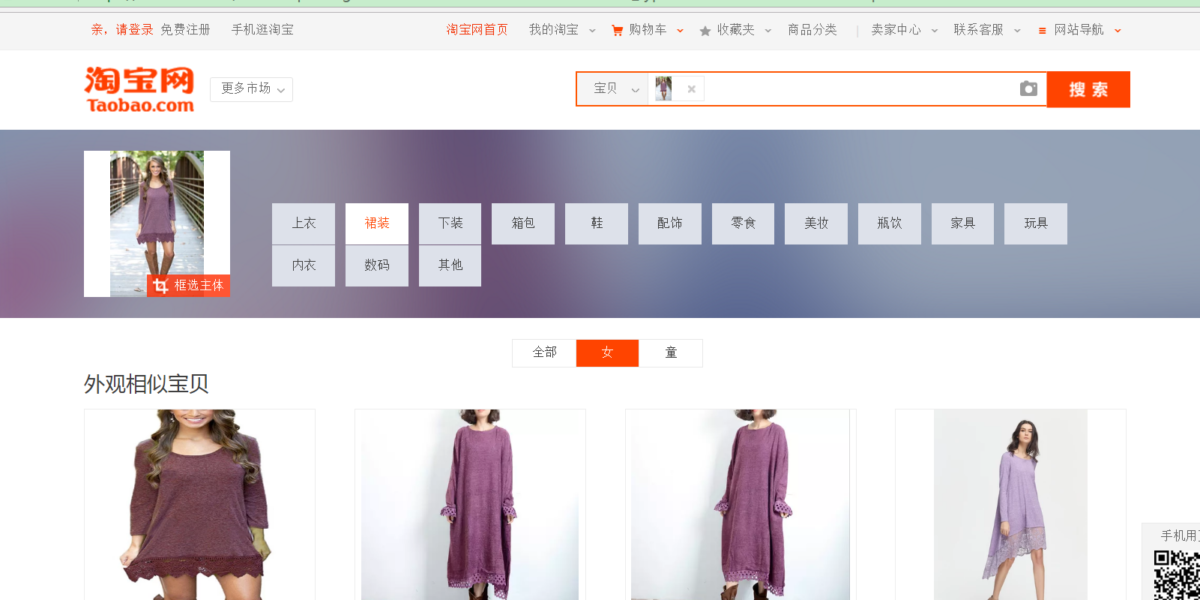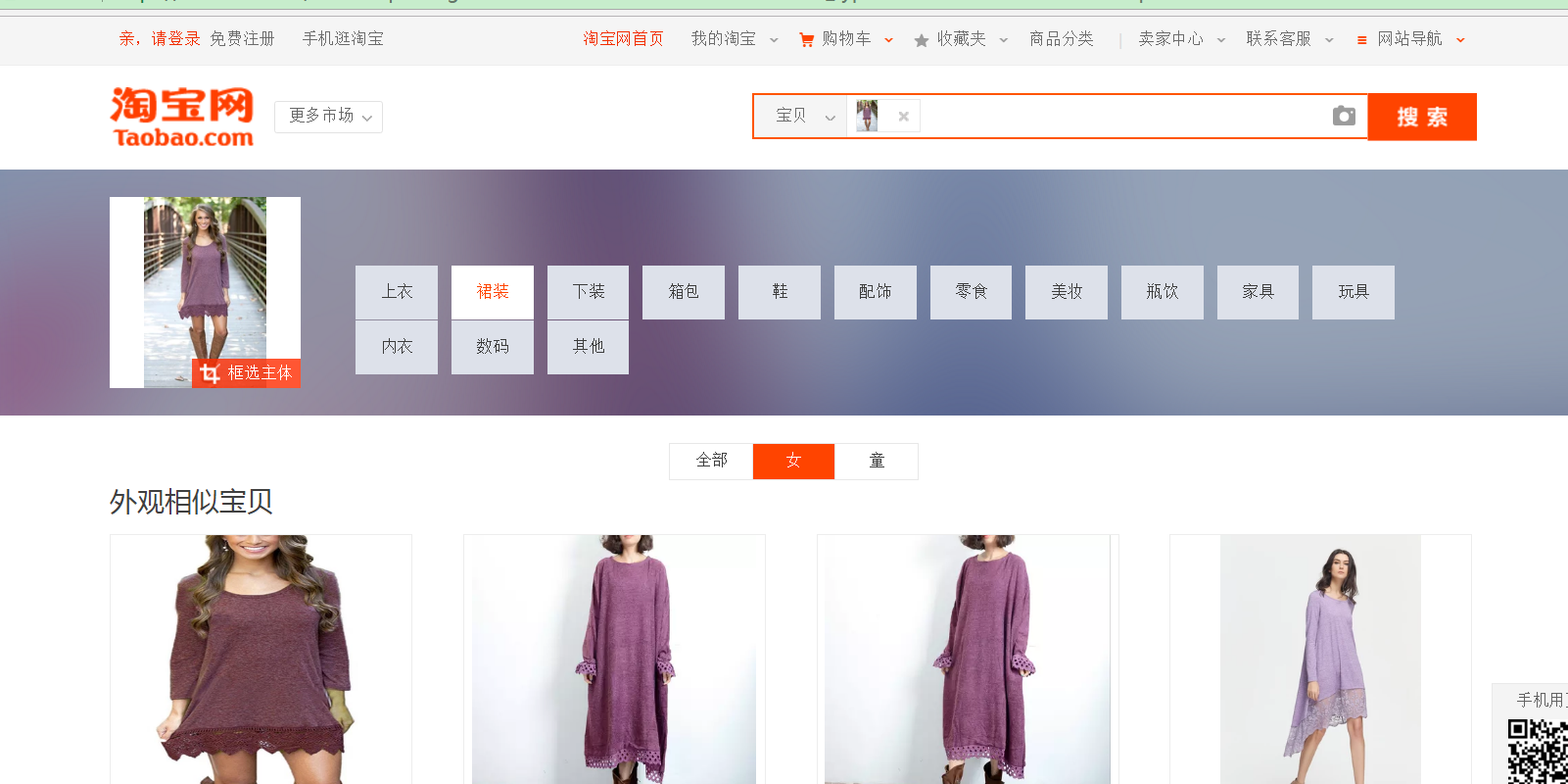 1.4 select an object or area on the image
this is a more advanced feature for image with multiple objects. for example,in step 3,the search results showed the skirt this girl wears,but what if your intention is to search the boots,well,this feature enable you to select and search the exact object or area of the image. Click "框选主体",in the popup,move that rectangle to select the boots,then click "确定(means confirm)" to search again(see screenshot below).now you can see all boots that is similar to the one in the image.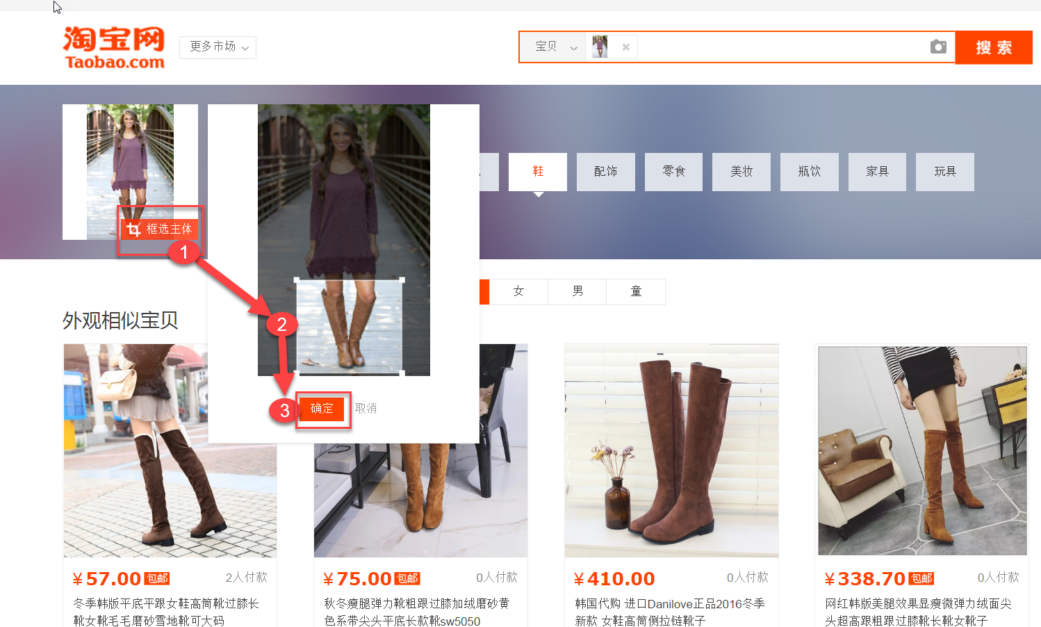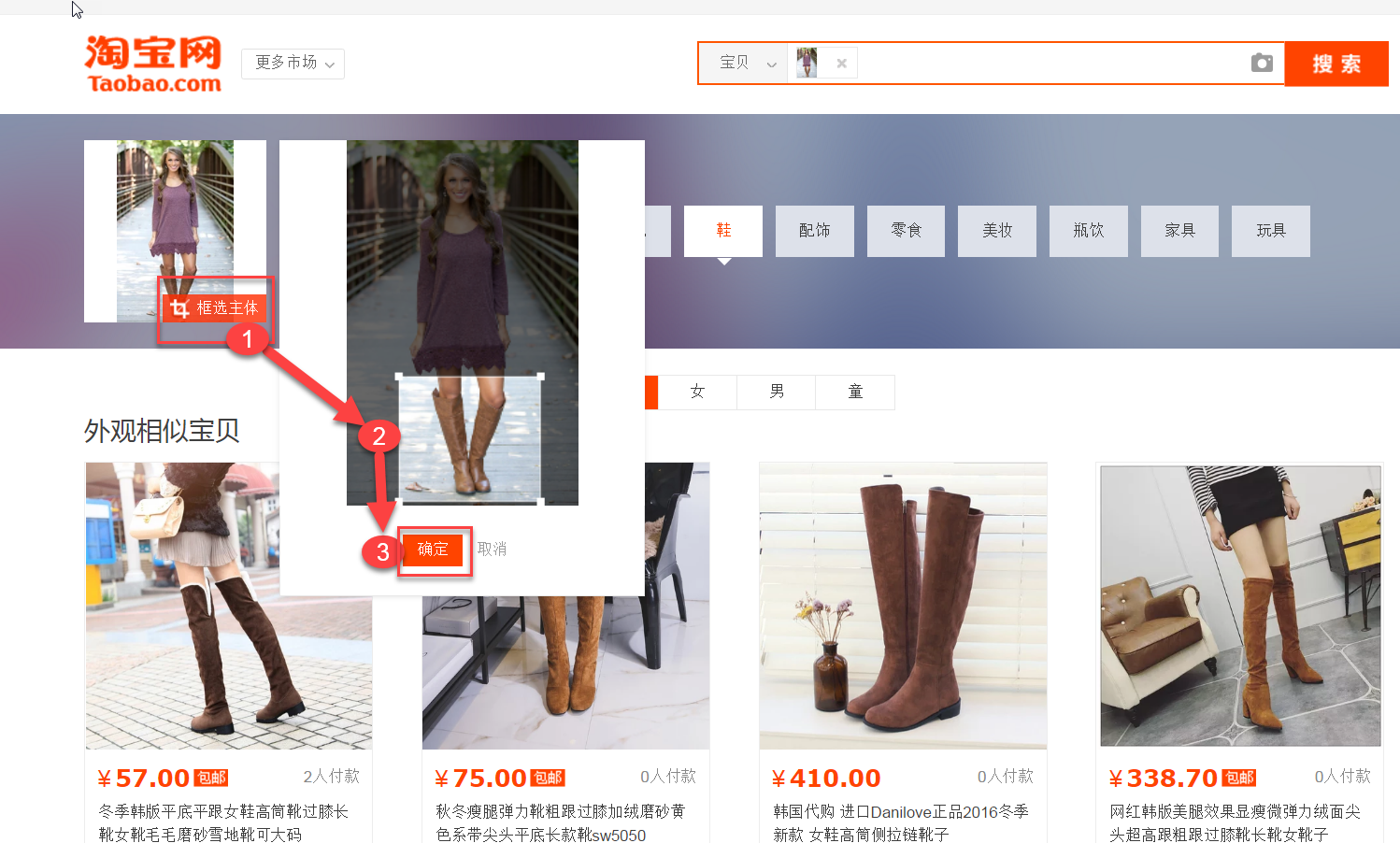 2.Image search on www.pailitao.com
Actually pailitao is the official name of taobao image search engine,It is embeded in www.taobao.com and taobao mobile app,It also has an independent website which is www.pailitao.com. using image search on pailitao.com works the same way as in taobao.com.so I am not going to talk too much here.


This is my favoriate one and I personally use it myself.this plugin will make your prodcut search so much easier,with this plugin installed,you can search almost any image you found on the web without going to taobao.com here are steps:
3.1 install plugin
first,
click here
to go to google webstore to install this plugin.after successfully installed,you shall see a pink camera icon near the search bar(see screenshot below).
3.2 select "用拍立淘找同款宝贝"
Now you need to right-hand click the image you found on the web and select "用拍立淘找同款宝贝"
sometimes,you can not find the option "用拍立淘找同款宝贝",that means this image is encrypted by this website.
for example,if you right click on the image that is in the
aliexpress product image gallery
,you won't see the option. in this situation,you can:
take a screenshot of this image,and upload it to taobao image search.
click on the image that is in the product details,you will see this option
3.3 search results
Now you will see the same or similar prodcut currently listed on taobao.com
4. Taobao Image search on your mobile devices
Taobao also brings the image search feature to mobile phones and tablets. with taobao app installed,you can upload a picture you received from WhatsApp or Facebook that you'd like to search or you can use taobao camera search  capture the product photo then search.
4.1 download and install taobao app
please note that you should download taobao app which is made for domestic users.Taobao global app is another application for international users without the image search feature. here is the official link to
download taobao app
or search "手机淘宝" in your app store.
4.2 active the "Camera" icon on the top of the app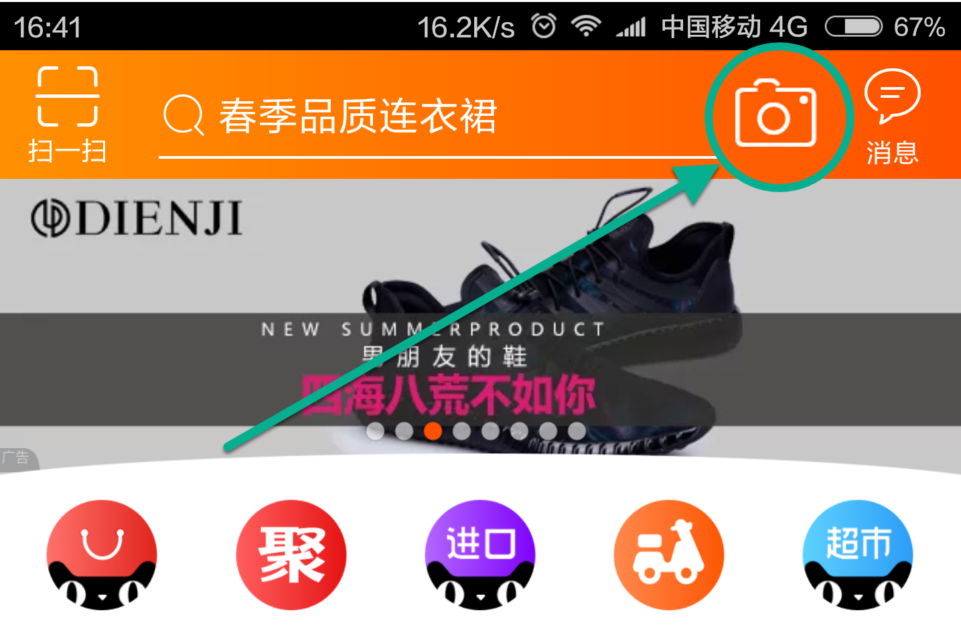 4.3 press "Camera" icon capture the product
then press the pink "Camera" icon at the bottom of your app to capture the product. or if you want to choose an image from the photo gallery of your phone,click the "相册" icon which is on the left of this pink camera icon.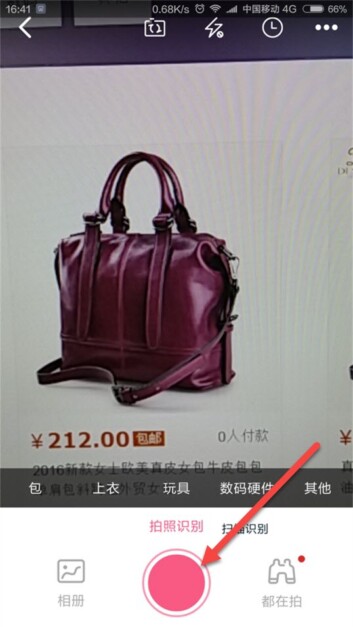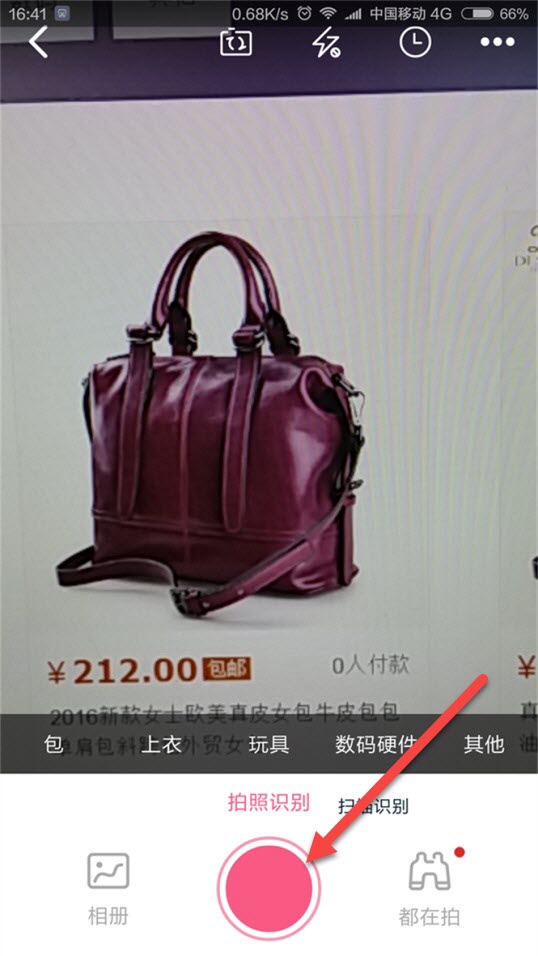 4.4 search results
Now taobao will show all the products on taobao.com that have similar images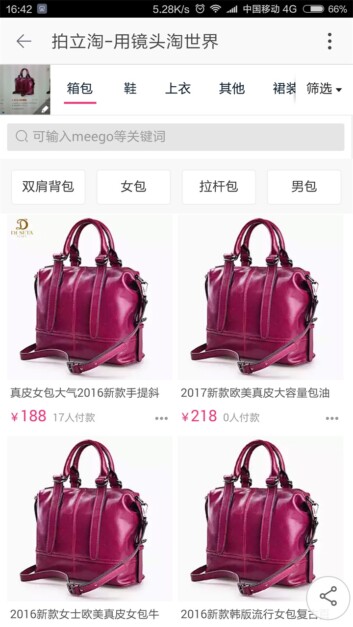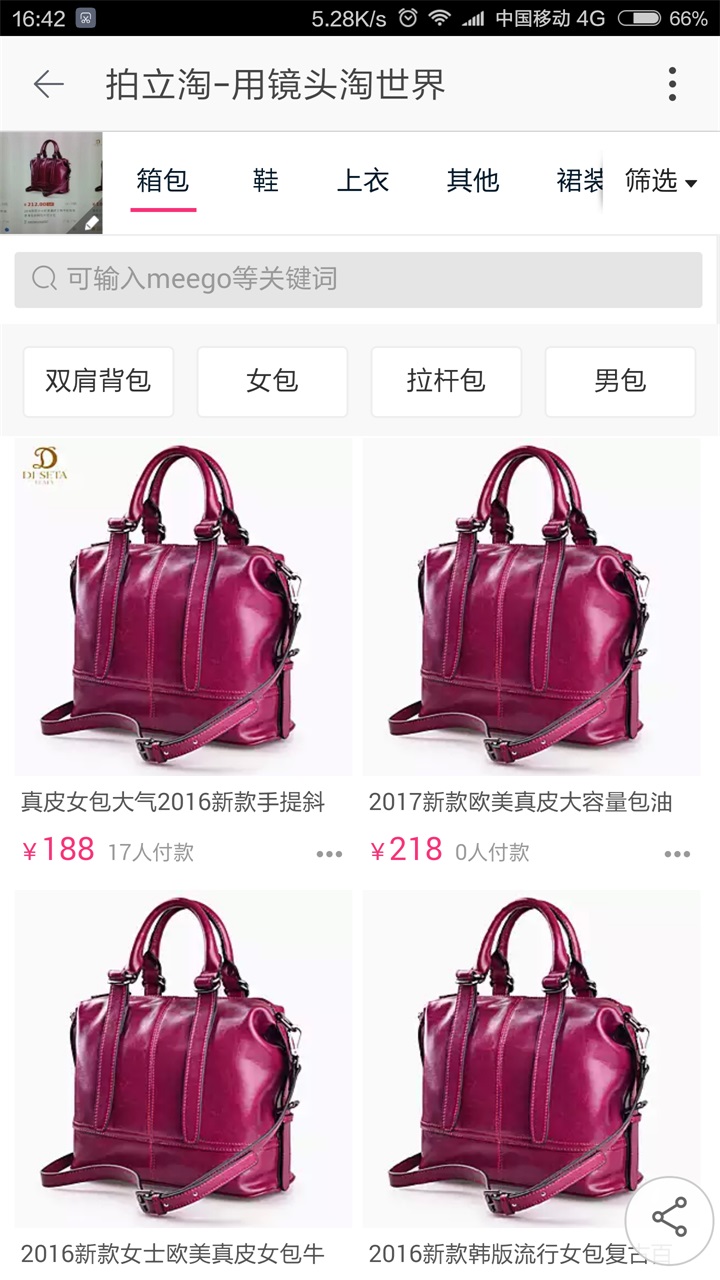 There you have it, folks. You have now learned useful tips to search on taobao for your products—and I hope with these tips, Taobao shopping "somewhat" will be easier and simpler for you!
Additional Questions?
Please leave a comment below or let me know any questions you have.I'd love to hear what you think!