The starting point of becoming a Taobao shopper is registering for an account at Taobao.com. (If you've decided to use exclusively a Taobao agent rather than shopping directly, a Taobao.com registration will not be necessary.)
I know many famous websites are able to use email to complete the account and password management,
But Taobao is different,
it mainly relies on cell phone numbers to complete account registration, management, verification, password reset, etc.
So, to register a Taobao account you must use a long-term available cell phone number.
5 Steps to create a new Taobao account
Step 1
Go to https://world.taobao.com/. Don't be put off by the Chinese characters! In the left bar of the page, find the REGISTER(免费注册) character. Its position is marked in yellow in the photo below.

step 2
The next screen shows a pop-up of Chinese characters. Click on the orange field(同意协议) in the middle and the pop-up will disappear.
By clicking the orange bar, you are, for the moment, agreeing with the "Registration Agreement Consent".
Then click on the radio button ENGLISH – right side of the screen to switch to English webpage.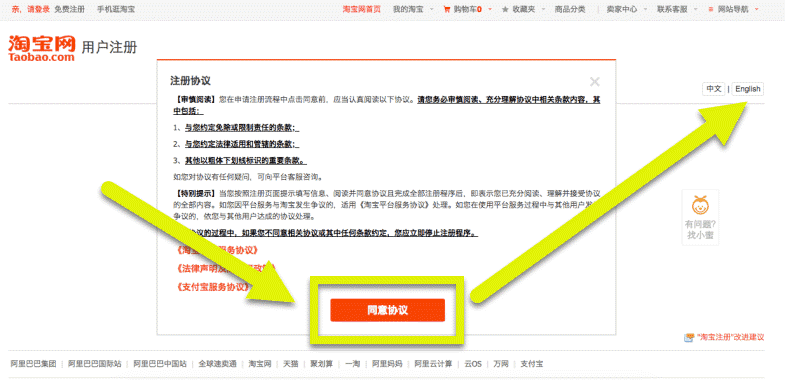 The Chinese pop-up is a "Registration Agreement Consent" outlining Taobao.com's Service Agreement, Privacy Policy, and Legal Notices.
It includes the Terms & Conditions of becoming a Taobao member and the Payment Agreement of Alipay, Taobao's default transactional platform.
These T&C, which you can read in English later on in the registration process, include the policies of Taobao.com's owner Alibaba.
step 3
On the "Verify Mobilephone" screen (see illustration below), choose the country where your mobile phone is registered from the drop-down.
Enter your mobile number (no spaces, no hyphens, no parentheses) and pull the "Verification" bar from left to right with a left-click mouse hold.
Check the box that says CREATE YOUR ALIPAY ACCOUNT BY YOUR TAOBAO ACCOUNT. (This is where you can read the T&C in English.)
Note that if you already have an Alipay account, you don't have to check this option.
After you register a new Taobao account, you can bind your previous Alipay account with this Taobao account.
Click on the orange NEXT bar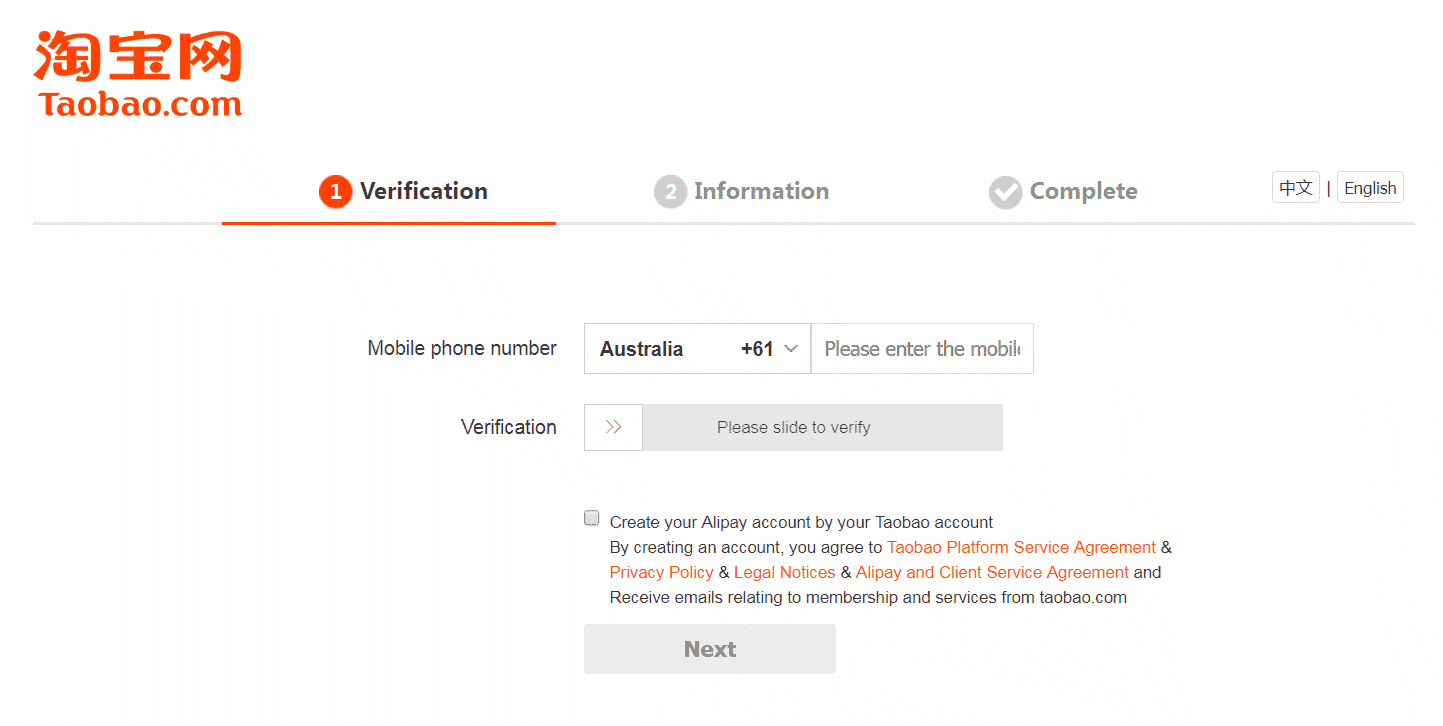 step 4
You will receive an SMS verification code on your mobile. The message will be in Chinese but you just need to find a 6 digit code.  Enter the code and click "Confirm".
Note: if you can't receive the SMS verification code from Taobao, you can read this post to find the solutions.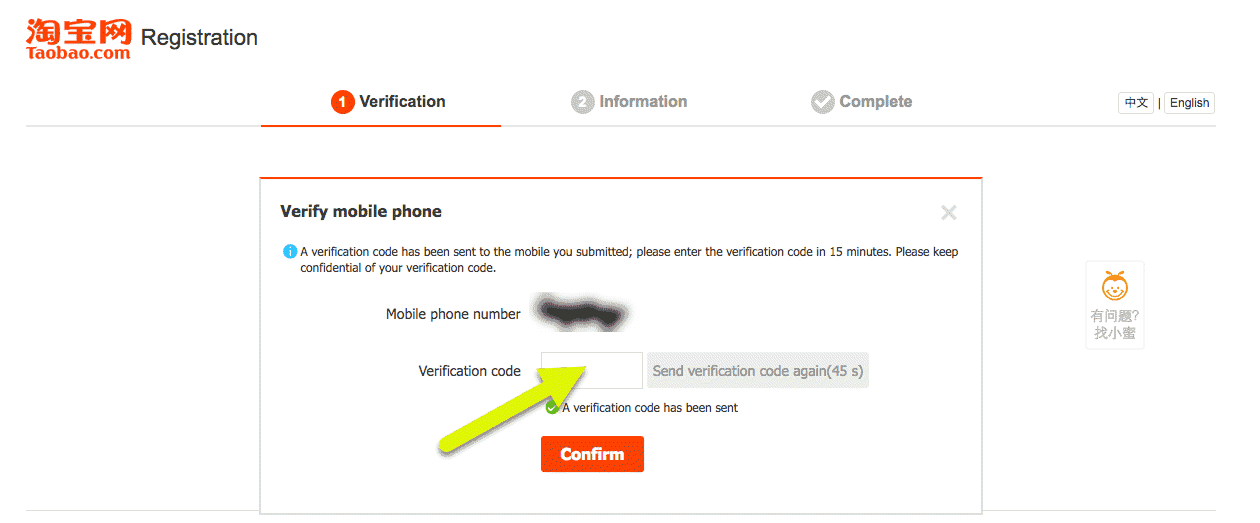 step 5
Now you can create your login password and a username for your Taobao account.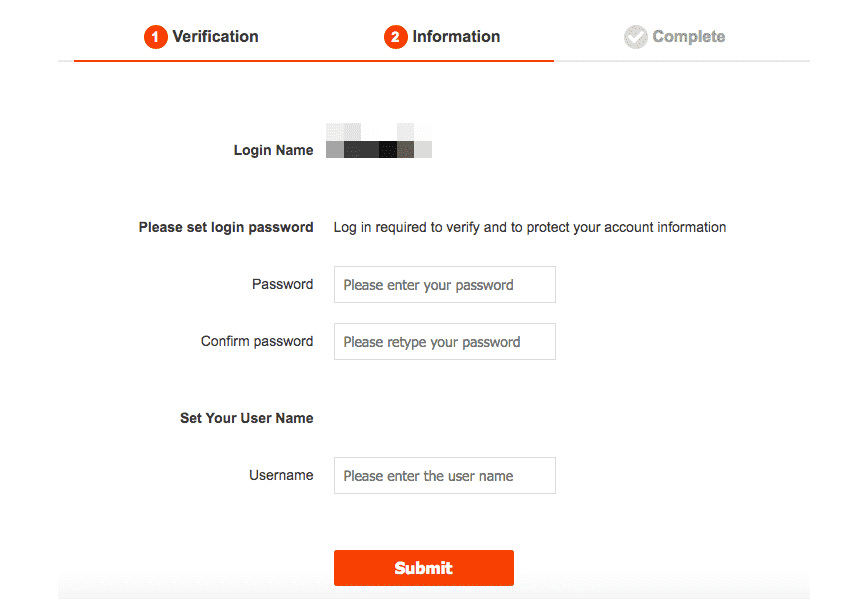 Step 6
After you hit Submit, It should look something like this:

Now you're on your way! Once you've completed the registration process, you can log-in from the Taobao.com homepage and begin your taobao shopping journey.
I have written another step-by-step guide on how to shop on Taobao for beginners. you can read it here.
Suggestions to avoid Taobao account being restricted or frozen
Newly registered accounts are very easy to be frozen or restricted by Taobao, so I have summarized a few suggestions to avoid account freezing:
1. If possible, try to register and sign in to your account through the Taobao lite app.
2. Try to sign in to your account in one place, for example, if your account is registered in your home computer, then you should not sign in to your Taobao account in the office.
3. Don't sign in to your account in public places, such as coffee shops, school libraries, etc.
4. Do not use your new account to buy fake or replicas.
5. Don't not log in to your Taobao account for a long time. Log into Taobao frequently and browse the products on Taobao
Once your account has been frozen or restricted, it is very difficult to recover your account.
you can only try to call Taobao customer service or contact them on social media.
However, only a very small number of people are able to recover their Taobao accounts.
Taobao Account Questions & Answers
Here are some of the questions and answers that are frequently asked about Taobao accounts:
what if my phone can't receive the SMS verification code?
The phone verification code is delayed and may take 2-3 minutes to receive. Please try again later.
If you have not received it after 2-3 minutes, please check if your mobile phone is enabled to receive an international message, or blocked our SMS, or the SMS inbox is full.
You can try moving your SIM card to another phone and try again, or contact your phone carrier for advice.
If I forgot my password, what should I do?
you can click here to reset your password
How Do I Change My phone number linked to Taobao?
here is the link to change the phone number.