Taobao, a famous online shopping website based in China with everything you need, at a cheap price.
The downside is that it's all in Chinese. For those who can't read the language, ordering from Taobao is a headache.
Of course, you can use an agent but direct shopping will save you money. you'll avoid agent's fees of up to 10% and the expensive international shipping fee they charge.
so here are step-by-step English guides to get you started on your Taobao shopping journey even if you can't read Chinese.
Part 1. Preparation
Updates about taobao in 2023
From May,2013, Taobao only accepts bank cards from Taiwan and Malaysia for payments on their website.
For users from other countries, you'll need to install the Taobao or Taobao Lite app(淘宝 or 淘宝lite) on your phone and make payments through the app.
This is the biggest change for Taobao this year, and it has a significant impact on many foreign users:
You can only browse, search, and add items to your cart on the website.
The Taobao app interface is only available in Chinese, which makes it harder to use.
Within the Taobao app, you can add and manage your own bank cards, so there's no need to download and verify Alipay anymore.
It seems like Taobao's policy is becoming less and less friendly for overseas users who don't speak Chinese. This might be a strategy to protect their international businesses like AliExpress, Lazada, and so on.
Most of this tutorial is still working, but the chapter on payments is no longer working, you need to finish the payment on the Taobao app.
So, I'd recommend you go ahead and download the Taobao or Taobao Lite app or use Taobao agent directly to save time and trouble!
Can I buy from Taobao/Tmall directly as a foreigner?
As of March 2023, Taobao officially supports shipping/forwarding to 15 countries and regions outside of mainland China:
USA
Canada
Australia
New Zealand
Japan
Philippines

Thailand

Cambodia(

Added in Sept. 2022

)
South Korea
Malaysia
Singapore

Vietnam

Hong Kong
Macau
Taiwan
This means that as long as you are from these 15 countries and regions, you can register for a Taobao account and buy the goods you want on Taobao.com using your bank card.
Taobao offers different shipping solutions for each area, I will explain later in Part 5 how to choose and use Taobao's official shipping.
Note: If you are not from the areas above, you have to order from Taobao through a Taobao shopping agent or shipping agent who can help you make a purchase on Taobao and ship it to you.
Which Taobao website can I buy from?
Taobao has many websites, each targeting a different group of people, which is often confusing for newbies. I'll give you an overview of the differences here:
This is the main Taobao website, mainly for domestic users, and contains all products and features.
This is Taobao's website for foreign buyers, with some special offers for foreign users.
However, some products or product categories are blocked, so you may not be able to search for many products on this site.
You can think of tmall as a selected version of Taobao, It collects some of the biggest companies and brands on this site.
For example, you can find the official flagship stores of Nike, Adidas, Samsung, Apple, and so on.
Usually, things in Tmall are more expensive than in Taobao because sellers have to pay more commission to Tmall.
This is Taobao's second-hand marketplace, where you can find a lot of cheap stuff.
You just need to register a Taobao account to access these sites, but all of these sites or apps are only available in Chinese, if you don't know Chinese, it can be a big challenge.
Taobao's official international shipping only supports taobao.com, world.taobao.com, and Tmall. Xianyu is not supported!
what I can't buy directly from Taobao as a foreigner?
Before you place an order, you should know there are some sensitive items that Taobao and the forwarder will not allow foreigners to buy and ship.
Your orders will be rejected to enter the forwarder warehouse if they scan sensitive items in your parcel, and some may even be detained and destroyed.
I have listed the 8 most common categories of sensitive items below, try to avoid any of them.
1. Items exceed size or weight limits set by Taobao warehouse
Each forwarder warehouse has set a limit for the max weight and size of the parcel they will accept, make sure your parcel is not too long or too heavy. you can check the limits here.
2. Food
Tea, instant noodles, bamboo products, etc.;
3. Liquid, paste, powdered items
Cosmetics like perfume,lipstick,foundation,nail polish,pencils,pens,alcohol,thermometer,ink etc..
4. Knife and Gun
survival knife, toy gun, water bb gun
5. Electronic device
humidifier,rice cooker,electric toy,vacuum cleaner,etc
6. Magnetic items or parts
Magnets, audio equipment such as audio, motors, speaker, compasses, coils, etc.
7. Battery and items within battery
Mobile phones, computers, power banks, watches, lithium battery
8. Branded, fake, replica, counterfeit items
The warehouse will not open and check if each order is branded or fake. Usually, they get the clue from your order information online or the outer packaging of the parcel.
If they find some sensitive brand logos, such as Nike, Adidas, LV, Gucci, Prada, they will reject this order.
If you insist on ordering branded or replica through Taobao, tell your sellers to use simple, neutral packaging and try not to expose the brand logo.
There is another post on things Taobao can't ship to you. Take a quick look at it to ensure your items are not on that list.
If you are still not sure, I suggest you contact the forwarder support, provide them the product link, they will give you a correct answer.
If you still want to buy prohibited items from Taobao, you have to use a Taobao agent who can provide various shipping solutions to ship these items to you.
About pre-ordering from Taobao
I noticed that some readers want to buy pre-order items through Taobao directly, but I don't recommend you to do so.
The reasons are very simple:
1. Your money is not safe
One fact that many Taobao newbies don't know is that Taobao often restricts foreign users from accessing their Taobao accounts,
once your account has been restricted or blocked, it is almost impossible to get it back.
And I know it usually takes a long time for pre-ordered items to be shipped,
Some lolita, cosplay, or gaming peripherals can even take 3-6 months to be shipped!
If something goes wrong with your Taobao account during this time, you won't be able to get your money back.
2. Taobao warehouse may not be able to recognize your order
Some pre-orderings require you to confirm receipt first, some require you to pay twice, some require you to pay the rest at another link, these situations may cause the warehouse system can not recognize your order,
so even if the seller sends the goods to the warehouse, you can not pay the international shipping.
So, I suggest you better buy those products that need pre-ordering through a Taobao agent.
buy from Taobao using an agent
As you can see, Taobao direct only supports a few countries. If you live in Europe or other areas, purchasing from Taobao directly is not an option.
Also Taobao direct will not allow you to buy and ship some items,
this is where a Taobao agent is needed.
if you are totally a newbie about Taobao agent, you can read this post that takes you through the whole process of using a Taobao agent and what things to consider when choosing a good Taobao agent.
if you already know one or two things about it, then you can read my reviews of the top 5 best agents and the cheapest one compared.
2 Tools to translate Chinese Taobao to English Taobao
Now it's 2023, I suggest the best translation combination is Google Chrome+ChatGPT.
Use Google Chrome's built-in translation function to translate Taobao's pages
Use ChatGPT to translate some chinese that is hard to understand.
In addition, ChatGPT is the best assistant for you to communicate with Chinese sellers and forwarding warehouses. I have tested its translation function and the result is very surprising.
So, I highly recommend you to use it as your personal assistant when you are shopping from Taobao.
Part 2. Create your Taobao account
about the mobile number
I know you don't feel comfortable exposing your real mobile number to a foreign website, but I still recommend you use a long-term valid number to register the Taobao account because Taobao will send SMS to you periodically to verify your account.
Once your account is locked or frozen and the number you left there is invalid, it is very very hard to unlock it!
register Taobao account on PC
Open an account on PC is very easy because it provides an English version of the sign-up now. I have written another post on how to register a Taobao account. just follow the steps you will be able to get your Taobao account.
Taobao frequently holds or blocks your account if they detect you try to login from a different device or IP. So don't change your PC or IPs when it is still a new account.
register Taobao account on your smartphone
you can also install Taobao lite(淘宝lite) on your mobile phone and register your account there.
it is easier and safer for your account. I strongly recommend you use this way to create your Taobao account.
Aliwangwang(阿里旺旺)
Aliwangwang is a chat software like skype, you are able to use it to chat with sellers on 1688.com and Taobao. Seller there also use it as the primary tool to send important messages to you.
But aliwangwang account can not be registered separately. you can only sign in with your Taobao username/password.
So after creating a Taobao account, you can download and sign in aliwangwang for future communication directly with the seller. here is the official download page.
Part 3. Add your address
The first thing I suggest you do after registering your account is to add your own shipping address. Taobao allows you to save up to 20 shipping addresses.
Click【shipping address】from the left sidebar of the admin page. you will be able to modify or add your address as you do on other websites.
Be sure the cellphone number is correct as the forwarder or your local courier will send you messages when your parcel is moving.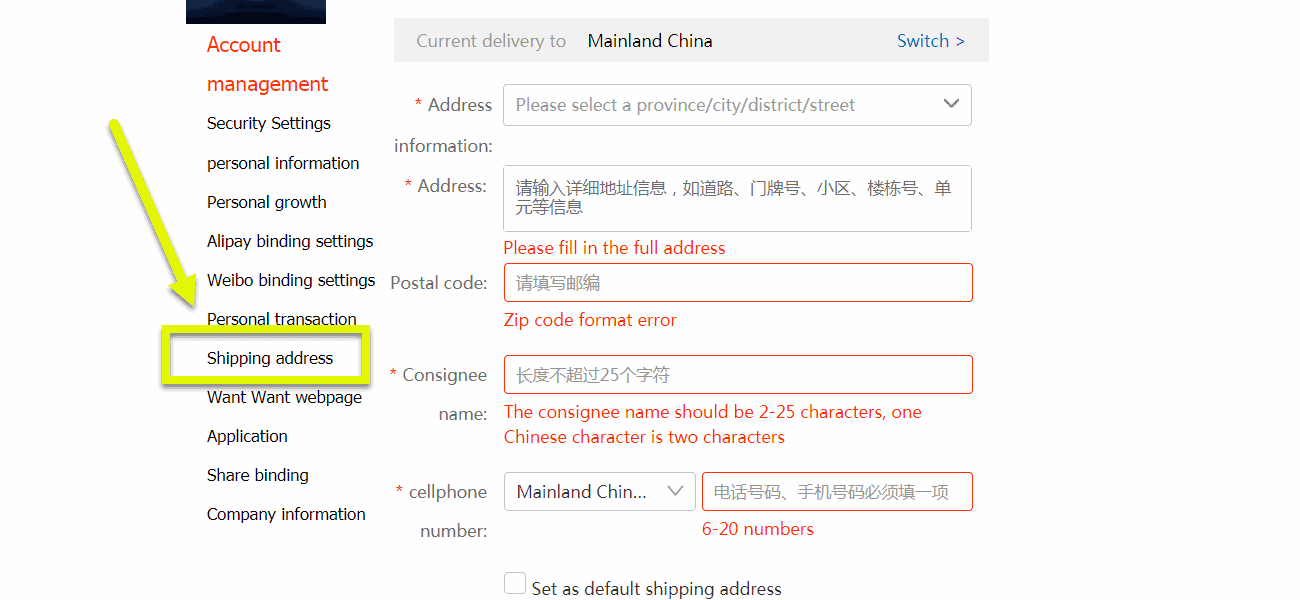 It is important to note that changing your shipping address after you have submitted your order is very tricky, so make sure you input the correct shipping address before you submit your order.
If you want to change your shipping address after the seller ships out your order, you will have to cancel the order and place a new one.
Part 4. Choose product and seller
find the right product
You can use product image and English keywords to search on Taobao. here is the guide.
the product page
Browse and shop in the translated Taobao.com site to your heart's content. Click on a category or an item, and you'll see a page layout similar to this one. Look familiar?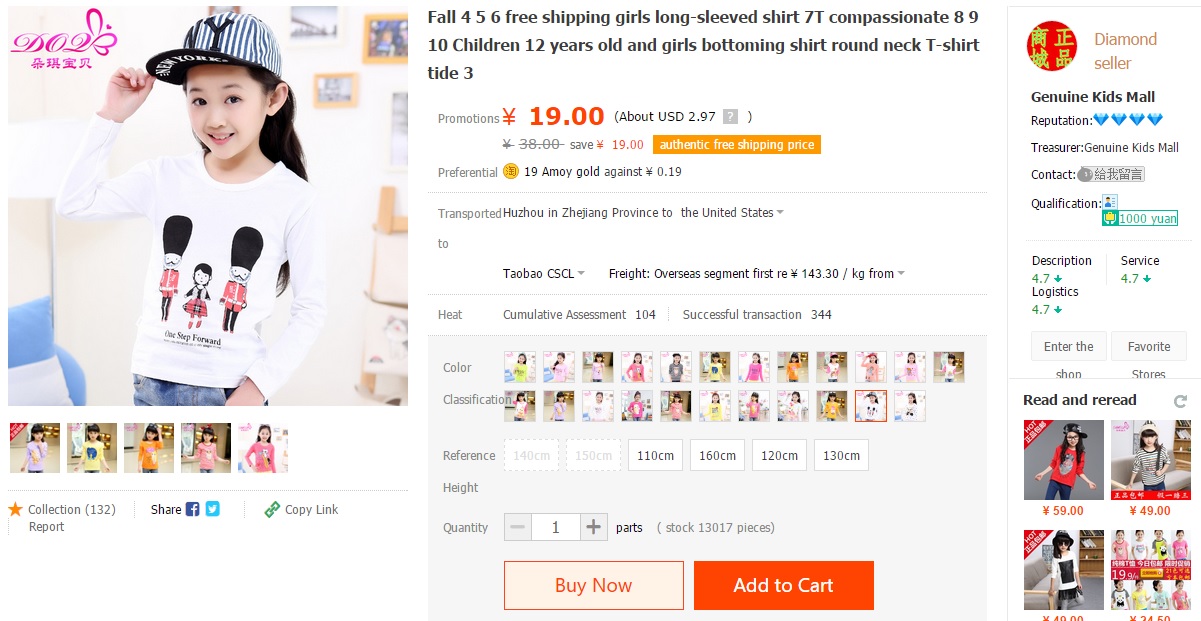 Clicking "Buy Now" will take you directly to checkout. If you're filling a shopping cart, you will need to add a check (√) by your confirmed item(s) to activate the orange "Submit" field.
check seller rating and review
Before you fall irreversibly in love with an item, check the seller's rating and reviews on the product page. You can learn more about seller rating and buyer reviews from this post.
Tip #1: Don't trust the reviews on the top or on the first review page because 90% of them are paid fake reviews!
Tip #2: Never buy from a new seller with zero or few ratings no matter how good their price is.
Part 5. Place the order
after submitting the order, you will be taken to the confirm order page, Here you can choose the delivery address, the shipping method, and confirm the final product information.
Confirm the delivery address
you can update or select the address which is added in the above step or you can add a new address here.

Choose shipping method
After confirming your shipping address, you will see the different shipping options to your address.

Taobao offers a total of 4 shipping solutions, each area supports different shipping solutions.
If you are from Singapore, you will see all 4 shipping options in the screenshot above(Label 2 – Label 5). If your shipping address is from the United States, you will only see 2 options(Label 3 and Label 5).
here are the areas supported by each shipping option:
| | | |
| --- | --- | --- |
| Shipping Name | Shipping Method | Supported |
| Taobao Consolidated Shipping-Air freight(集运空运) | Air | USA, Canada, Australia, New Zealand, Japan, Malaysia, Singapore, Hong Kong, Macau, Taiwan |
| Taobao Consolidated Shipping-Sea freight(集运海运) | Sea | Australia, Malaysia, Singapore, Taiwan |
| Taobao Direct Shipping(官方直送) | Air | Australia, Malaysia, Singapore, Hong Kong, Macau, Taiwan |
| Contact the seller to ship the goods(自行联系卖家发货) | # | All areas |
In the above screenshot, I have marked 5 labels, now I will explain these 5 labels one by one.
Label 1(自提取件)
This is a pick-up option, in some places you can choose to pick up your order at the pick-up point yourself.
Your local courier company will first store the order at the pick-up location and you will pick it up yourself.
You can click on the details(详情) on the right of this option to select the pickup location.
Label 2(官方集运-海运) and Label 3(官方集运-空运)
These two labels are what we call Taobao Consolidated Shipping(淘宝集运), their process is the same.
The difference is that label 2 is shipping orders from China to your country by sea and label 3 is shipping orders to your country by air.
Whether you choose air or sea, they are both door to door. after your shipment arrives in your country and passes through Customs, your local courier company will deliver the shipment to your address.
Process of Using Taobao Consolidated Shipping:
Step 1
you submit orders with this option selected and make the first payment for order value+domestic shipping fee.
Step 2
After you submit and pay for the order, Taobao will automatically generate a China warehouse address with your unique ID for your order, and the seller will send the order to this China address.
The seller can only see this Chinese warehouse address, they can not see your real address, so they do not know this is a foreigner's order.
If you have special requests, for example, if you want the seller to pack the package smaller to save shipping costs, you need to tell the seller on Aliwangwang.
Step 3
When your package arrives at the warehouse, the warehouse staff will check and measure your package.
if the package does not meet their shipping rules, they will reject it.
If it meets their rules, they will measure, weigh, and update the international shipping information in your Taobao account.
you should note that this inspection and measurement process usually takes 1-3 days, if it is during the peak sales season, it will take more than a week.
This explains why your order has arrived in the warehouse for several days but you still can not see the order status update in your account.
Step 4
Once all orders arrived at the forwarder warehouse, you can log in and make the second payment for the International shipping fee (from the forwarder's warehouse to your destination address), they will consolidate and ship all your orders in one parcel to your address.
Label 4
The shipping method of Label 4 is called Taobao Direct Shipping(官方直送)
The shopping process using Taobao Direct Shipping is the same as your purchase process on Amazon or AliExpress. All your orders will be sent to you directly as individual packages.
You'll pay for order value+domestic shipping fee+the estimated international shipping fee together as a one-time transaction.
But sometimes the estimated international shipping fee by the Taobao system may not be correct and the warehouse will contact you to pay the extra shipping cost.
Because Taobao direct shipping is more expensive, I only recommend you use it when you have an urgent order or a small order.
If you have a large haul and want to save the shipping fee, you should go with consolidated shipping.
Label 5
The shipping method of Label 5 is to contact the seller to ship the goods(自行联系卖家发货)
After you choose this option, the seller will see your real address instead of the China warehouse address.
If your seller supports international shipping, they will send your order to this address and give you the international tracking number.
If they do not support international shipping, they may cancel the order.
Most sellers on Taobao do not support international shipping, so I don't recommend you choose this option.
Note: Taobao's official shipping is very complicated and difficult for foreign users to understand, so I wrote another article that explains in detail Taobao's official shipping including prohibited product lists, shipping rate, forwarder warehouses, processes, etc…
I highly recommend you click here to read it.
Confirm order information
Next, you need to finalize your order information.
Taobao sellers set a lot of options for a product and you must make sure you choose the right option and buy the right quantity of products.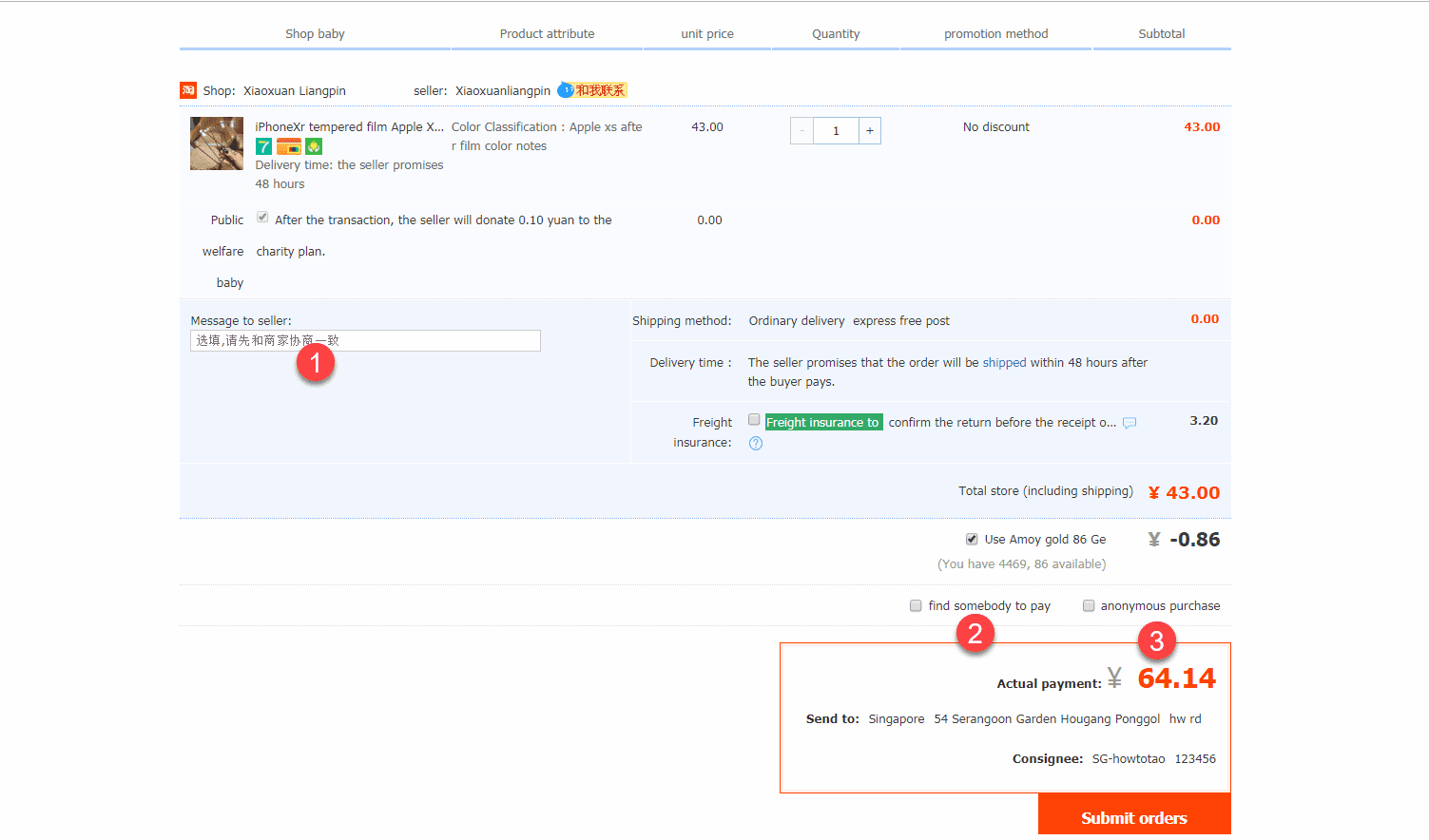 I marked 3 labels in the screenshot above:
Label 1
Message to the seller(给卖家留言): you can leave a note to seller regarding your order.
Label 2
Find somebody to pay(找人代付): you can ask someone else with an Alipay account to pay for your order(s).
Label 3
Anonymous purchase(匿名购买): check this if you do not want people to look up what you purchase, when, from whom, etc.
Note: Even if an item shows to be in stock and payment could be made, this doesn't mean the seller actually has the stock.
It is recommended that, after payment, you send the order number and warehouse address to the seller to check if they could send out the order on time.
Part 6. First Payment(order value+domestic shipping fee to the warehouse)
After submitting your order, you will be redirected to the Alipay account platform to make the first payment. There you'll see your own User Name assigned to an Alipay account.
Alipay payment password
If it is your first purchase using Alipay, you will be required to create an Alipay payment password (6 numerical digits, non-repeating).
This password is a unique one, and will NOT be the same as your Taobao.com password.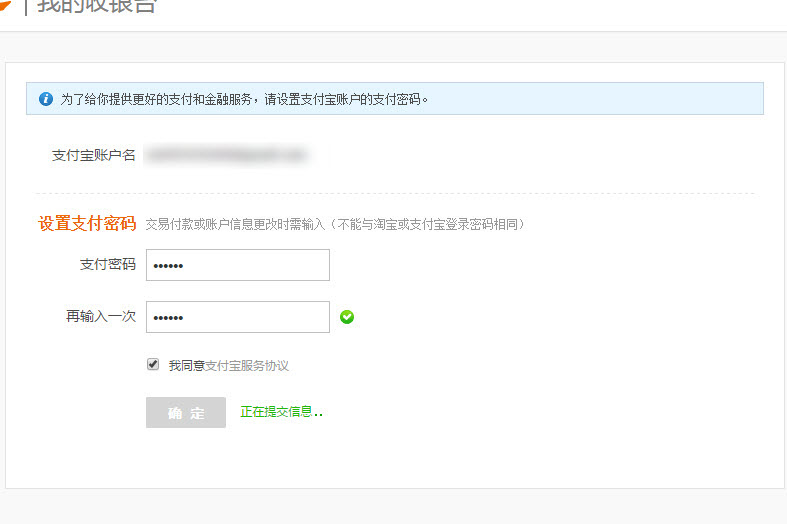 choose payment method
Then you will be able to choose the payment method as shown below: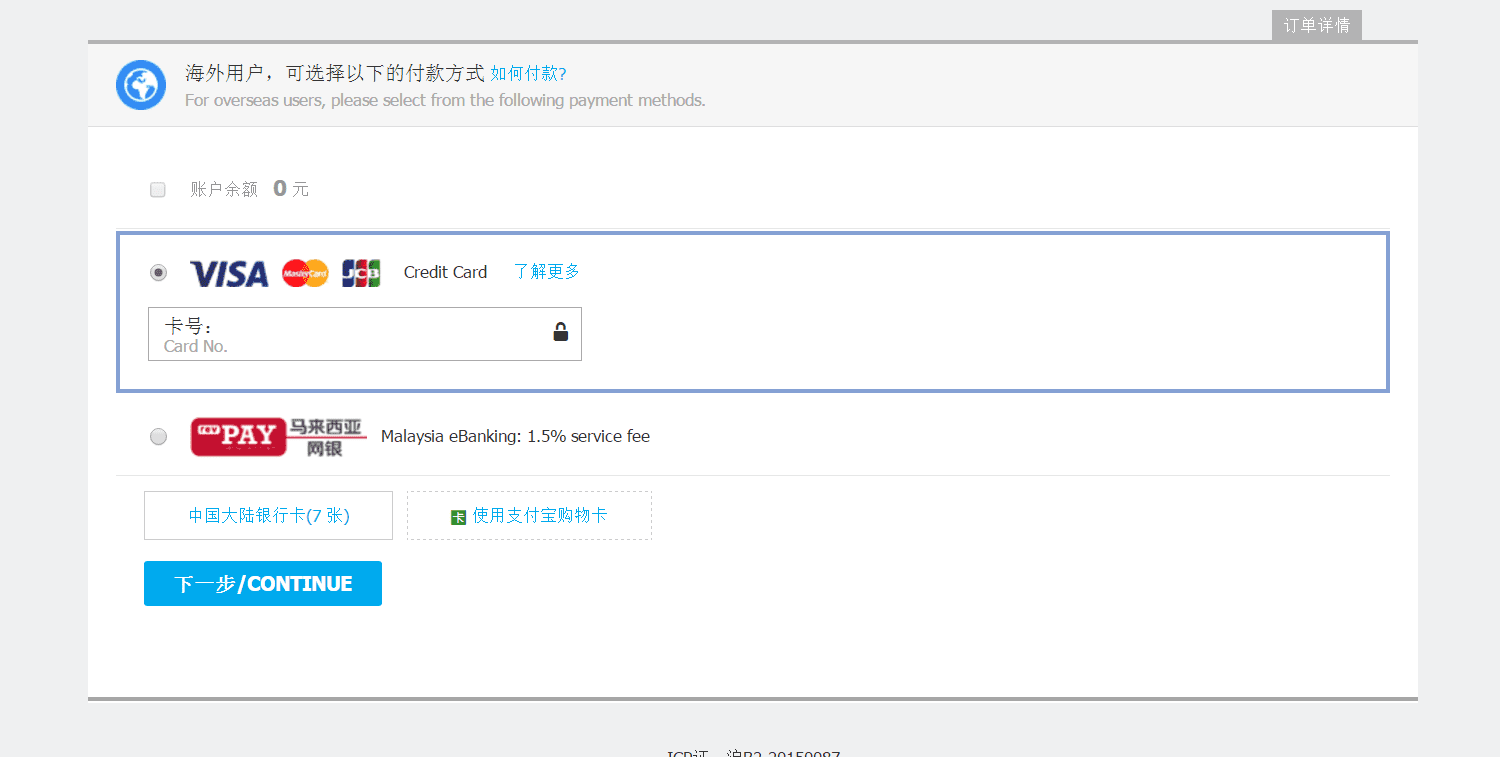 Credit card
support VISA, MASTERCARD, JCB
service fee is 3%
Sellers with credit card payment gateway: per transaction limit: 10000 RMB, per day limit: 10000 RMB
Sellers without credit card payment gateway: per transaction limit: 6000 RMB, per day limit:6000 RMB
Malaysia eBanking
Alipay gift card (支付宝购物卡)
no service fee
Australians can buy it from local post offices
per transaction limit: 4500 RMB, per day limit: 5000 RMB
Part 7. Manage your order
After making the first payment, you may go to "Purchased Items(已购买的宝贝)" to monitor your order status.
I labeled 8 important points here and will explain them one by one to give you a better understanding of how to check your order and solve your problem.

Label 1: the blue Aliwangwang icon("和我联系")
If you already installed aliwangwang, click this icon to chat with the seller. this is the most direct way to communicate with the seller, you can ask the seller about the product, the domestic shipping, or the refund address.
Label 2: 退款/退货
This is a link to the return and refund page where you can submit a form to require a return and refund. check out this step-by-step guide on how to do this.
It will take some time for the seller to approve the refund, you can talk with the seller before you submit the application to smooth the process.
Label 3: 退运保险
if the seller has bought domestic shipping insurance for you, you will be would be compensated when you return items from the warehouse to the seller.
Label 4: order status
Status 1. 买家已付款
this means you have successfully made the payment.
Status 2. 卖家已发货
this means seller has sent your items to the warehouse.
Status 3. 物流派件中
this means the domestic courier is delivering this package and the warehouse is about to receive it.
Status 4. 快件已签收
it means your order has been signed for. but here it means that your order has been signed for by the China warehouse, not by you. so when you see this status, don't be afraid.
Usually a red button "支付转运费 or 处理转运" on the right like the picture below, this means that the warehouse has checked and measured your package and you need to pay for the international shipping fee to get your items.

I would like to remind you that in average, your purchased items should reach the warehouse in 3-5 days from the date when order status changed to "卖家已发货" (which means that your items are shipped by sellers).
when you see "快件已签收" but no orange button like "Pay for international shipping(支付转运费)" or "处理转运" for more than 7 days, this is not good because there might be something wrong with your items.
You should then check it with your forwarder warehouse and the seller immediately for clarification.
This is very important. I have received emails from many readers saying that they have waited for days for the orange button to appear. Little did they know that there was something wrong with their items.
Label 5: order details(订单详情)
If you want to know where the warehouse address is just in case, click Label 5 after your payment, find "收货地址", that address is the warehouse address. "转运至" means your address(see screenshot below).

Label 6: 查看物流
Click Label 6 to go to the logistics info page. then on the left bottom of the page, you will see the following info: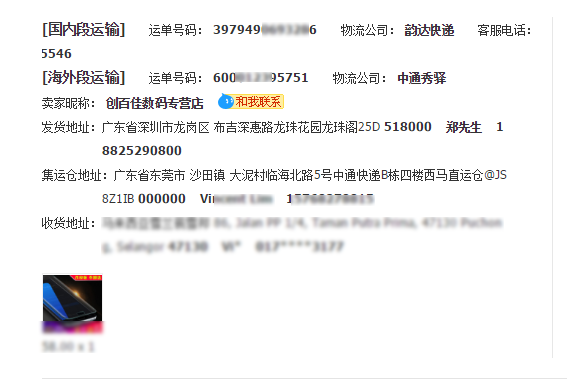 国内段运输 means domestic shipping
海外段运输 means international shipping
运单号码 means your waybill number
物流公司 means your courier/forwarder
发货地址 means seller address
集运仓地址 means forwarder warehouse address
收货地址 means your address
Label 7: the countdown timer
When this countdown timer expired, your payment will be released to the seller.
It is not the time left to pay the international fees, so don't worry if it has only a few days left.
In fact, you should ignore this countdown timer, because it has no meaning for a foreign buyer.
Label 8: your action
确认收货(confirm receipt): this option is for you to confirm receipt of the order.
You can ignore this option completely because when the timer expires, the system will automatically confirm receipt. you do not have to confirm your receipt in advance.
There is no need for you to click this option in order to pay for the international shipping fee.
Part 8. Second payment(international shipping fee)
After the parcel is properly received by the warehouse, You can check the status of the parcels, the actual weight of the parcels, and the rent-free period.
Step 1. Go to the "Manage Your Parcel" page
Log into your Taobao account, click [跨境物流管理(cross-border logistics management)] in the upper right corner of world.taobao.com homepage, or click here

Step 2. Choose the parcel to consolidate
You will see the parcels that are waiting to be consolidated.
Choose them and click "One-click package settlement(一键合包结算)", the system will consolidate the parcels according to the shipping restrictions and automatically calculate the total shipping fee.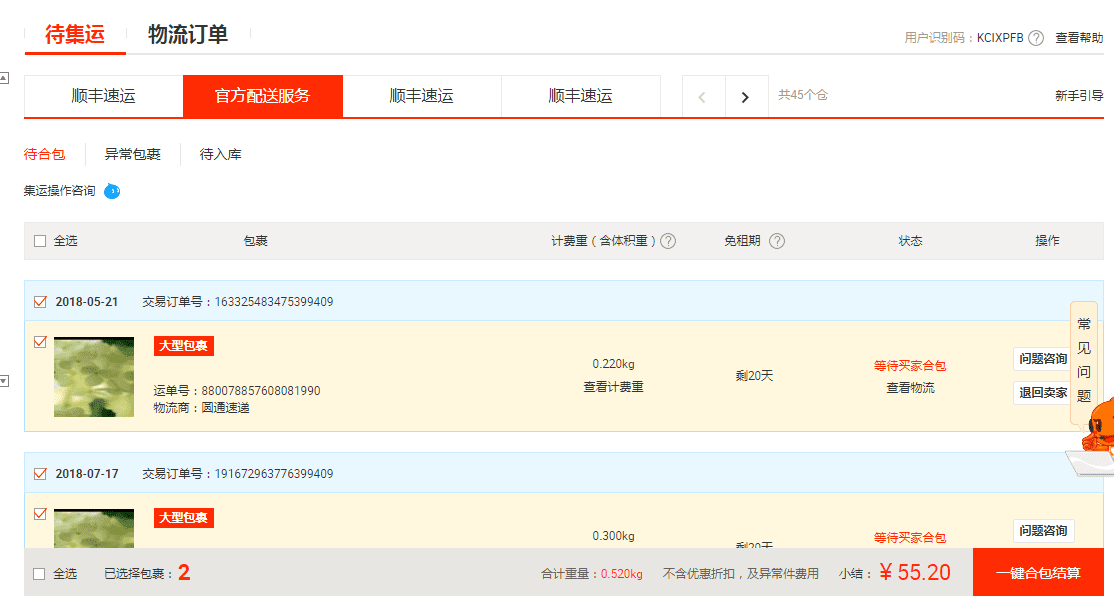 The free storage time in the warehouse is 20 days, so you can consolidate all orders from different sellers within that period.
If your package stays in the warehouse for more than 20 days, your package will be charged a storage fee of 1 RMB per day per package.
You can only consolidate up to 20 parcels/orders, if you have more than 20 orders, you'd need to consolidate your orders into 2 packages as each package can only have 20 orders.
Step 3. Confirm the delivery address and Pay
Then next page you need to confirm the delivery method & delivery address,
Click the "Submit and Pay(提交并支付)" button to pay the final international shipping fee if everything is ok.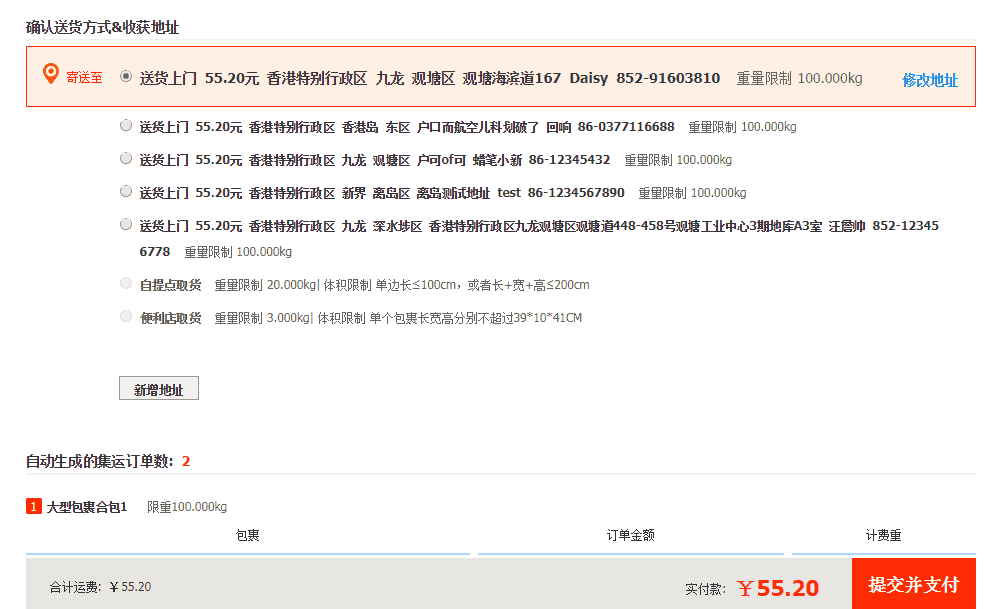 Part 9. Tracking &Receving
All shipments are door-to-door, you just have to wait for the package, but you still need to spend some time to track your order.
Many problems will occur at this stage, especially during the promotion or sales season.
Tracking your orders frequently and keeping in touch with the forwarder is a very important thing.
How long does it take to receive my Taobao order?
Below is the average delivery time provided by the forwarder:
USA: 12 business days
Canada: 12 business days
Australia: 12 business days by Air, 35 business days by Sea
New Zealand: 12 business days
Singapore: 5 business days by Air, 15 business days by Sea
West Malaysia: 5 business days by Air, 20 business days by Sea
East Malaysia: 7 business days by Air, 30 business days by Sea
Japan: 5 -12 business days
Hongkong: 3-7 business days
This is just the estimated date, sometimes it can be longer than this during peak seasons. if your tracking status did not update in a longer time than usual, you should check with your warehouse, it may be lost or detained in the Customs.
The speed of the local customs clearance and local postal services will also affect the delivery time.
How can I track my orders?
Track it via your account center on taobao.com
Remember Label 6 I mentioned above? Click it to the logistics info page, you will see the recent tracking status.

Track it via contacting the forwarder
You can provide your waybill number and ask them where your items are now(我的货现在在哪里), they will tell you the shipping status.
Track it on 17track.net
17track is an ALL-IN-ONE package tracking website, it supports most of the tracking numbers.
another two similar websites are trackingmore and cainiao tracking.
The good thing about trackingmore is it also supports China's domestic tracking number in English, so you can also track the domestic parcel.
Cainiao tracking is built by Alibaba, it is more compatible with tracking numbers from Cainiao logistic(the official forwarder).
Note: for some countries, Waybill number for international shipping can only be trackable after your country's customs clearance. you will find no tracking information before that.
Customs import duties
You may be charged customs duties and taxes for things purchased from Taobao. here is a list of tax threshold and rate.
The amount of tax threshold is the total value of your parcel+the shipping fee, not just the value of the parcel.
Parcels sent to Canada will also be charged 5% GST.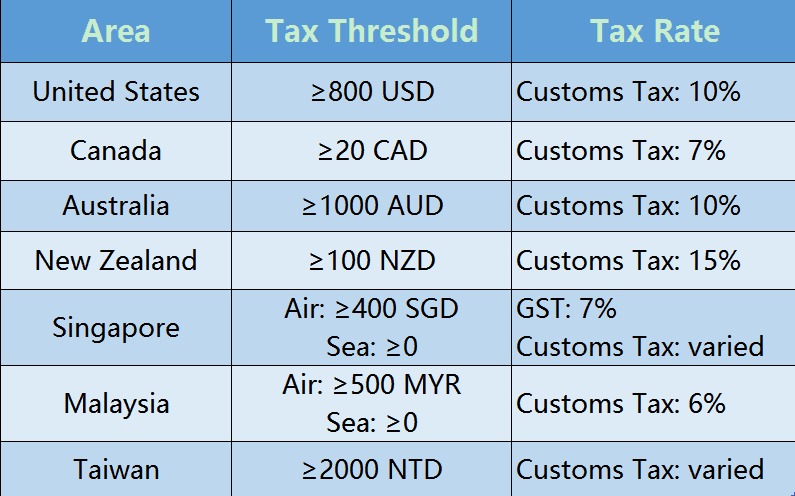 What if I get seized by Customs
If you are using UPS or DHL then they will email you an invoice of custom and collect money at your doorstep at the time of delivery.
If you choose EMS then once your courier reaches your local post office, you will receive a call from the post office and you will need to go there and pay.
Part 10. After-Sale
Refund
After the seller has sent out the goods, you may request for a refund within 25 days.
Within the first 10 days, you may request a refund by clicking the "Refund" button.
Within the subsequent 15 days, you may request a refund via the "After-sales application".
If there is a refund, Money will return to your credit card within 7 business days. The service fee will return to you if the refund is initiated within 30 calendar days from the time you make payment. After 30 days, no return for the service fee.
Return
You can return the goods from the warehouse to the sellers, but the return shipping address is needed, you have to contact the seller to ask for it. here is the step-by-step guide.
Part 11. Resolving Issues
Enjoy Your Taobao.Com Shopping!
Trust me, once you get the hang of buying directly from Taobao, It will always be your No.1 source when buy inexpensive and amazing stuff online.