The starting point of becoming a Taobao shopper is registering for an account at Taobao.com. (If you've decided to use exclusively a Taobao agent rather than shopping directly, a Taobao.com registration will not be necessary.)
I know many famous websites are able to use email to complete the account and password management,
But Taobao is different,
it mainly relies on cell phone numbers to complete account registration, management, verification, password reset, etc.
So, to register a Taobao account you must use a long-term available cell phone number.
What countries are supported by Taobao?
Taobao supports cell phone numbers from 136 countries and regions, which includes most of the countries and regions.
According to readers' feedback, cell phone numbers from countries such as Cambodia,Lao PDR and Botswana are not supported.
If your cell phone number is not supported for Taobao registration, you can buy a phone number from another region online, such as the United States or Hong Kong.
Below is the list of 136 countries and regions supported by Taobao, before registering, please make sure your cell phone number is from the list below.
Mainland China +86
Taiwan +886
Hong Kong +852
Macau +853
Malaysia+60
Singapore +65
Japan+81
Korea +82
United States +1
Canada +1
Australia +61
New Zealand+64
Denmark+45
Ukraine+380
Uzbekistan +998
Uganda+256
Uruguay +598
Chad +235
Yemen+967
Israel +972
Belize +501
Cape Verde +238
Russia+7
Bulgaria+359
Croatia+385
Gambia +220
Guinea+224
Guinea-Bissau+245
Gabon +241
Hungary+36
South Africa+27
Qatar +974
Rwanda +250
Luxembourg+352
India+91
Indonesia+62
Guatemala +502
Kyrgyzstan +996
Djibouti +253
Columbia+57
Costa Rica +506
Cameroon +237
Turkmenistan +993
Turkey+90
Guyana +592
Tanzania+255
Egypt+20
Tajikistan +992
Senegal +221
Serbia+381
Sierra Leone +232
Cyprus +357
Seychelles +248
Mexico+52
Togo +228
Austria +43
Venezuela +58
Angola +244
Nicaragua +505
Nigeria+234
Niger +227
Palestine +970
Bahamas+1242
Papua New Guinea +675
Panama +507
Bahrain +973
Brazil+55
Burkina Faso+226
Greece+30
Cayman Islands +1345
Germany+49
Italy+39
Latvia +371
Norway +47
Moldova +373
Morocco+212
Brunei +673
Swaziland +268
Slovakia +421
Slovenia +386
Sri Lanka +94
Chile+56
Cambodia+855
Grenada +1473
Georgia +995
Belgium+32
Mauritania +222
Mauritius +230
Saudi Arabia+966
France +33
Poland+48
Thailand+66
Zimbabwe +263
Honduras +504
Ireland+353
Estonia +372
Jamaica+1876
Trinidad and Tobago +1868
Bolivia +591
Sweden +46
Switzerland +41
Belarus +37
Kuwait +965
Comoros +269
Peru+51
Tunisia +216
Lithuania +370
Jordan +962
Namibia +264
Romania +40
Kenya+254
Finland +358
Suriname +597
United Kingdom +44
British Virgin Islands +1284
Netherlands+31
Mozambique+258
Lesotho +266
Philippines+63
El Salvador +503
Portugal+351
Mongolia+976
Spain +34
Benin +229
Zambia +260
Equatorial Guinea +240
Vietnam+84
Azerbaijan +994
Albania +355
Oman +968
Argentina+54
UAE +971
Maldives +960
Malawi +265
Madagascar +261
Mali +223
5 Steps to create a new Taobao account
Step 1
Go to https://world.taobao.com/. Don't be put off by the Chinese characters! In the left bar of the page, find the REGISTER(免费注册) character. Its position is marked in yellow in the photo below.

step 2
The next screen shows a pop-up of Chinese characters. Click on the orange field(同意协议) in the middle and the pop-up will disappear.
By clicking the orange bar, you are, for the moment, agreeing with the "Registration Agreement Consent".
Then click on the radio button ENGLISH – right side of the screen to switch to English webpage.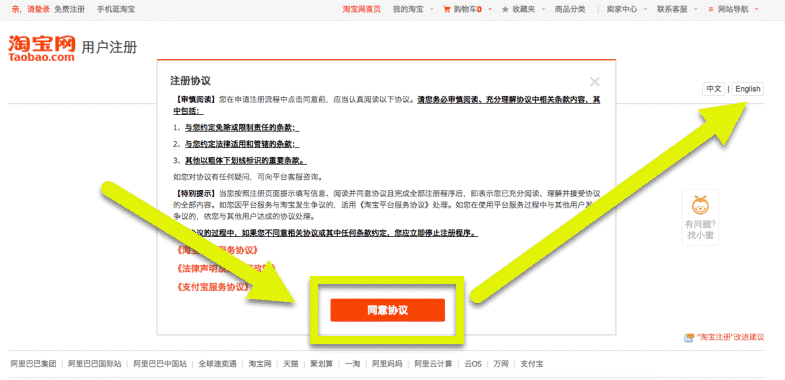 The Chinese pop-up is a "Registration Agreement Consent" outlining Taobao.com's Service Agreement, Privacy Policy, and Legal Notices.
It includes the Terms & Conditions of becoming a Taobao member and the Payment Agreement of Alipay, Taobao's default transactional platform.
These T&C, which you can read in English later on in the registration process, include the policies of Taobao.com's owner Alibaba.
step 3
On the "Verify Mobilephone" screen (see illustration below), choose the country where your mobile phone is registered from the drop-down.
Enter your mobile number (no spaces, no hyphens, no parentheses) and pull the "Verification" bar from left to right with a left-click mouse hold.
Check the box that says CREATE YOUR ALIPAY ACCOUNT BY YOUR TAOBAO ACCOUNT. (This is where you can read the T&C in English.)
Note that if you already have an Alipay account, you don't have to check this option.
After you register a new Taobao account, you can bind your previous Alipay account with this Taobao account.
Click on the orange NEXT bar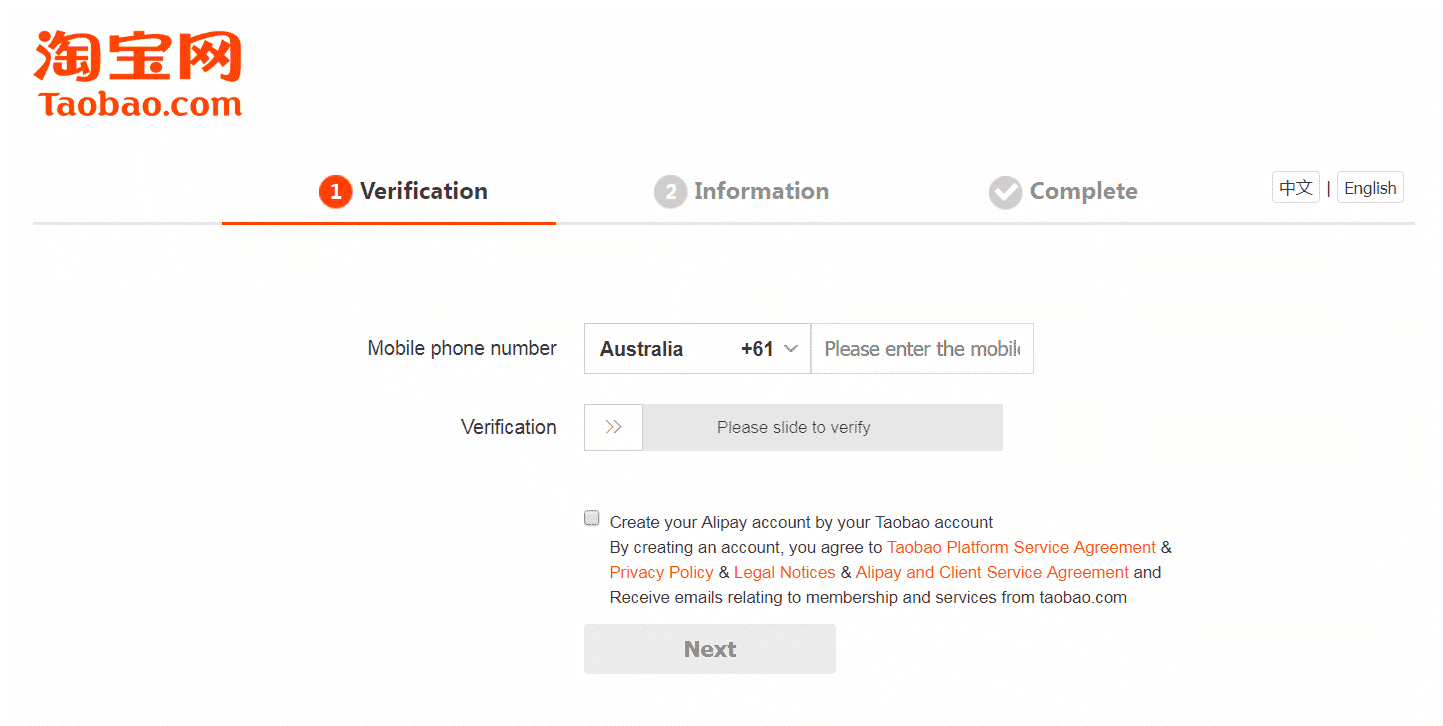 step 4
You will receive an SMS verification code on your mobile. The message will be in Chinese but you just need to find a 6 digit code.  Enter the code and click "Confirm".
Note: if you can't receive the SMS verification code from Taobao, you can read this post to find the solutions.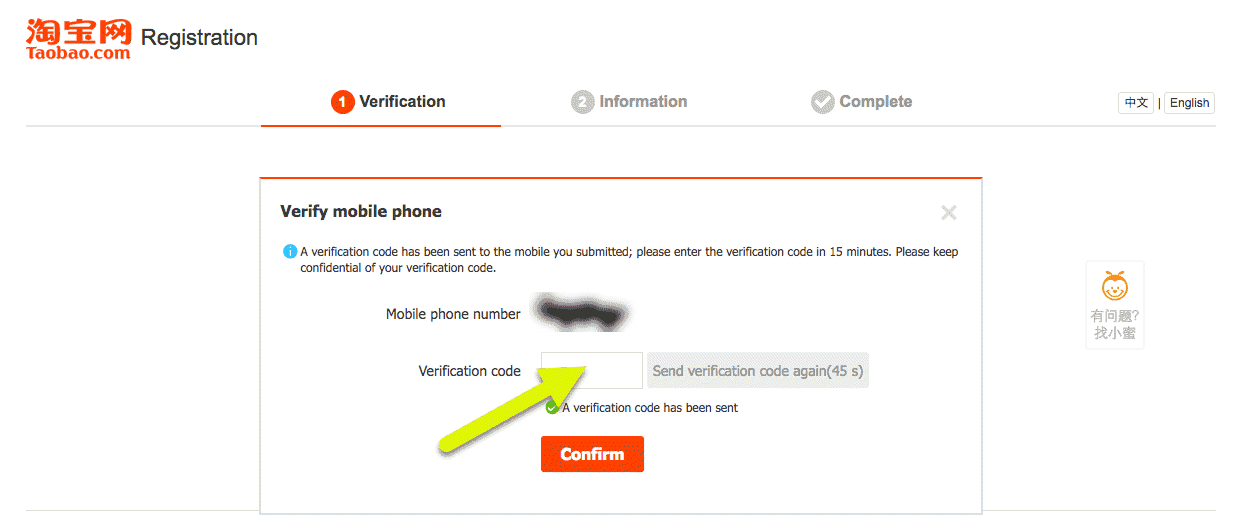 step 5
Now you can create your login password and a username for your Taobao account.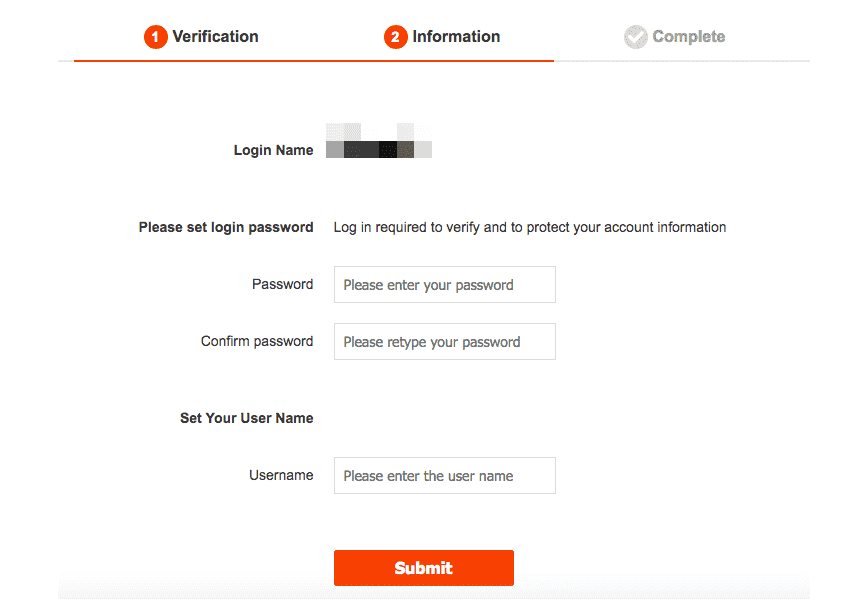 Step 6
After you hit Submit, It should look something like this:

Now you're on your way! Once you've completed the registration process, you can log-in from the Taobao.com homepage and begin your taobao shopping journey.
I have written another step-by-step guide on how to shop on Taobao for beginners. you can read it here.
Suggestions to avoid Taobao account being restricted or frozen
Newly registered accounts are very easy to be frozen or restricted by Taobao, so I have summarized a few suggestions to avoid account freezing:
1. If possible, try to register and sign in to your account through the Taobao lite app.
2. Try to sign in to your account in one place, for example, if your account is registered in your home computer, then you should not sign in to your Taobao account in the office.
3. Don't sign in to your account in public places, such as coffee shops, school libraries, etc.
4. Do not use your new account to buy fake or replicas.
5. Don't not log in to your Taobao account for a long time. Log into Taobao frequently and browse the products on Taobao
Once your account has been frozen or restricted, it is very difficult to recover your account.
you can only try to call Taobao customer service or contact them on social media.
However, only a very small number of people are able to recover their Taobao accounts.
Taobao Account Questions & Answers
Here are some of the questions and answers that are frequently asked about Taobao accounts:
what if my phone can't receive the SMS verification code?
The phone verification code is delayed and may take 2-3 minutes to receive. Please try again later.
If you have not received it after 2-3 minutes, please check if your mobile phone is enabled to receive an international message, or blocked  SMS from Taobao, or the SMS inbox is full.
You can try moving your SIM card to another phone and try again, or contact your phone carrier for advice.
If I forgot my password, what should I do?
you can click here to reset your password
How Do I Change My phone number linked to Taobao?
here is the link to change the phone number.