As I said in this article, the key to paying directly on 1688 is an Alipay Business Account.
With an Alipay business account, you can pay directly to the suppliers on 1688 to bypass third-party agents.
However, this is a new solution launched by Alipay, there is not much information on the Internet.
So I decided to introduce this Alipay Business Account in detail in this article.
Important update about this post
Alipay business for 1688 has been upgraded to worldfirst 1688 cross border payment. Now you only need a worldfirst account+ 1688.com accont to pay to your suppliers on 1688.
As of April 1 2023, they have stopped registering alipay business accounts for 1688.
From June 1 2023, all existing alipay business accounts will not be able to pay at 1688 either.
For new users, you will need to sign up for a worldfirst world account.
This payment solution is applicable to users in Singapore, Malaysia, Thailand, Vietnam, Australia, Hong Kong, Macau, Taiwan, Virgin Island British only.
For existing users, you will need to upgrade your account to a worldfirst world account.
The following content is outdated, so there's no need to read on.
1. Which countries does Alipay Business support?
Not every foreigner can sign up for an alipay business account. Alipay business currently only supports registration with the identity of companies from specific countries and regions.
As of September 2022, Alipay business for 1688 is only available in 13 countries and regions:
Mainland China
Hong Kong
Taiwan
Macao
Philippines
Indonesia
Vietnam
Singapore
Malaysia
South Korea
Thailand
Australia
New Zealand
You should note that this is the place where your company is registered, it does not mean you have to be a citizen of these locations.
As long as you have a registered company in these places, you can open an Alipay business account.
They support two types of company, that is; sole proprietorship and partnership.
2. Sign up for an Alipay Business account
Click here to go to the account registration page
Registering for an account is very simple, the English interface is the same as we usually register for accounts on other websites.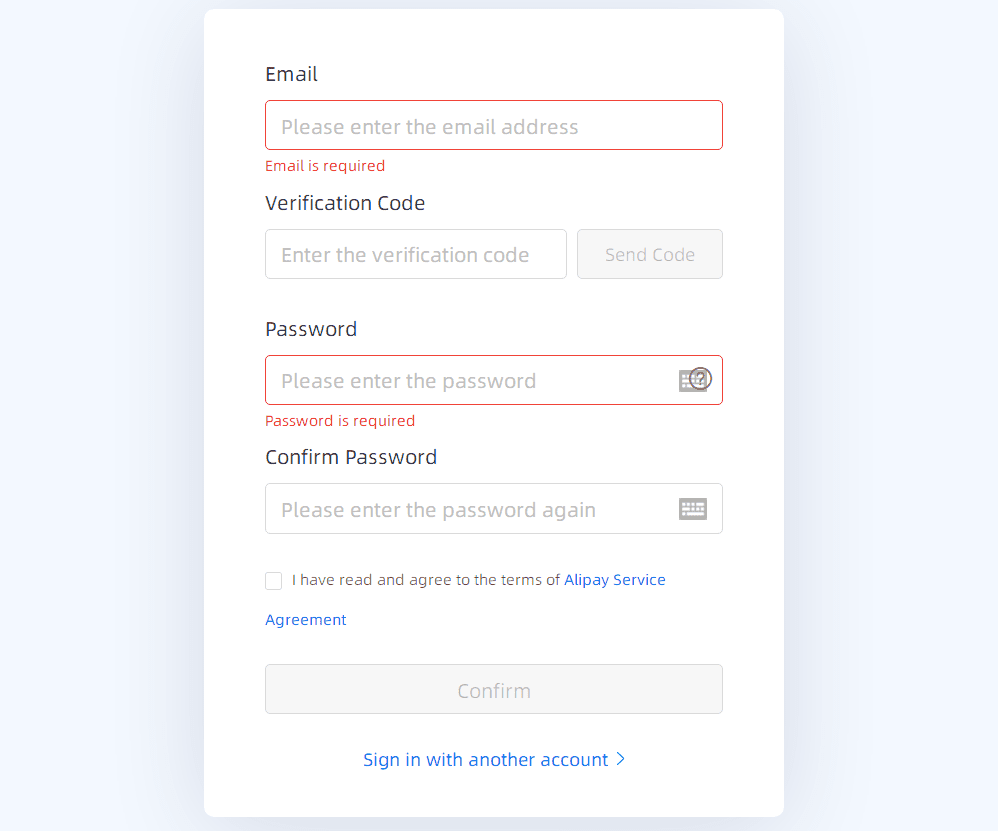 3. Verify your Alipay business account
Documents you need to prepare
During the verification process, it will ask you to upload some documents, the following are some of documents they may need:
Copies of company registration documents (e.g. registration certificate, business license, etc.)
Copy of the company's articles of association
Copy of company annual inspection report (e.g. NAR1, NNC1, etc.)
Copies of identification documents of company directors or legal representatives (e.g. ID card, passport, etc.)
Identification documents of individual shareholders holding more than 25% of the shares (if any, please prepare)
the 1st verification page
After you finish the registration, the page will automatically redirect to the 1st verification page, if not, you can click here to go to the account verification page.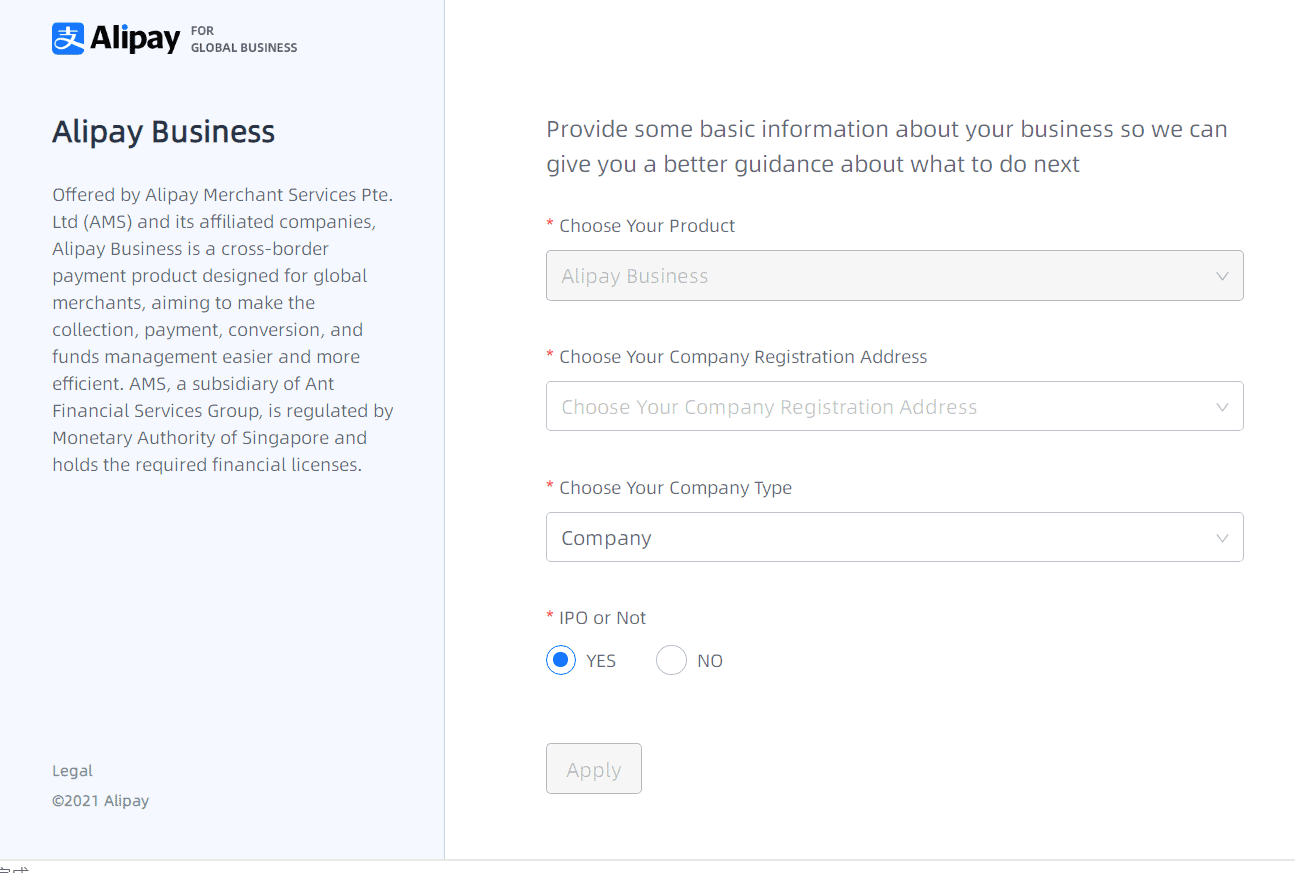 There are 4 options on this page, you can choose according to your company's situation, then click "Apply" to go to the 2nd verification page.
The 2nd verification page
The second verification page is divided into 4 sections, which are
Base Information
Attachments
Contact Person
Director
Ultimate Beneficial Owner Information
Section 1: Base Information
Here you need to fill in the basic information about your company. The fields you see will vary depending on your company type and place of registration.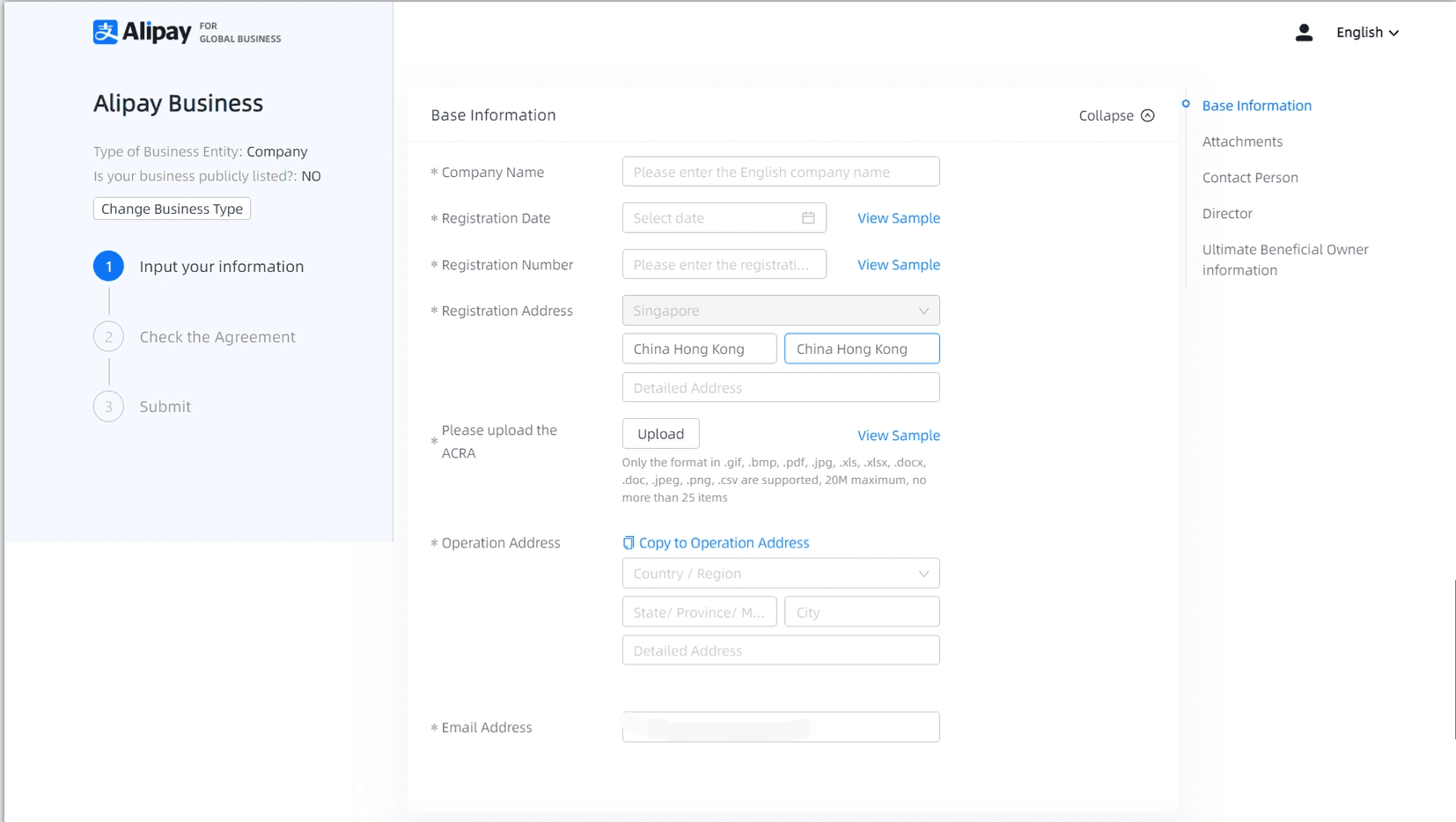 Section 2: Attachments
Depending on where your company is registered, they will ask you to upload some company documents. Click the "View Sample" and you will see some sample documents you need to upload.

Section 3: Contact Person
Fill in the company contact information here.

Section 4: Director
Fill in the profile of the company director here.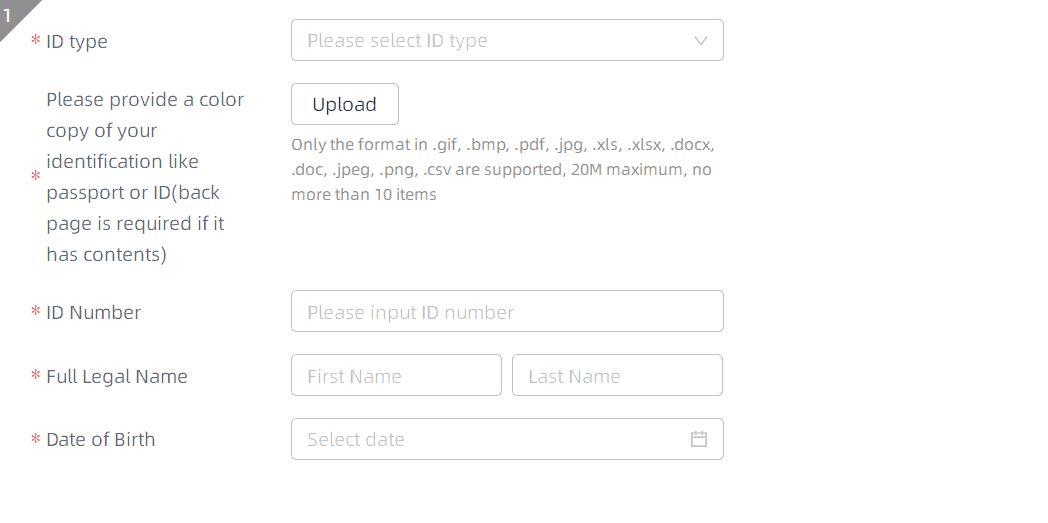 Section 5: Ultimate Beneficial Owner Information
If your company has other shareholders who hold more than 25% of the shares, you will need to add their profile here as well.
After you have filled in the fields on this page, click Next to read the Agreements, and then click 'Submit" to submit your information.
An email about the results of your account registration
It takes 2-3 business days for them to review the information you submit.
If your information is accepted, they will send you an email to notify you that your account has been approved.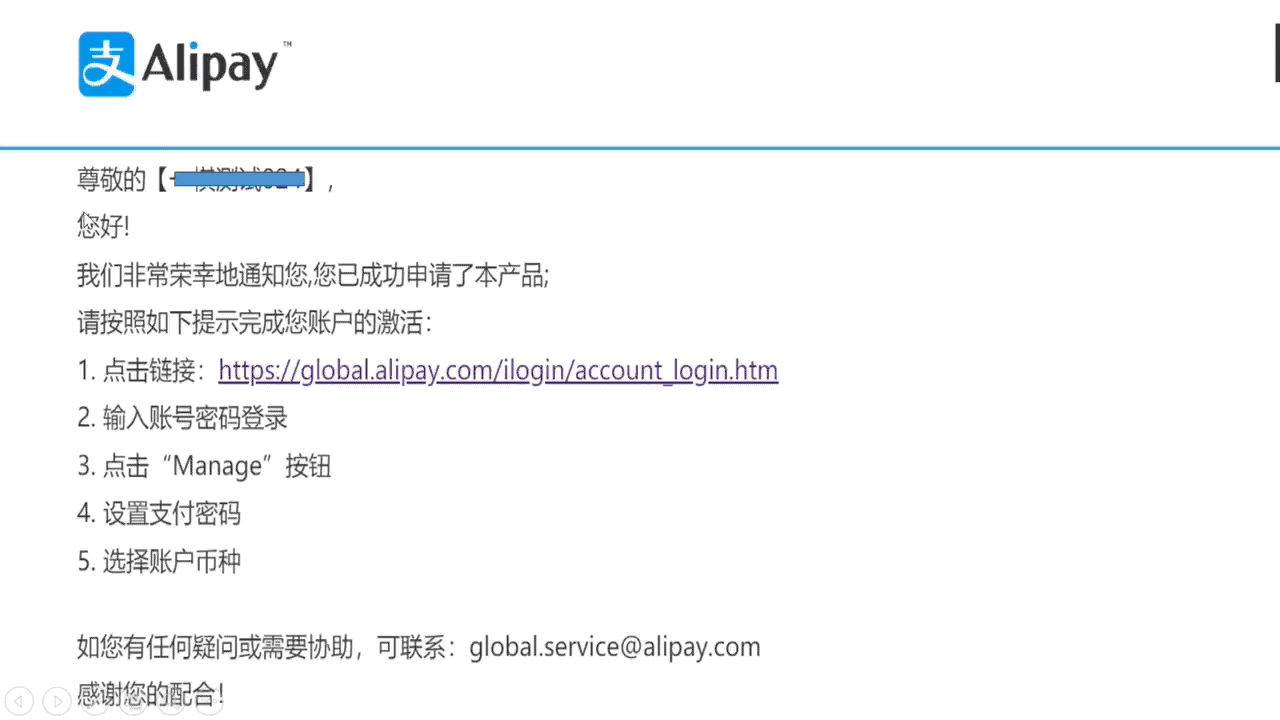 Setup payment password and currency
Click on the login link in the email or click here to login to your account.
Then click the Manage button in the lower right corner to go to the UserCenter.
For newly registered users, before entering the user center, a page will pop up asking you to set the payment password for your account.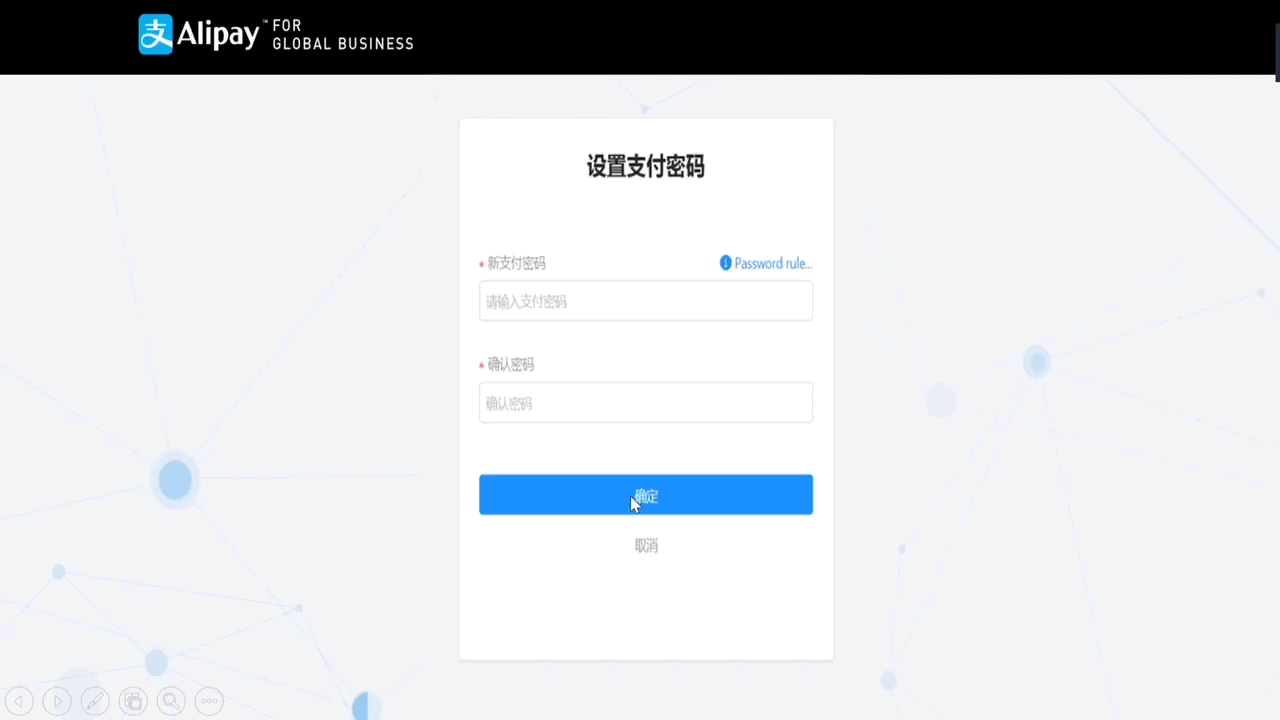 On the next page, it will ask you to set the currency to be used in your account. they support JPY/EUR/GBP/AUD/USD/RMB/HKD so far.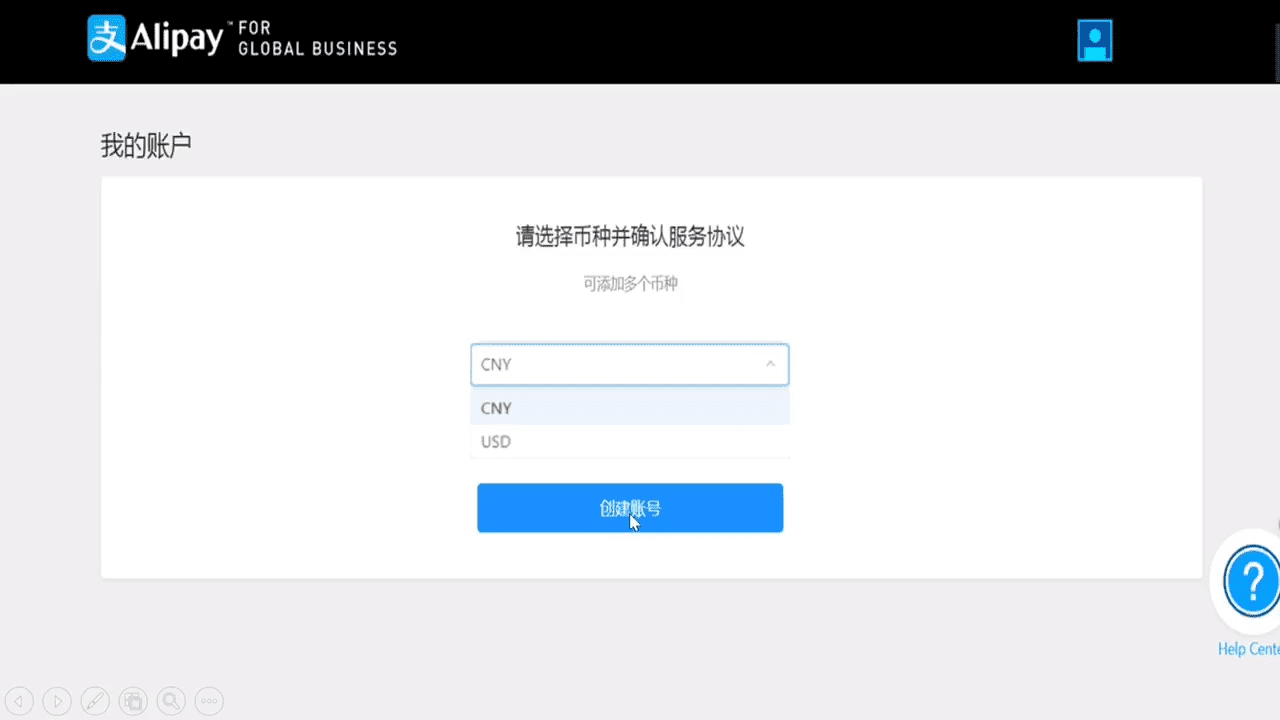 After all the settings are done, you will be in the user center.
Now you have a verified Alipay business account!
4. Linking to a 1688 account
Next, we have to start preparing for the payment on 1688.com. first thing we need to do is linking a 1688 account in Alipay business.
I don't see in the official documentation that you have to link to your own 1688 account, so I assume that they allow you linking your Alipay business account to someone else's 1688 account.
In the user center, click the "KJB(跨境宝)" on the left column to go to the settings page.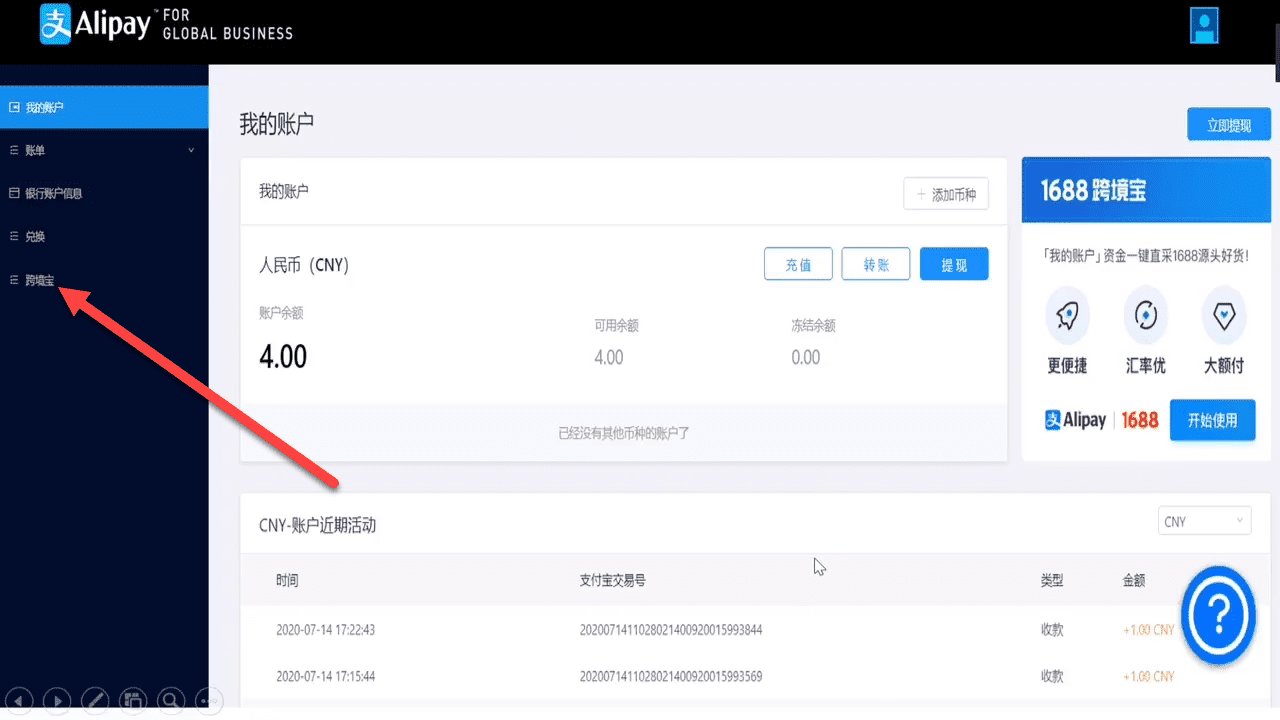 On the settings page, click "open now(立即开通)"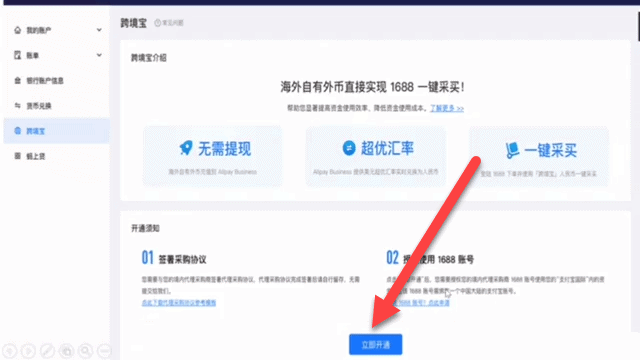 On the next page, you need to enter the 1688 account you want to link to, then click "next(下一步)"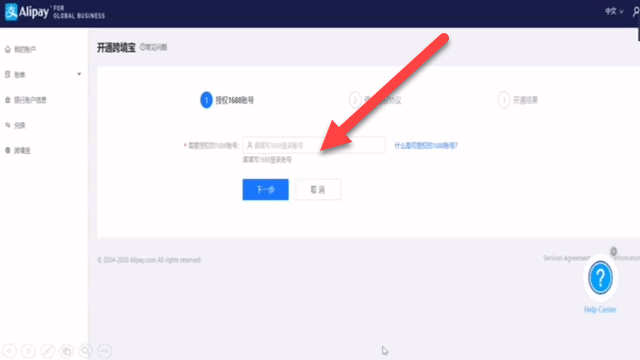 When you see this page below, it means your alipay business account has been successfully linked to your 1688 account, you are just one step away from purchasing directly on 1688.com.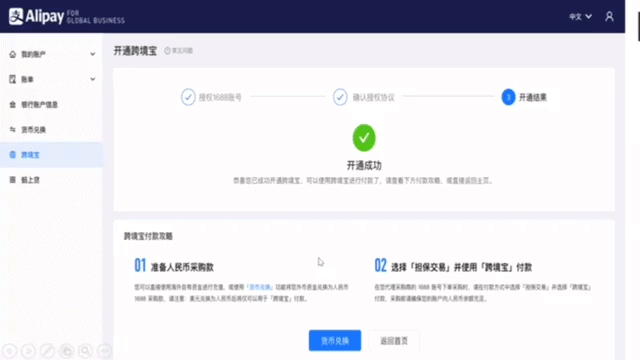 An Alipay business account can be linked to multiple 1688 accounts, if you want to add another account, you can repeat the above steps.
5. top up your Alipay business account
Now we have to complete the last step, to fund your account. you have to make sure you have enough money in your account to pay for your 1688 order.
Currently, Alipay offers two ways to top up your account:
Bank deposit
International payments companies like Worldfirst, Payoneer, PingPong, LianLianpay.
The currencies they support topping up include JPY/EUR/GBP/AUD/USD/RMB/HKD.
Bank transfer to your account
Alipay will provide you with the relevant virtual bank account according to your company's registered area, you just need to transfer the money to this virtual bank account.
Click"topup(充值)" on the user center home page.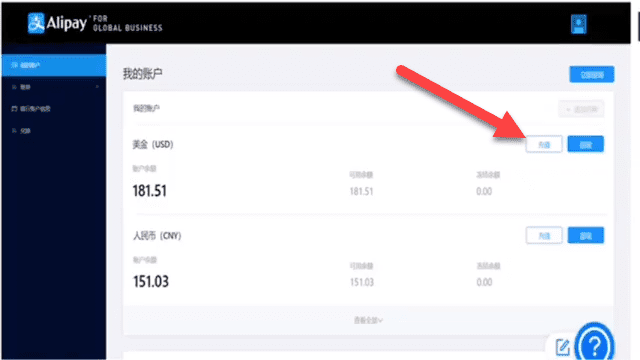 If this is your first time using it, you will see a page that tells you to add a virtual bank account.
Click on the blue "add account(添加收款账号)"button at the bottom of the page.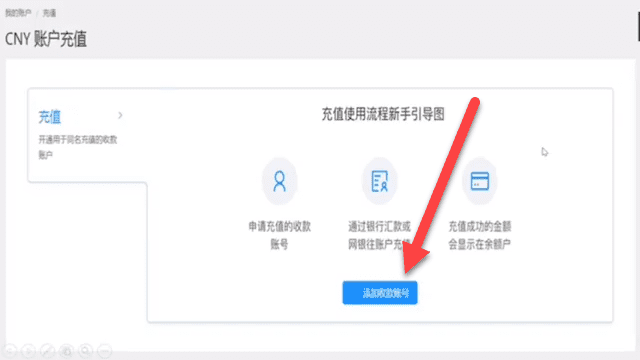 At this point, you will see a pop-up page that allows you to select the currency and the bank account to be added.
For example, if your Alipay business account is applied with a Hong Kong company, it will allow you to add the account number from Standard Chartered Bank or Citibank.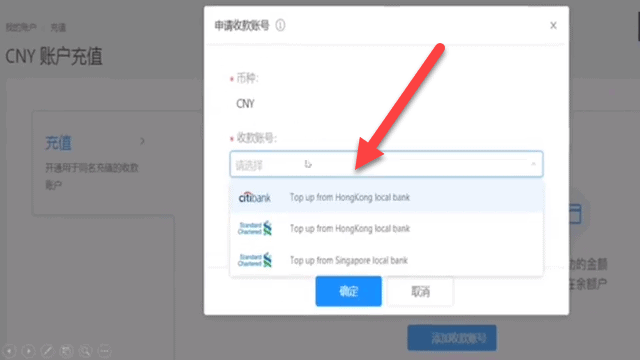 After you have made your selection, you will be taken to a page with your bank account information.
Click on the down arrow on the right.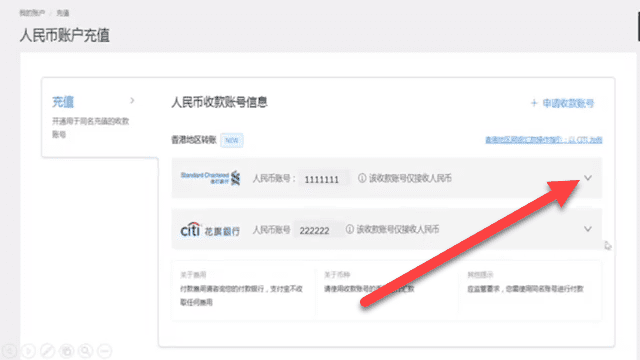 Then you will see your receiving bank account details including bank name, account name, account number, etc. when transferring funds, make sure to include the bank code and branch code.
Top up via an international payments company
If you are an online seller, you may be familiar with international payments companies that enable you to receive e-commerce payments from different countries around the world.
Alipay allows you to transfer your money in those companies to your Alipay account and purchase directly on 1688.
They currently support 4 international payments companies, which are
Worldfirst
Payoneer
PingPong
LianLianpay
You can contact the customer support of these companies and tell them you want to pay and purchase on 1688. they will provide the assistance to help you complete your topup.
Worldfirst and Alipay are all controlled by Ant Group, they have close business ties.
You can link your alipay business account directly in your worldfirst account and transfer money from your worldfirst account to your alipay in seconds.
I was thinking that given the close nature between worldfirst and Alibaba, maybe one day you could transfer money directly from your worldfirst account to your China suppliers Alipay account!
So If you are receiving cross-border e-commerce payments and are interested in purchasing directly on 1688.com. Worldfirst is probably your No.1 choice for transferring money to your alipay business account.
convert your currency to RMB
You can transfer various currencies to your alipay business account, but the suppliers on 1688.com only accept RMB.
Therefore, you need to convert your currency to RMB after your top-up is credited. here are the steps:
In the user center, click the "exchange(兑换)" on the left column to go to the exchange page.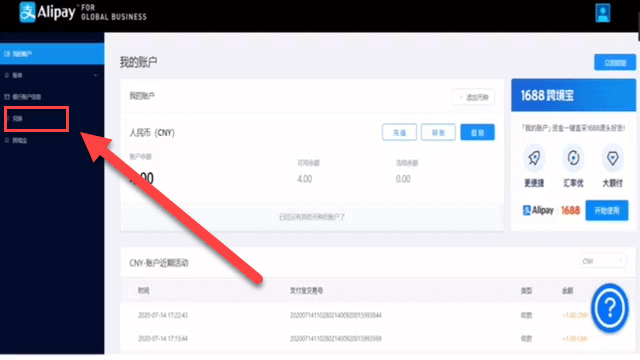 On the currency exchange page, you can see the exchange rates they use. enter the amount of USD you want to exchange, and click "confirm(确认提交)".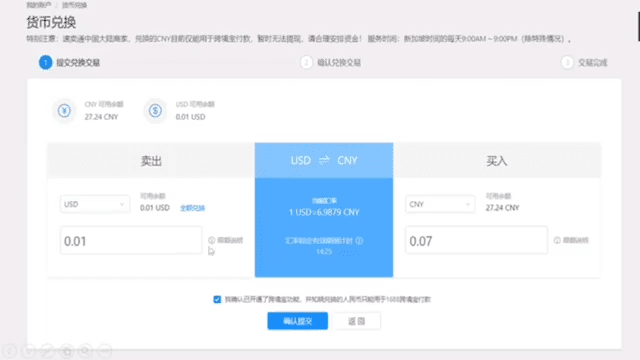 On the confirmation page, enter your Alipay payment password.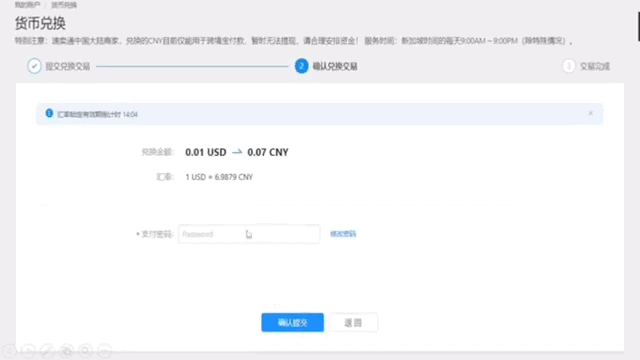 Now your currency has been converted to RMB, you can pay your suppliers directly on 1688.com now.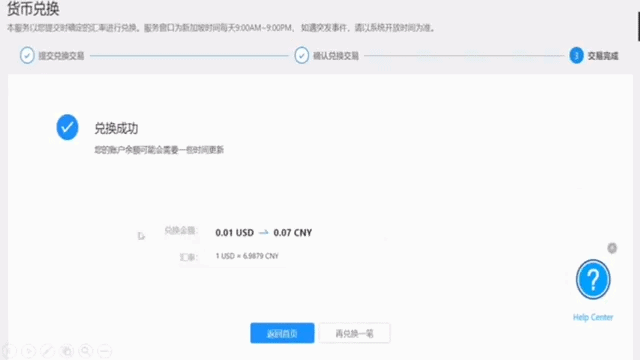 6. invoice for your account
If you need an invoice, Alipay can provide it, but you need to manually request it via email.
They provide an email template for your reference.
Send to: global.service@alipay.com

Subject: xxx (your registered company name) 1688 buyer invoice application

Content:

Our company xxxx limited is applying for issuing 1688 cross-border buyer invoice for May 2119.

Alipay account email: abcdefg@gmail.com (example)

Alipay USD account NO.: 1234567890 (example)
They will provide you with an invoice within 5 business days. It should be a file like this: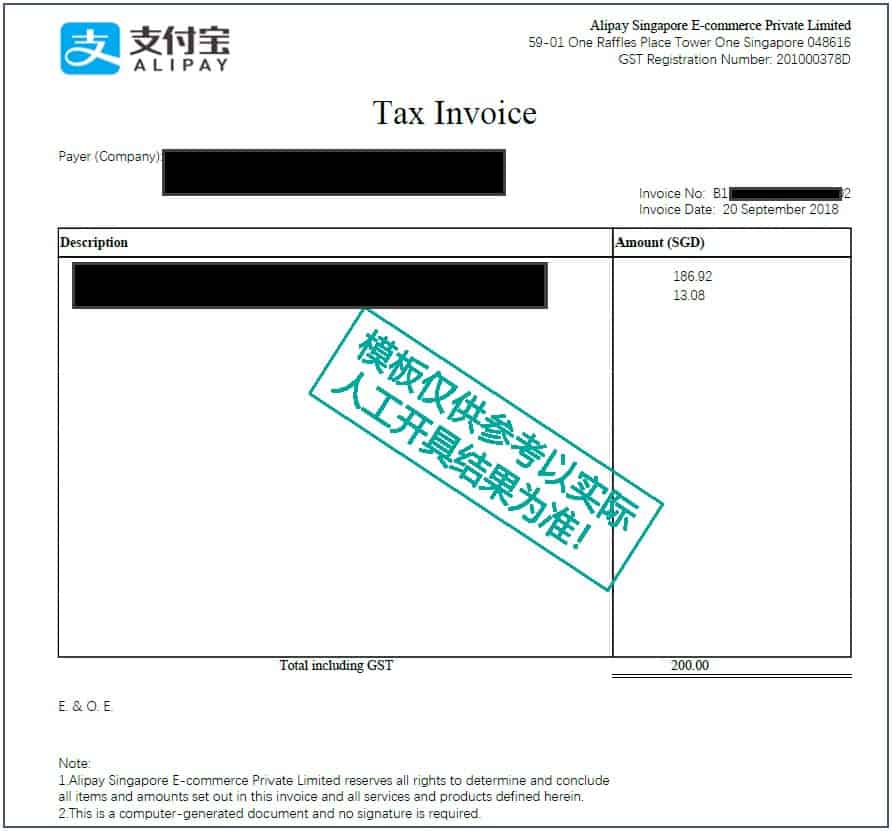 7. Final words
As you can see, the process of signing up and setting up Alipay business is very tedious. but once the whole process is done, you can easily purchase on 1688.com later, so it's worth it!
I've gone into as much detail as I can in this article about Alipay business account, but I know you must still have a lot of questions in your head.
Feel free to leave a comment below or drop me an email.