The starting point of becoming a Taobao shopper is registering for an account at Taobao.com. (If you've decided to use exclusively a Taobao agent rather than shopping directly, a Taobao.com registration will not be necessary.)
To register, you will need a mobile phone number.you are recommended to use a long-term valid phone number to register the account.
Note: Don't use temporary phone number as Taobao will periodically send verification code to your phone to verify your account when you try to login your account.
create a new account
Step 1
Go to https://world.taobao.com/. Don't be put off by the Chinese characters! In the right bar of the page, find the REGISTER(免费注册) character. Its position is marked in yellow in the photo below.

step 2
The next screen shows a pop-up of Chinese characters. Click on the orange field(同意协议) in the middle and the pop-up will disappear.
By clicking the orange bar, you are, for the moment, agreeing with the "Registration Agreement Consent".
Then click on the radio button ENGLISH – right side of screen to switch to English webpage.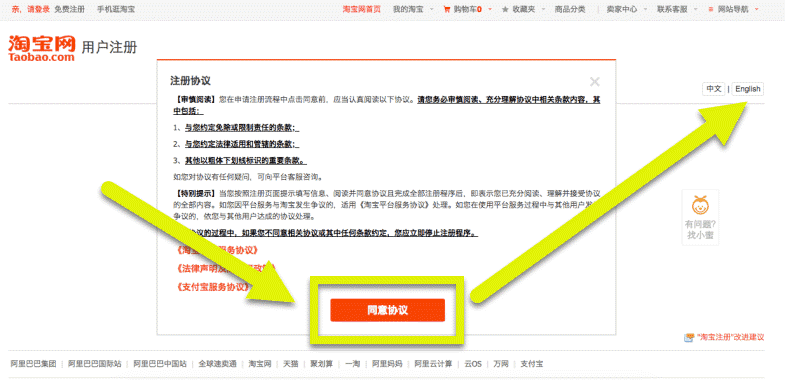 The Chinese pop-up is a "Registration Agreement Consent" outlining Taobao.com's Service Agreement, Privacy Policy and Legal Notices. It includes Terms & Conditions of becoming a Taobao member and the Payment Agreement of Alipay, Taobao's default transactional platform. These T&C, which you can read in English later on in the registration process, include policies of Taobao.com's owner Alibaba.
step 3
On the "Verify Mobilephone" screen (see illustration below), choose the country where your mobile phone is registered from the drop-down.
Enter your mobile number (no spaces, no hyphens, no parentheses) and pull the "Verification" bar from left to right with a left-click mouse hold.
Check the box that says CREATE YOUR ALIPAY ACCOUNT BY YOUR TAOBAO ACCOUNT. (This is where you can read the T&C in English.)
Click on the orange NEXT bar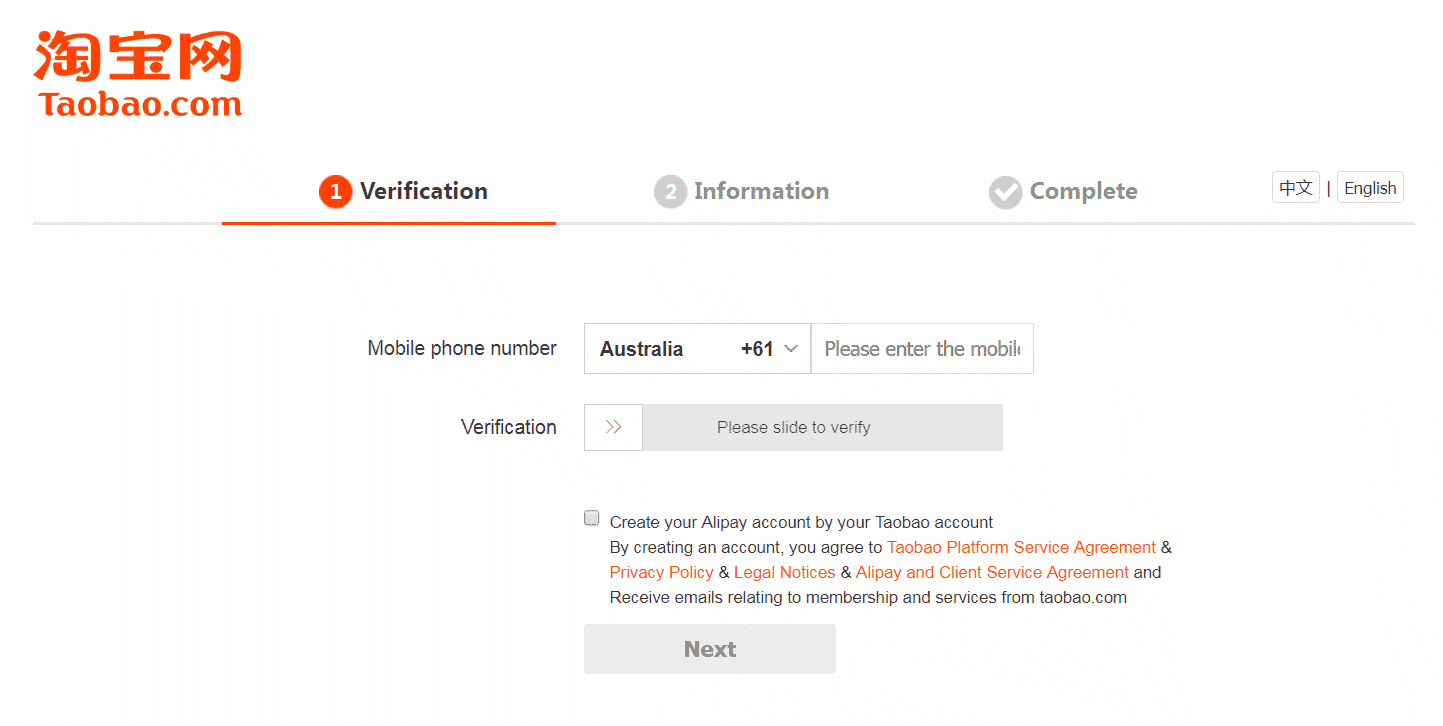 step 4
You will receive an SMS verification code on your mobile. The message will be in chinese but you just need to find a 6 digit code.  Enter the code and click "Confirm".
Note: if you cann't receive the SMS verification code from taobao,you can read this post to find the solutins.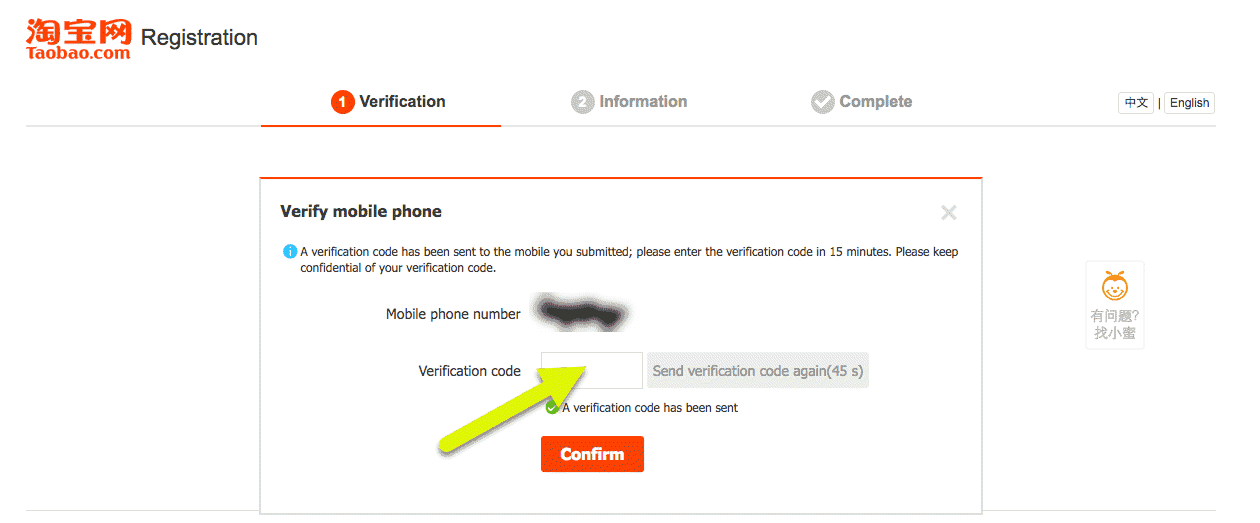 step 5
Now you can create your login password and a username for your taobao account.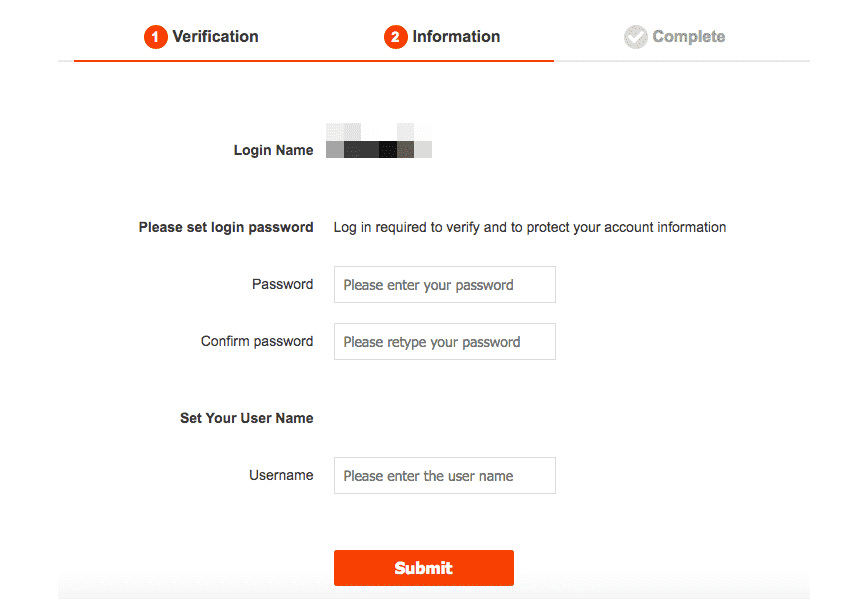 Step 6
After you hit Submit, It should look something like this:

Now you're on your way! Once you've completed the registration process, you can log-in from the Taobao.com homepage and begin your taobao shopping journey.
I have written another step by step guide on how to shop on taobao for beginers.you can read it here.
Taobao Account Questions & Answers
Here are some of the questions and answers that are frequently asked about taobao account:
what if my phone cannt receive the SMS verification code?
The phone verification code is delayed and may take 2-3 minutes to receive. Please try again later.
If you have not received it after 2-3 minutes, please check if your mobile phone is enabled to receive international message, or blocked our SMS, or the SMS inbox is full.
You can try moving your SIM card to another phone and try again, or contact your phone carrier for advice.
If I forgot my password, what should I do?
you can click here to reset your password
How Do I Change My phone number linked to taobao?
here is the link to change the phone number.