I am getting tons of requests for a detailed tutorial on Taobao consolidated shipping. In another post, I have stressed a whole lot about it, but it still seems that I don't clarify myself enough.
Many beginners still are not clear what Taobao consolidated shipping is. So in this post, I will make an attempt to explain basics of Taobao consolidated shipping and how to use it.
# what you will learn from this post
#1 How does it work
#2 Does it support my country
#3 What is the shipping cost to my country
#4 What they cann't ship
#5 How do they calculate the shipping fee
#6 Step by step guide to this service
#7 Two methods to contact the forwarder
#1 how does it work
Taobao Global Consolidation and Shipping,also called Taobao Cargo,Taobao CSCL,is a Taobao official forwarding service for international buyers.
Step 1: First payment
You submit orders with this option selected and make the first payment for order value+domestic shipping fee from seller to China forwarder's warehouse.
Step 2: Seller ship orders to forwarder warehouse
Seller will be shown the forwarder warehouse address with your unique ID on the order page and send orders to the forwarder warehouse.
Step 3: Warehouse receive your orders
Warehouse receive it ,weigh it,update you the weight and shipping fee from your account.
Step 4: Second payment
you can log in and make the second payment for the International shipping fee (from forwarder's warehouse to your destination address).
they will consolidate and ship all your orders in one parcel to your address.
#2 Does it support my country
It currently supports 10 regions which are:
USA, Canada, Australia, New Zealand, Singapore, Malaysia, Japan, HongKong, Macau, Taiwan.
Shipping Methods
Shipping Model
Supported Areas:
Taobao Global Consolidation and Shipping(集运)
Air
USA, Canada, Australia, New Zealand, Japan, Malaysia, Singapore, Hong Kong, Macau, Taiwan
Sea
Australia, New Zealand, Malaysia, Singapore, Taiwan
#3 what they cann't ship
The short version
there are total 100+ types of items taobao will not ship abroad,most of them,we will never order it on taobao,so I listed 8 of the most common types of items that we usually mistakenly order:
1. Items exceed size or weight restriction:
Each forwarder has set a restriction for the max weight and size of the parcel they will accept,make sure your parcel are not too long or too heavy.
2. Food
tea, instant noodles, bamboo products, etc.;
3. Liquid, paste, powdered items:
Cosmetics like perfume,lipstick,foundation,nail polish,pencils,pens,alcohol,thermometer,ink etc..
4. Knife and Gun
survival knife,toy gun,water bb gun
5. Electronic device
humidifier,rice cooker,electric toy,vacuum cleaner,etc
6. Magnetic items or parts
Magnets, audio equipment such as audio, motors, speaker, compasses, coils, etc.
7. Battery and items with inbattery
Mobile phones, computers,powerbank,watches,lithium battery
8. Branded,fake,replica,counterfeit items
The full version
Here is the full list of prohibited items,if you are curious,you can go and take a look at it.
#4 How much does the shipping cost
Taobao to USA shipping cost
Taobao to Canada shipping cost
Taobao to Australia shipping cost
Taobao to New Zealand shipping cost
Taobao to Japan shipping cost
Taobao to Malaysia shipping cost
Taobao to Singapore shipping cost
If the actual weight or size of your package exceeds the permissible limit as stated in the form, it will likely be rejected at the warehouse, resulting in a delayed shipment.
Therefore, prior to making an order it is suggested that you check the package weight and size with the seller or forwarder via aliwangwang, so that a smooth shipping process can be ensured.
#5 How do they calculate the total shipping cost
the shipping fee
Your parcel will be charged by either actual weight or volumetric weight – whichever is greater. Volumetric weight is a value derived from the size rather than the weight of your parcel and may apply if your parcel is particularly large and contains relatively light items.
The volumetric weight calculation formula Taobao forwarder use is L * W * H / 6000 = KG
An example: Let's say a parcel is 50cmx20cmx20cm and weighs 2.5 kg.
Multiply the dimensions together to get 20000.
Divide by 6000 to get 3.33, which rounds up to 3.5.
That means the volumetric weight for this parcel is 3.5kg. Because the actual weight is 2.5kg, you will be charged for 3.5kg on this parcel because it is the greater of the two (volumetric weight vs. actual weight), making 3.5kg the chargeable weight.
GST and Customs taxes
here is the chart of tax threshold and rate listed: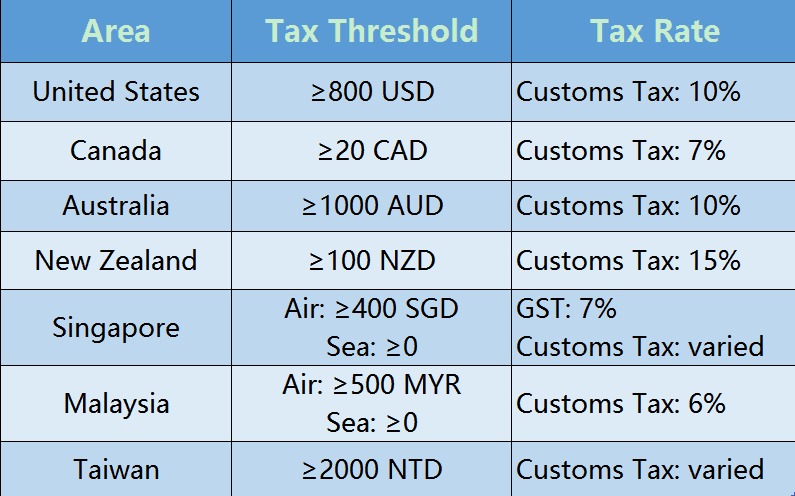 Note:
The amount of this tax threshold is the total amount including the actual value of the goods and the freight, not only the value of the goods (except Singapore/Malaysia).
the amount of the Singapore/Malaysia tax threshold is subject to the value of the goods.
for Canadian:
if you choose official air transport, A 5% GST will be charged in advance when you pay the international shipping fee.
the service fee for remote areas
if you are from Hongkong, will charge a service fee for residential address(20 HKD) and remote areas(30 HKD).
#6 step-by-step tutorial on how to use it
the following is a step-by-step guide on how to use Taobao Global Consolidation and Shipping:
Step 1: first payment
When making an order, please select or add a new address at the shipping address section, and then choose "After the consignment(集运)" ".
you can click "Modification Service Provider" to choose your preferred forwarder based on their pricing and service standards.
After confirming your selection, proceed to payment and complete your order.
Step 2: Manage Your Parcel
Click [跨境物流管理(cross-border logistics management)] in the upper right corner of world.taobao.com homepage or click here
Step 3: Choose parcels to be consolidated
Now you will see your parcels that are waiting to be consolidated.
select products that you want to consolidate. The system will automatically calculate the total weight(总重量) and the shipping fee(预计运费) of the consolidated goods, from the warehouse in China to your place.
After confirmation, click "One-click package settlement(一键合包结算)".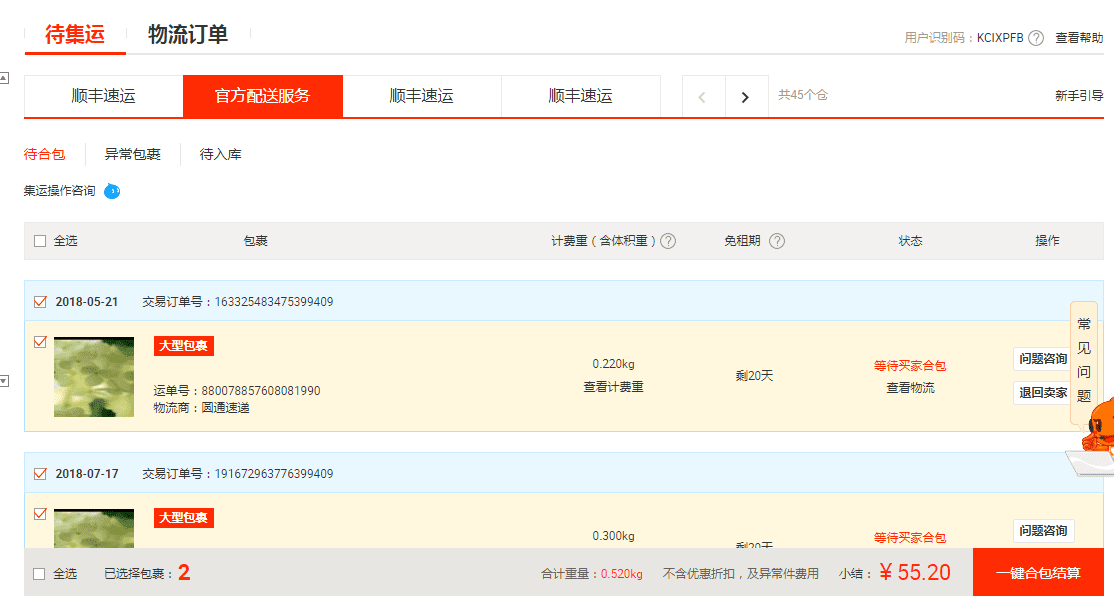 The official holding time in the warehouse is 20 days. If your parcels stay in the warehouse for not more than 20 days, you won't need to pay for any extra detention charges. Else, you will be charged 1 CNY per parcel per day.
Taobao Consolidated Shipping allows consolidation of up to 20 orders! If you have more than 20 orders, it is recommended that you split them into different batches of consolidation and make payment accordingly.
Note: you will not receive any notification when orders reach the forwarder's warehouse,you are advised to download "淘宝Lite" from App Store or Google Play. The "Logistics Helper" in the app will automatically send you the notification.
Step 4: second payment
After consolidating your orders, check the shipping method and delivery address. Then click "Checkout(提交并支付)".You will then be prompted to make the second payment.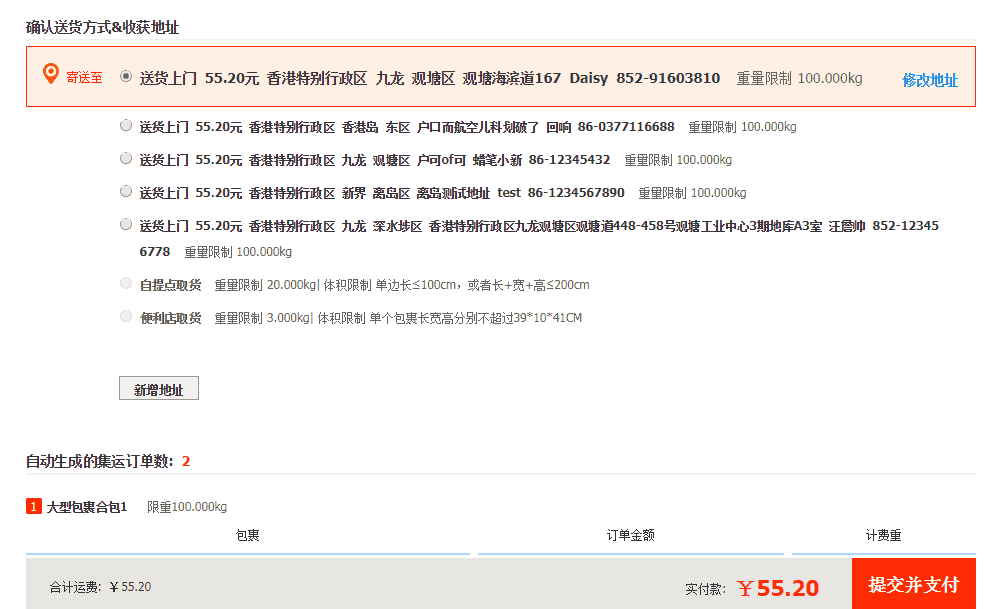 Now the international shipping fee payment settled. Check the status closely and wait for your parcels.
#7 How can I contact the forwarder warehouse
There are two ways to get in touch with them,first is by aliwangwang,second is by livechat. they can understand and speak a litte English,so make sure you use simple and plain words.
aliwangwang with the forwarder
On the [物流订单(Logistics Order)] tab, click on the blue icon to consult with the forwarder Customer Service.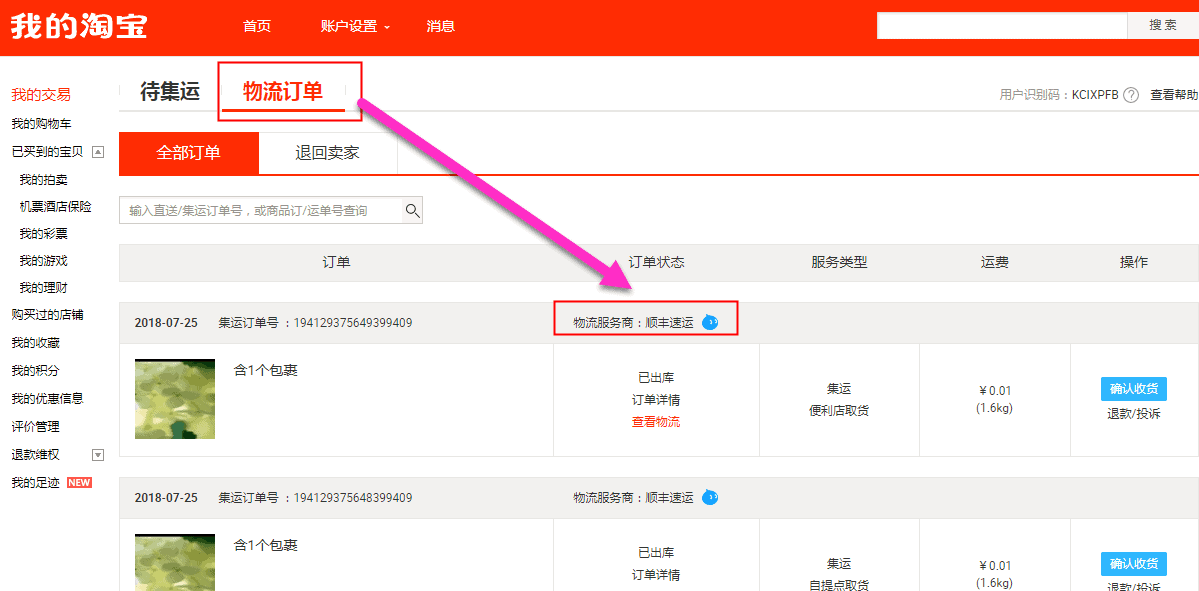 livechat with forwarder
Click the following forwarder link to have a livechat with them,if you are not sure which forwarder you are using,check it from this page.
That's all. I hope that this post helped you understand consolidated shipping at a better level.Please leave a comment below, and let me know what you think!
You may also want to see step by step ordering from taobao guide for beginners.